Global Audiological Devices Market Projected to Grow At a CAGR of 5.5% during the Forecast Period
The latest market report published by Credence Research, Inc. "Audiological Devices Market: Growth, Future Prospects, and Competitive Analysis, 2019 - 2027" the Audiological Devices market was valued at US$ 9,934.9 Mn in 2018 and expected to reach US$ 16,007.8 Mn by 2027 at a CAGR of 5.5% throughout the forecast period from 2019 to 2027. The market size in terms of volume was 15.80 Mn Units in 2018 and is projected to reach 25.95 Mn Units in 2027 expanding at a CAGR of 5.7%.
Market Insights
"Increasing geriatric population will spur revenue growth during the forecast period"
Increasing geriatric population across the globe prone to hearing disorders coupled with rapid technological advancements are key factors propelling the market growth. According to recent report by United Nations the number of people above the age of 65 are anticipated to increase from 962 Mn in 2017 to 2.1 Bn in 2050. This in turn is expected to boost the demand of audiological devices market. According to recent surveys by MarkeTrak, EuroTrak by EHIMA and JapanTrak shows that 1 out of 10 people above the age of 50 are suffering from hearing loss. It is also estimated that out of 134 Mn babies born every year, 150,000 are candidates for cochlear implants. These demographic factors are key factors contributing to the growth of audiological devices market.
In addition, deregulation, competition and ubiquity of consumer electronics are seeing new models of service delivery emerge. This trend is especially prevalent in North America, and Europe among others. The increasing integration of traditional devices with modern technologies by major market players is expected to increase the treatment rate of hearing disorders. With increasing technological advancements audiological devices are becoming smaller and more efficient. However, high cost of audiological devices such as cochlear implants are hindering the growth of the global audiological devices market.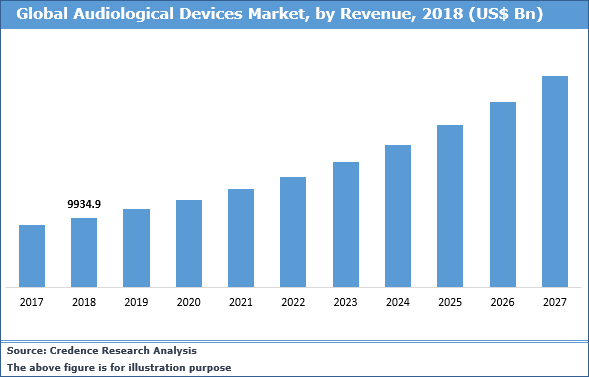 Browse Full Report At https://www.credenceresearch.com/report/audiological-devices-market
Industrial Developments
• In February 2019, Widex A/S and Sivantos Pte. Ltd. announced the successful merger. The newly created company operates under the name WS Audiology. This merger has helped both the companies redefine the competitive landscape.
Key Market Movements
• Globally, the audiological devices market is expanding at a CAGR of 5.5% in terms of revenue for the period of 2019 to 2027. In 2018, the market accounted for US$ 9934.86 Mn. In 2018, in terms of volume the global sales was 15.80 Mn Units and the market is expanding at a CAGR of 5.7%.
• Based on technology, the market is classified into digital and analog. Digital technology dominates the market owing to rapid adoption of digital technologies across the globe.
• Analog devices which are programmable and include a microchip allowing different program setting are preferred over digital devices
• North America region dominated the global audiological devices market in terms of market revenue. This can be associated with rapidly increasing geriatric population in the US around 35 million American's suffers from hearing loss.
List of Companies Covered:
• William Demant Holdings A/S
• Starkey Hearing Technologies
• Widex A/S
• GN ReSound Group
• Sonova Holdings AG
• Amplifon SpA
• Cochlear Limited
• GN Store Nord
• Siemens Healthcare
• MedRx
The Global Audiological Devices Market is Segmented into:
ATTRIBUTE
DETAILS
Research Period
2017-2027
Base Year
2018
Forecast Period
2019-2027
Historical Year
2017
Unit
USD Billion
Segmentation

Product Type Segment (2017–2027; US$ Bn)

Technology Segment (2017–2027; US$ Bn)

Sales Channel Segment (2017-2027; US Mn)

Geography Segment (2017–2027; US$ Mn)
*Complete segmentation list is on report page
About Us
Credence Research is a worldwide market research and counseling firm that serves driving organizations, governments, non-legislative associations, and not-for-benefits. We offer our customers some assistance with making enduring enhancements to their execution and understand their most imperative objectives.
Media Contact
Name: Chris Smith
Address: 105 N 1st ST #429,
SAN JOSE, CA 95103 US
(US/CANADA) Ph.: +1-800-361-8290
E-mail: sales@credenceresearch.com