Global Education Technology Market Expected to Grow At a CAGR of 13.33% during the Forecast Period
The latest market report published by Credence Research, Inc. "Education Technology Market: Growth, Future Prospects, and Competitive Analysis, 2019 - 2027" the education technology market was valued at US$ 142.81 Bn in 2018 and expected to reach US$ 435.60 Bn by 2027 at a CAGR of 13.33% during the forecast period from 2019 to 2027.
Market Insights
Increased investment flow and Lower Costs will spur revenue growth during the forecast period
Modern educational technology expands the accessibility to education, comprising full degree programs. Empowerment of non-full-time students by better integration, especially in continuing education, and improved interactions between students and instructors are some of the prominent factors driving the growth of the education technology market. The combination of factors including increased competition, rapid adoption of mobile devices, ease of access, increasing investments flow in edtech and lower costs are collectively driving demand for the education technology market. In 2018, global education technology sector witnessed over US$ 8 Bn of investments. Efforts by various national governments are increasing as they become more focused on improvising the literacy rates of their citizens. The growing middle class sector in countries such as China and India are also propelling the education technology market growth.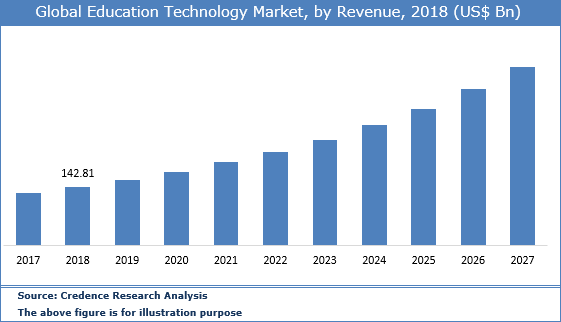 Industrial Developments
• In November 2018, Google announced the acquisition of Workbench, a major EdTech company that provides online library of lessons and projects, which is expected to expand the reach of Workbench.
Report Scope by Segments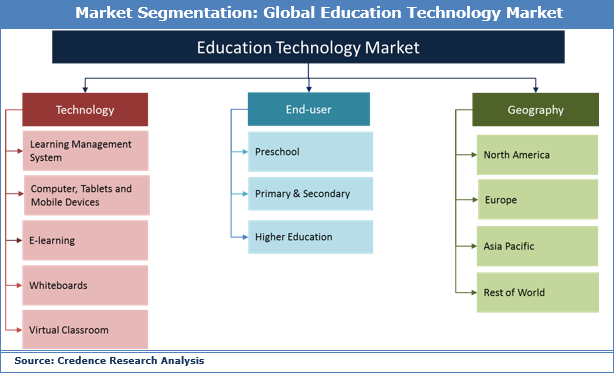 Key Market Movements
• Globally, the education technology market is growing at a CAGR of 13.33% for the period from 2019 to 2027
• North America is leading the education technology market in terms of revenue with more than 25% of market revenue followed by Europe. This can be associated with the rising adoption of digital platforms, and implementation of enhanced systems to improve learning experience among others.
• Asia Pacific region is estimated to be the fastest growing region and is estimated to surpass North America. This is due to the fact that Asia Pacific is home to the youngest population across the globe of age 10 - 24 approximately 700 million.
• There is very strong government support, for instance, Chinese government has announced an investment of USD$ 30 Bn by 2020. Thus driving the growth of education technology market in this segment.
Browse full report at https://www.credenceresearch.com/report/education-technology-market
List of Companies Covered:
• Google LLC
• Microsoft Corporation
• IBM Corporation
• Apple, Inc.
• EdX
• Coursera
• HelpHub
• Code Monkey
• Edukart
• Byju's
• Simplilearn
About Us
Credence Research is a worldwide market research and counseling firm that serves driving organizations, governments, non-legislative associations, and not-for-benefits. We offer our customers some assistance with making enduring enhancements to their execution and understand their most imperative objectives.
Media Contact
Name: Chris Smith
Address: 105 N 1st ST #429,
SAN JOSE, CA 95103 US
(US/CANADA) Ph.: +1-800-361-8290
E-mail: sales@credenceresearch.com