Global Meat Processing Equipment Market Expected To Grow At A CAGR Of 6.9% During The Forecast Period
The latest market report published by Credence Research, Inc. "Meat Processing Equipment Market: Growth, Future Prospects, and Competitive Analysis, 2019 - 2027" the meat processing equipment market was valued at US$ 9.81 Bn in 2018 and expected to grow at a CAGR of 6.9% during the forecast period from 2019 to 2027.
Market Insights
"Growing demand for processed meat coupled with dietary shift of consumers towards animal protein worldwide will upgrade the market growth during the forecast period"
The demand for meat processing equipment projected to increase, owing to changing lifestyle and preferences of the consumers. In addition, growing demand for packaged foods & processed meat along with increasing demand for food safety will expand the market growth globally. Increasing demand for animal sources of food, which includes pork, beef, and red meat in developing countries, is likely to double by 2050. Moreover, urbanization, population growth, changing consumer preferences, and economic progress will urge the demand for livestock farming in developing countries, thereby driving the market for meat processing equipment on a global scale. Furthermore, favorable regulatory activities in the U.S. and Europe have updated their regulatory processes towards novel ingredients and cell-cultured products, thereby reducing the market entry barriers for alternative proteins. For instance, regulation of the U.S. government for cell-cultured meat will significantly increase the demand for meat across North America; thereby enhance the market expansion for meat processing equipment.
"Increasing technological innovations and growing focus on food safety requirement will enhance the market for meat processing equipment"
Growing demand for processed meat, created numerous opportunities to leapfrog on wide scale utilization of meat processing equipment globally. The rising demand for meat in developing countries is primarily a consequence of the fast progression of urbanization and rising food expenses among city dwellers. Moreover, increasing number of measurement and control technological innovations such as "Temperature & Humidity Probe", "JUMO mTRON T", and "JUMO LOGOSCREEN" along with prolonged R&D (research and development) activities to drive the market on a global scale. Furthermore, government regulations and norms for food safety have increased the utilization of more sophisticated and technically advanced equipment for meat processing. The unceasing dominance of meat-based ethos in various countries enhances the demand for meat processing equipment. Additionally, food safety continues to be a major concern in developing markets like India, China, and Malaysia, owing to various water-borne diseases and lack of hygiene in food handling.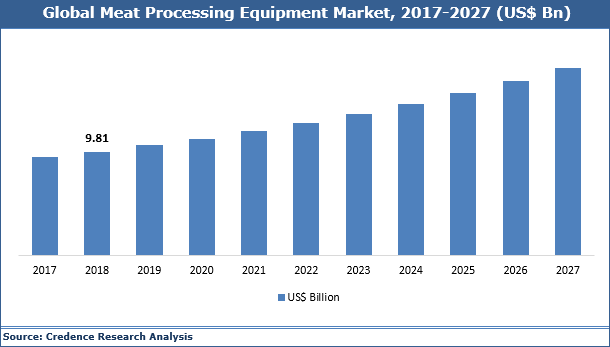 Industrial Developments
• In February 2019, GEA Group, a German based company launched its new injection system "Multijector 2mm", used to keep pork or bacon fresh for a longer period.
• In November 2018, Bettcher signed an agreement, which includes the sale of equipment types coupled with service to be offered with an Italian based firm Grasselli for its innovative product design. The agreement provided by Bettcher technicians.
Key Market Movements:
• Globally, the meat processing equipment market is rising at a CAGR of 6.9% for the estimated period from 2019 to 2027.
• North America expected to dominate the global market with holding a market share of around 38% in 2018. On account of growing investments in meat processing facilities, rising demand for processed meat and presence of large number of meat processors like Cargill Meat Solutions Corp., Tyson Foods, and JBS USA across the region. Additionally, the rising number of new processing technologies is likely to expand the market for meat processing equipment in North America.
• The Asia Pacific is likely to be the fastest growing region, owing to increasing number of meat producers and its processing units across developing countries like China, Japan, and India. Additionally, changing lifestyle of consumers, growing demand for ready-to-eat food products, and stable economic growth is a key factor for the growth of the market in the region.
• Cumulative use of private-label processed meat products, safety & regulations for the high-level machines, and intensifying use of automated equipment in the developing nations will drive the overall demand.
List of Companies Covered:
• GEA Group
• JBT Corporation
• Marel
• Illinois Tool Works
• The Middleby Corporation
• Bettcher Industries
• Equipamientos Carnicos
• Biro Manufacturing Company
• Braher
• RZPO
• Bizerba
• Riopel Industries
• Minerva Omega Group
Browse the full report at https://www.credenceresearch.com/report/meat-processing-equipment-market
The Global Meat Processing Equipment Market is Segmented into:
ATTRIBUTE
DETAILS
Research Period
2017-2027
Base Year
2018
Forecast Period
2019-2027
Historical Year
2017
Unit
USD Billion
Segmentation

By Equipment Type (2017–2027; US$ Bn)

By Meat Type (2017–2027; US$ Bn)

By Mode of Operation (2017–2027; US$ Bn)

By Applications (2017–2027; US$ Bn)

By Geography (2017–2027; US$ Bn)
*Complete segmentation list is on report page
About Us
Credence Research is a worldwide market research and counseling firm that serves driving organizations, governments, non-legislative associations, and not-for-benefits. We offer our customers some assistance with making enduring enhancements to their execution and understand their most imperative objectives.
Media Contact
Name: Chris Smith
Address: 105 N 1st ST #429,
SAN JOSE, CA 95103 US
(US/CANADA) Ph.: +1-800-361-8290
E-mail: sales@credenceresearch.com