Global Relaxation Drinks Market Expected to Grow At a CAGR of 14.06% During the Forecast Period
The latest market report published by Credence Research, Inc. "Relaxation Drinks Market: Growth, Future Prospects, and Competitive Analysis, 2019 - 2027" the relaxation drinks market was valued at US$ 330.8 Mn in 2018 and expected to grow at a CAGR of 14.06% during the forecast period from 2019 to 2027.
Market Insights
"Relaxation drinks act as healthy alternatives to soft drinks"
The increasing importance of mindfulness to consumers globally increases the demand for relaxation drinks as it offers the necessary relaxation and healthy alternative to soft drinks. Relaxation drinks are becoming significant for the Asian market such as China and India. As people in this region are indulged in various mindful and relaxation activities. Moreover, herbal-based products form a major part of the diets of people in the Asian region. Increasing IoT trends and rising awareness for healthy, organic, and natural products drive the market growth.
Browse the full report at https://www.credenceresearch.com/report/relaxation-drinks-market
"Innovative packaging by the manufacturers elevates market growth"
Manufacturers around the globe are focusing to provide unique and innovative packaging to relaxation drinks for attracting new customers. Manufacturers decide packaging according to the nature of the products. For instance, a brand of relaxation drink Slow is packed in an hourglass-shaped bottle that suggests its customers, to take time and relax. Thereby, makes the drink ideal to enjoy at the end of a long and busy day and increase the demand for such products.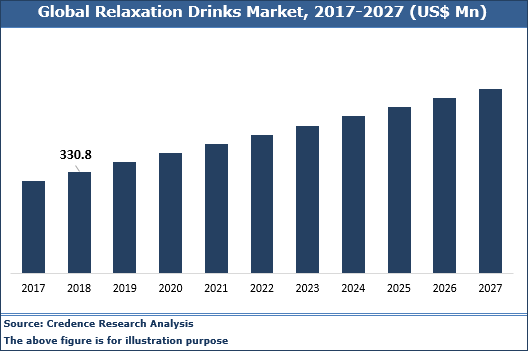 Top manufacturers in the relaxation drinks industry are mainly focusing on new product launches, mergers, and partnerships. Moreover, are expanding their reach to new geographic locations.
Industrial Developments
• In July 2016, Marley Beverage Company launched a Zero calorie Mellow Mood Relaxation drink. The Mellow Mood drink is manufactured with naturally occurring ingredients. Mellow Mood is available in various flavors such as honey green tea, peach and Pear Black tea.
• In April 2019, Bimble announced to expand the retail availability of its grapefruit basil mint beverage in markets of the U.S. The grapefruit basil mint beverage is composed of natural ingredients. The drink aims to reduce stress, manage pain and improve sleep.
• In August 2019, Coca-Cola invested in Endian, a newly based beverage company. Through the acquisition, Coca-Cola aims to provide growth in the Japanese markets.
Key Market Movements:
• Globally, the relaxation drinks market is rising at a CAGR of 15% for the estimated period from 2019 to 2027
• North America dominated the global relaxation drinks market in 2018. On account of the presence of major relaxation drinks manufacturers and increasing inclination of customers towards products that offer relaxation is increasing the overall growth of the market. According to Hindawi Journal's report in 2015, approximately 15% claims to experience insomnia thereby, driving the market.
• Insomnia holds the largest share in the application segment. Insomnia is the major cause for the growing demand for relaxation drinks globally. For instance, reports suggest that about 25% of Americans experience insomnia each year.
• Increasing demand for functional beverages among teenagers that work as a mood enhancer and stress relievers are increasing the demand for relaxation drinks. The study also suggests that about 45% of the total beverage buyers expressed interest in drinks that enhances mood.
List of Companies Covered:
• Tranquila
• Kalm with Kava
• iChill Beverages, Inc.
• Purple Stuff
• Bimble Beverages
• Jus by Julie
• Boisson Slow Cow, Inc.
• Phi Drinks, Inc.
The Global Relaxation Drinks Market is Segmented into:
ATTRIBUTE
DETAILS
Research Period
2017-2027
Base Year
2018
Forecast Period
2019-2027
Historical Year
2017
Unit
USD Million
Segmentation

Product Type (2017–2027; US$ Mn)

Application (2017–2027; US$ Mn)

Geography Segment (2017–2027; US$ Mn)

*Complete segmentation list is on report page
About Us
Credence Research is a worldwide market research and counseling firm that serves driving organizations, governments, non-legislative associations, and not-for-benefits. We offer our customers some assistance with making enduring enhancements to their execution and understand their most imperative objectives.
Media Contact
Name: Chris Smith
Address: 105 N 1st ST #429,
SAN JOSE, CA 95103 US
(US/CANADA) Ph.: +1-800-361-8290
E-mail: sales@credenceresearch.com