Emulsifiers are substances used to combine oil and water substances so as to form emulsion. Emulsifiers are molecules with two different ends: a hydrophilic end - 'water-loving' – forms chemical bond with water instead of oil and a hydrophobic end - 'water-hating' - forms chemical bond with oil instead of water. These are colloids widely used as additives during food product processing. Emulsifiers exhibit multifunctional utility among a wide range of applications ranging from bakery to meat processing. Emulsifiers in food enhance the suspension of oil and water, mainly in margarine, ice cream, salad dressing, etc. Emulsifiers are immensely used to make food more appetizing by enhancing its appearance and consistency. The importance of attractive appearance of food especially in packaged food industry also stimulates the emulsifier market growth. Moreover, emulsifiers helps in preserving the sensory features of food products such as flavor, texture, and taste which are often lost due to fat reduction. The trend of developing healthier products having similar taste as fat containing products is also expected to bolster the emulsifier's market growth. Currently, food emulsifiers are employed for crystal modification, starch and protein complexion, crumb softening, retarding the staling of bread and other dairy products. Apart from this, the bio-compatibility, chemical inertness, extended shelf life and thermally stable nature of emulsifiers is increasingly used to manufacture personal care products, hygiene products, make up components, etc.
The market is witnessing significant growth owing to its surging demand for low fat packaged and convenience foods has surge the growth prospects of food emulsifiers in the global market. Desk bound lifestyles have encouraged the need for packaged foods which is leading to higher obesity levels. Therefore, rising consumers demand for trans-fat products, encouraging food processors to use emulsifiers in food products so as to reduce the fat content and calories. The demand for emulsifiers in food products is also driven by its increased adoption among the number of people having food away from home and those who are more conscious about their health and wellness. Additionally, rising demand for emulsifiers in multiple manufacturing processes is another factor fostering the market demand. For example, emulsifiers are used in plastics during suspension polymerization, to keep monomers suspended in water so as to produce plastic beads. Strict regulations and government uncertainties pertaining to the manufacturing and supply of certain emulsifiers may hamper the development of this market and can act as an entry barrier for new companies.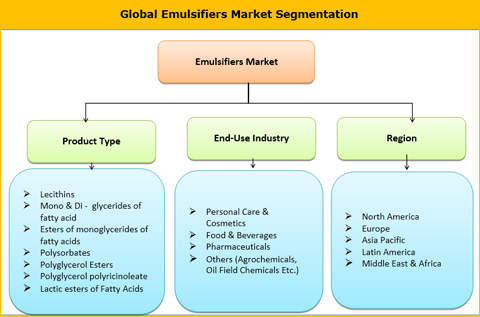 In 2017, Europe, dominated the market growth and is expected to maintain its dominance during the forecasted period due to surging demand for stearoyl lactylates and sorbitan esters for food and beverage applications along with rising industry expansion majorly in Germany, France and Eastern European countries. The emulsifier market is witnessing significant opportunities owing to rapid industrialization and drastic development of food and beverage sector in Asia Pacific region. Altering preferences of consumers especially in China, India, and other South East Asian economies with respect to taste, quality, texture and nutrition content of food is projected to create lucrative opportunities for the market
Some of the key players operating in the market include AkzoNobel N.V., BASF SE, Cargill Incorporated, Clariant SE, DOW Corning, DuPont Nutrition & Health (DuPont), Evonik Industries AG, Estelle Chemicals Pvt. Ltd., Archer Daniels Midland (ADM), Kerry Group, Lonza Group, Palsgaard, Puratos, Royal DSM and Solvay S.A.