Sulfolane is a colorless liquid that is used as a solvent for chemical reactions and distillation applications. This organosulphur compound is highly soluble in water. Sulfolane is used in purification of natural gases through a process that involves the extraction of aromatic hydrocarbons from hydrocarbon mixtures. The rising demand of such solvents in refineries and petrochemical industries is driving the Sulfolane market. The global Sulfolane market is expected to cross market value of USD 136 million in 2027 from USD 123 million in 2020, at 1.5% CAGR over the forecast period.
Increasing Refinery and Petrochemical Industry
Sulfolane is growing in acceptance as solvent of choice among from oil & gas refinery industry. The increasing establishment of oil & gas refineries coupled with the strong growth in the oil & gas pipelines is expected to bolster the market. Sulfolane is primarily employed for the purification of natural gas by extraction of aromatic hydrocarbons. Sulfolane has been proved to be very efficient solvent in liquid-liquid extraction of aromatic compounds from mixtures of hydrocarbons. In addition, the growing demand for natural gas across Asian countries will further add to the market growth. However, the concerns pertaining to the extortion of alternatives may restrict the market in the near future.
Although not concluded as a hazardous pollutant, there were some incidents traced about contamination of ground water sources by Sulfolane. However, study from US Federal Government is yet to be done and toxicology of Sulfolane is not confirmed till date. However, certain concerns related to extraction alternatives might work as a major hurdle for the growth of this industry.
Impact of COVID 19
With reduced economic activities, shut down of manufacturing operations, the demand for energy was significantly reduced. With all time low demand for oil and gas over the past decade, the prices of crude oil and natural gas recorded historical low. This in turn compelled the oil & gas producing countries to cut down the production. This has directly impacted the demand for Sulfolane as largest demand for Sulfolane comes from oil & gas industry. However, with revival of economy and manufacturing activities, demand for oil & gas is expected to be restored gradually, which in turn likely to bring demand for Sulfolane back on the track.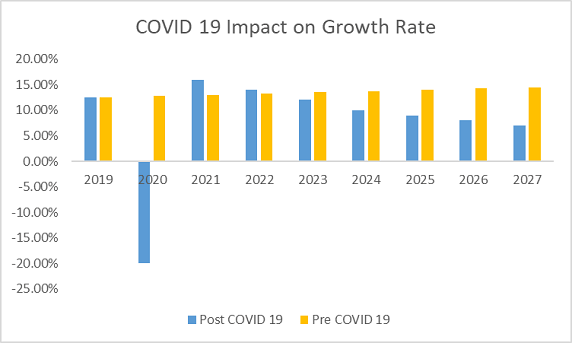 North America is Major Growth Engine for Global Sulfolane Market
Sulfolane market growth is strongly supported by the consistent demand from North America on the account of growing oil & gas industry in United States and Canada. Growing production of shale gas and wide spread network of oil & gas pipelines in the region if fueling the demand for Sulfolane in the region. Middle East is also one of the notable regional market for Sulfolane.
Global Sulfolane Market is led by the anhydrous product type
Anhydrous type and aqueous type are two major types for Sulfolane. Anhydrous Sulfolane was major product type for market in 2020. Anhydrous Sulfolane increasingly being used as a raw material in manufacturing of ink& dye and agrochemical products. Sulfolane is one of the key additives used in production of ink & dye and one of the important ingredients in agrochemicals such as insecticides, herbicides and fungicides. However, over 40% share of the total revenue generated by the global Sulfolane industry was streamed from the gas production and oil refining application. Sulfolane is applied in the Gas and oil sector for refining, gas production and lubricant extraction.
Sulfolane manufacturers are exploring various ways of organic as well as inorganic growth strategies.
Cost Benefits offered by Sulfolane
Sulfolane is not only efficient solvent in extraction of aromatic compounds from hydrocarbons but also offers economic benefits. Sulfolane is highly stable and hence can be used repetitively. It does not degrade in the form of acidic byproducts. There are multiple ways of Sulfolane regeneration has been developed including distillation, adsorption, ion exchange resin column and adsorption. When Sulfolane is used as a solvent, one can expect comparatively low solvent to feed ratio. This makes Sulfolane a considerably economic solvent as compare to its peers.
Frequently asked questions about global Sulfolane industry
What are the consequences of COVID 19 on global Sulfolane industry?

Ans: The report offers in-depth consequences of COVID 19 on global Sulfolane industry
Who are the top five players in the global Sulfolane industry?

Ans: This report enlists the top five players on the basis of volume as well as revenue
Which is the fastest growing application market for global Sulfolane industry?

Ans: This report provides details of fastest growing application market for Sulfolane industry
Which is the leading regional market for global Sulfolane industry?

Ans: The report highlights most dominating as well as fastest growing economies for Sulfolane industry
What will be the CAGR (2021 - 2027) of in global Sulfolane industry?

Ans: The global Sulfolane market report provide CAGR from 2021 to 2027
What was the volume and revenue of in global Sulfolane industry in 2015?

Ans: This report provides detailed market size, share and growth for historical period from 2015 to 2020
Which are the growing technological trends in in global Sulfolane industry?

Ans: The report helps to identify the key technological trends Sulfolane industry across the world
Which are the major driving forces behind growth of global Sulfolane industry?

Ans: The report covers all major factors fueling the growth of this industry
What are the key growth pockets within global Sulfolane industry?

Ans: The report also reveals key growth pockets within global Sulfolane industry
What are the attractive investment prepositions in the global Sulfolane industry?

Ans: Global Sulfolane market report provides key investment prepositions based on types, applications and regions
What are the key challenges faced by the industry participants in global Sulfolane market?

Ans: This report answers major challenges being faced by the global Sulfolane players
What is the competitive scenario in global Sulfolane industry?

Ans: The report describes in detailed about current competitive scenario of Sulfolane industry
Which are the major production geographies?

Ans: The report covers the major production geographies for Horizontal Directional Drilling (HDD)
Who are the major regulatory bodies in global Sulfolane industry?

Ans: The report provides insights related to major regulatory bodies in global Sulfolane industry
Which are the major companies governing the global Sulfolane industry?

Ans: This report enlists the top five players on the basis of volume as well as revenue