The purpose of this strategic research study titled "Actinic Keratosis Treatment Market – Growth, Future Prospects, and Competitive Analysis, 2018 – 2026" was carried out for industry investors, company executives, and industry participants along with in-depth insights which will ultimately assist them in the process of making strategic decisions related to the opportunities in the actinic keratosis treatment market. High prevalence of actinic keratosis and subsequent risk of developing malignancies is key driver assisting the growth of global actinic keratosis market. The actinic keratosis treatment option consists of destructive treatments, photodynamic therapy, topical medication and others. The destructive treatment holds the largest market share in the actinic keratosis treatment segment due to factors such as excellent clinical outcomes and enhanced compatibility seen in patients seeking treatment. There were many challenges faced while executing this research study to know details about this report …
Objective
• To provide market size for global actinic keratosis market from 2016 to 2018 (US$ Mn)
• To forecast global actinic keratosis market size from year 2019 to 2026 (US$ Mn)
• To provide above mentioned data for market segments such as treatments, and geography
• To provide epidemiology forecast of actinic keratosis market from 2018 to 2026
• To understand prescription pattern associated with actinic keratosis
• To analyze why there is lucrative future for topical treatment without local skin reaction
Market Scope
The market scope comprises broad segmentation on the basis of treatments and geography. The type of treatments considered in this scope are destructive treatments (Liquid Nitrogen Cryotherapy, Surgical Therapy), photodynamic therapy (5-aminolevilinic acid, methyl aminolevulinate), chemical peeling & Dermabrasion, and topical medications (5-Flurouracil, imiquimod, ingenol mebutate, diclofenac sodium). The geographical segmentation involves region such as North America, Europe, Asia Pacific, Latin America, and Middle East & Africa further sub-segmented into countries such as U.S, Canada, U.K, Germany, France, China, Japan, South Korea, Australia, Brazil, Mexico, GCC & South Africa.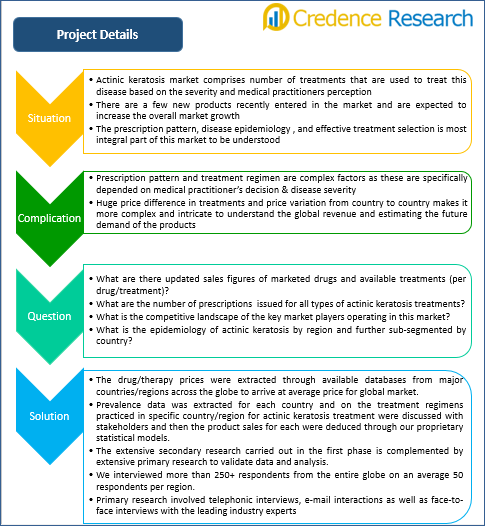 Secondary Research
The study was initiated with in-depth and extensive secondary research. Some of the basic, but most important sources referred during the study includes company annual reports, press releases, and relevant documents throwing light upon the recent developments in the global actinic keratosis treatment industry. Reliable sources including scientific journals, university research papers and government websites are equally referred for mining precise market data and recognizing business opportunities. In addition, paid databases including Factiva, Reuters, Hoovers, OneSource, and Bloomberg are referred to collect information useful for extensive technical and commercial study of the key players available in global actinic keratosis market. In case where no data was available on the public domain, we used modeling and estimates to arrive at comprehensive data sets. The drug/therapy prices were extracted through available databases from major countries/regions across the globe to arrive at average price for global market. Prevalence data was extracted for each country and on the treatment regimens practiced in specific country/region for actinic keratosis treatment were discussed with stakeholders and then the product sales for each were deduced through our proprietary statistical models.
Primary Research
The extensive secondary research carried out in the first phase is complemented by extensive primary research to validate data and analysis. We interviewed more than 250+ respondents globally on an average 50 respondents per region. Primary research involves telephonic interviews, e-mail interactions as well as face-to-face interviews with the leading industry experts. A typical research interview fulfills the following functions:
• Helps in validating and strengthening the secondary research findings.
• Provides first-hand information on the market trends, growth trends, market size, and competitive landscape prevailing in the industry.