The chemical industry is one of the oldest and core industries in manufacturing. Not only does it play a vital role in meeting the everyday needs of ordinary people, but it also contributes significantly to a country's industrial and economic growth. With an estimated value of US$4.73 trillion, the global chemical industry is one of the fastest-growing sectors of manufacturing industry. The global chemical industry has undergone major structural changes over the past few years – the shift of production bases to Asian countries, emerging growth markets, new technologies, and the large-scale impact of the global economic crisis along with rising raw material costs.
We maintain our ongoing relationships with clients who acknowledge that we provide a head-start on any chemical research project, as well as respect our commitment to confidentiality. The high percentage of business we receive from client referrals allows profuse testament to the quality of our research. Our consulting and advisory services provide a comprehensive, research-based view that is critical for building business intelligence and overcoming market challenges. Additionally, our team of consultants is united in their commitment to clients and passion for their business goals, which helps facilitate fast and efficient decision-making. We also identify new growth opportunities to help our customers successfully build and expand their businesses. The success of our company relies on the success of our customers.
Chemical analysts focus on analyzing trends in relevant downstream markets and assessing the impact of these trends on chemical usage. We demonstrate our expertise by collaborating with Fortune 500 clients to deliver tailored consulting projects across clients' product portfolios. Our report expertise includes evaluating new market opportunities and market sizes, identifying, and assessing complex global value chains (including key drivers, constraints, and winning strategies). We also have expertise in raw material tracking and analysis, costs, price trends, and forecasting. A dedicated team keeps an eye on company profiles and the competitive landscape. Our company offers reports based on industry needs, some of which focus on petrochemicals, specialty chemicals, water treatment chemicals, agrochemicals, renewable chemicals, traditional and biodegradable plastics, resins, paints and coatings, and many other chemical-related categories.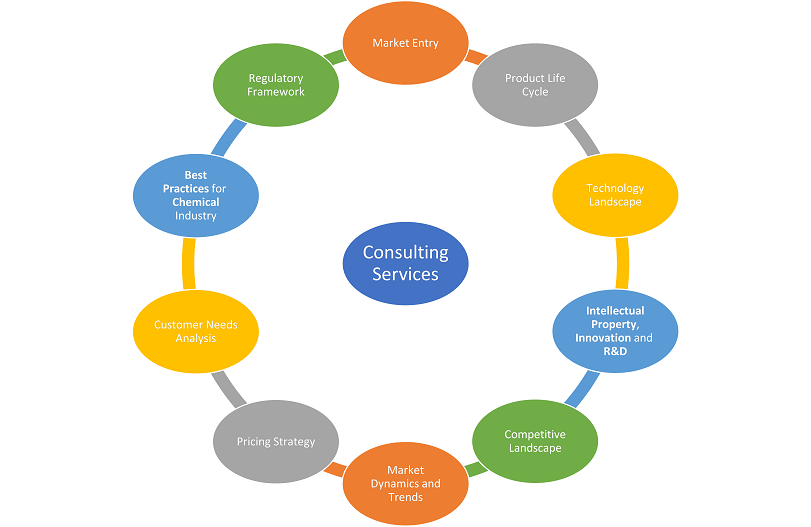 KEY OFFERINGS
Market Entry Strategy
Market entry is a critical operation for chemical companies and carries significant risks. For instance, introducing an existing product in a new regional market, or launching a new product in an existing regional market. Research insights help form a clear market picture and provide meaningful and tangible ideas for growth and opportunities in the near future. Market research expertise enables continued growth with recommendations for mitigating risks and making informed decisions. Our consulting services provide key analytical insights on the following key business aspects such as product life cycle, pricing strategy, presence of key players, current market position, customer buying behavior and decision-making process.
Market Route Analysis
Choosing the best route for chemical market is critical to a company's operations to generate maximum revenue. This requires in-depth market analysis and significant expertise in supply chain management and domain knowledge. Some of the key challenges we address in these services include the best channel to maximize sales, threat assessment and deterrence from domestic companies, distribution channel landscape of major competitors, identification and due diligence of potential distributors, risk assessment and entry barriers, cost analysis, and profitability across the industry value chain.
Business Portfolio Management
In the current global economic turmoil, chemical companies must diversify their business interests to ensure liquidity and profitability. Our team of analysts and advisors can provide a multi-layered strategic approach to facilitate optimal portfolio management, focusing on macro-level analysis to provide a snapshot of the product in the industry and granular level analysis to captivate strategic business unit on a singular level and offer key market analysis, estimates, and forecasts. We also focus on benchmarking business segments on key parameters to enable selections based on long-term growth as well as upstream and downstream growth opportunities.
Customer Insights
Recently, the global environment of businesses has become increasingly customer-centric, and brand equity has become a key competitive advantage. We provide key insights on customer needs, helping companies connect with customers and create strong brand recall value. We address key issues such as identification of target customers, customer need analysis and buying behavior, customer segmentation analysis, customer perception of the company and competitors, as well as product positioning.
Competitive Insights
Identifying and evaluating competition is critical to corporate strategic planning to gain and maintain market share. We provide comprehensive support to give our clients a competitive advantage. The issues we address in competitive insights are company profiles of major key players including their financial performance, products/services offered, distribution channels, and strategic initiatives. We also address industry best practices, strategic recommendations, SWOT, PESTEL and Porter's analysis to evaluate competitive threat, identification of merger, acquisition and partnership targets, as well as competitor benchmarking for performance measurement.
Partner Selection & Supplier Management
Distribution network management is an essential part of chemical business, and the need for efficient product distribution is now more important than ever. Our consulting team conducts an exhaustive study of the distribution and supplier management space, a process that begins with dissecting the industry value chain. We try to provide insights into key issues, including industry value chain, identification of suitable suppliers, benchmarking suppliers to aid in selection while minimizing distribution costs, and key market players along with their presence in the distribution network. We also provide insights regarding profit margins and earning opportunities across the industry with the help of forward/backward integration.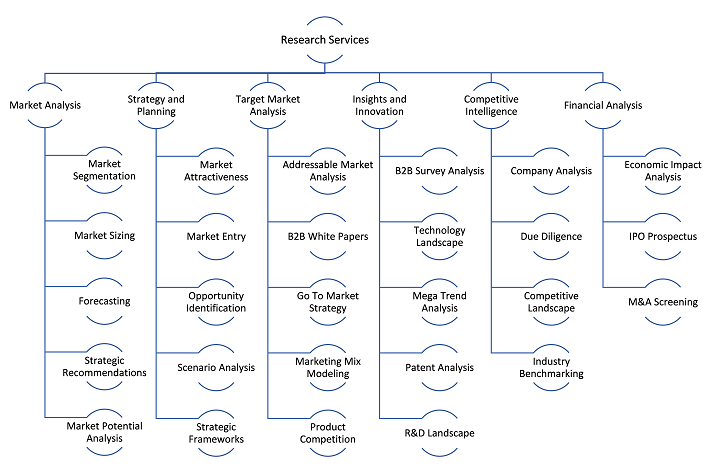 Get In Touch With Our Team On How We Can Help You