The purpose of this strategic research study titled "Digital Therapeutics Market – Growth, Future Prospects and Competitive Analysis, 2018 – 2026" was carried out for industry investors, company executives, and industry participants along with in-depth insights which will ultimately assist them in the process of making strategic decisions related to the opportunities in the digital therapeutics market. This report is a baggage of current and future prospects of digital therapeutics, we have explored each and every single aspect of this market. The research methodology applied to fulfill various data points was executed by us with a combination of primary and secondary research. In this research study the data was majorly extracted from our paid databases and that data was validated through primary interviews. Our report also covers in-depth information related to the research methodology applied for the study. To know about the key market dynamics and strategies deployed by competitors……
Objective
• To provide market size for global digital therapeutics market from 2015 to 2018 (US$ Mn)
• To forecast global digital therapeutics market size from year 2019 to 2026 (US$ Mn)
• To provide above mentioned data for market segments such as products, medical condition, and geography
• To elaborate regulatory scenario of digital therapeutics market
• To understand trends associated with inpatients and outpatients using digital therapeutics
• To analyze prescription pattern of digital therapeutics
• To determine number of subscription-based digital health app users on the basis of region and therapy area
Market Definition
It covers virtual therapy guidance, therapy support application, integrated drug-device/drug-diagnostic, stand-alone solution remote monitoring and device-based remote monitoring. Delivery of medical interventions via clinically-validated technologies to prevent, manage, and treat diseases and may be used standalone or in alliance with therapeutic pathways to enhance patient care and health outcomes. The range of products can be listed from device and medication sensors to patient-focused applications and software. Digital therapeutics assists patients with diabetes, asthma, heart disease, substance abuse, pain, sleep disturbances, and other conditions.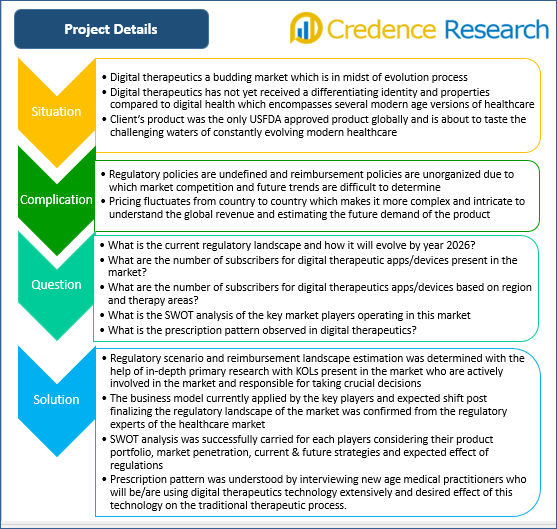 Secondary Research
The study was initiated with in-depth and extensive secondary research. Some of the basic, but most important sources referred during the study includes company annual reports, press releases, and relevant documents throwing light upon the recent developments in the global digital therapeutics industry. Reliable sources including scientific journals, university research papers and government websites were equally referred for mining precise market data and recognizing business opportunities. In addition, paid databases were referred to collect information useful for extensive technical and commercial study of the key players available in global digital therapeutics market. In case where no data was available on the public domain, we used modeling and estimates to arrive at comprehensive data sets. The therapy/service charges and on the consulting regimens practiced in specific country/region for patient care were discussed with stakeholders and then the product/service sales for each were deduced through our proprietary statistical models.
Primary Research
The extensive secondary research carried out in the first phase is complemented by extensive primary research to validate data and analysis. We would interview more than 250+ respondents from the entire world on an average 50 respondents per region. Primary research involves telephonic interviews, e-mail interactions as well as face-to-face interviews with the leading industry experts. A typical research interview fulfills the following functions:
• Helps in validating and strengthening the secondary research findings.
• Provides first-hand information on the market trends, growth trends, market size, and competitive landscape prevailing in the industry.