Plant extracts and plant parts such as fruits, glower, leaves, stems, roots, etc. are well known in cosmetic and pharmaceutical applications since ages. Application of plant and plant extracts in cosmetics is widespread and these products are used for purposes such as whitening, tanning, moisturizing, washings, etc. with recent research and introduction of plant and human stem cell products, their potential as a vital source of human tissue renewal. Plant stem cell technology is claimed to control and even reverse ageing process by harnessing the regenerative power of stem cells. This technology also helps in improving human stem cell regeneration. The earliest plant stem cell explored for anti-aging is from Swiss apples. Spending on agricultural and nutrition research and development has increased recently but the rate of growth is slow than expected. As of the present market scenario, products with plant stem cells with key ingredients are rare as against supplements with key nutrient ingredients that boost body stem cell regeneration. Affordability associated with these processes is in the capacity of the nutrition companies, where research in academia is restricted to funding and donations. As a result, the end-products thus introduced in the market are high priced…………
Objective
• To provide market size for global plant stem cell products market from 2016 to 2018 (US$ Mn)
• To forecast global plant stem cell products market size from year 2019 to 2026 (US$ Mn)
• To provide above mentioned data for market segments such as applications, and geography
• To analyze manufacturing process of plant stem cell products for cosmetics & nutrition
• To analyze why there is lucrative future for innovative plant stem cell products
Market Scope
This report on plant stem market for cosmetics & nutrition studies various applications of plant stem cell-based cosmetic products. Cosmetic applications of plant stem cell based cosmetics products comprises skin repair, anti-inflammatory, UV protection, under eye care, skin radiance, firming, anti-cellulite, and others (hydration, lip care, and antioxidant). Nutrition applications of plant stem cell based nutrition products comprises develop natural mechanism, develop stem cell physiology, cellular rejuvenation, weight loss, anti-wrinkle & others (skin hydration, antioxidant, and others).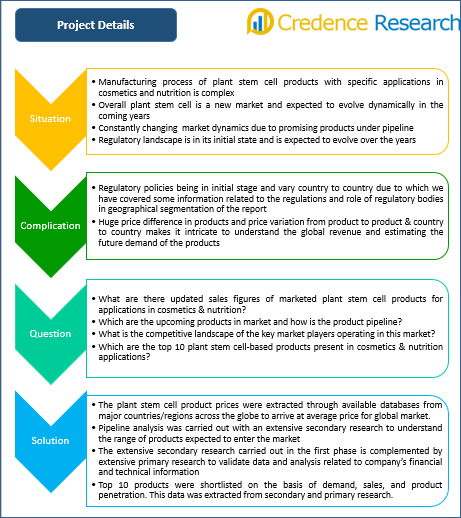 Secondary Research
The study was initiated with in-depth and extensive secondary research. Some of the basic, but most important sources referred during the study includes company annual reports, press releases, and relevant documents throwing light upon the recent developments in the global plant stem cell products industry. Reliable sources including scientific journals, university research papers and government websites are equally referred for mining precise market data and recognizing business opportunities. In addition, paid databases including Factiva, Reuters, Hoovers, OneSource, and Bloomberg are referred to collect information useful for extensive technical and commercial study of the key players available in global plant stem cell products market. In case where no data was available on the public domain, we used modeling and estimates to arrive at comprehensive data sets. The product prices were extracted through available databases from major countries/regions across the globe to arrive at average price for global market. Prevalence data was extracted for each country and on the treatment regimens practiced in specific country/region for plant stem cell products were discussed with stakeholders and then the product sales for each were deduced through our proprietary statistical models..
Primary Research
The extensive secondary research carried out in the first phase is complemented by extensive primary research to validate data and analysis. We interviewed more than 250+ respondents globally on an average 50 respondents per region. Primary research involves telephonic interviews, e-mail interactions as well as face-to-face interviews with the leading industry experts. A typical research interview fulfills the following functions:
• Helps in validating and strengthening the secondary research findings.
• Provides first-hand information on the market trends, growth trends, market size, and competitive landscape prevailing in the industry.