Ambulance Stretchers Market to Show Profitable Growth During the Forecast Period
The global ambulance stretchers market accounted for market value of US$ 208.5 Mn in 2017 and is projected to reach US$ 262.4 Mn by 2026 end. An ambulance stretcher is a medical transport device used in the extensive care of a seriously injured patient. Worldwide, growing healthcare infrastructure and expenditure, increase in emergency are services along with rise in accidental cases, sports injuries, injuries at workplace, and advancement in new transportable ambulance stretchers in the bariatric and critical care are anticipated to foster the overall market growth over the forecast period. In addition, technological developments in ambulance stretchers and government funding to emergency service providers across various developing countries will drive the overall growth of ambulance stretchers market growth.
Organizations in this industry assist patient transport by ground or air and give emergency or other therapeutic care. Most of the population does not have a descent approach to vehicle ambulance transport or in emergency trauma cases. Worldwide organizations, for example, the World Health Organization (WHO), and additionally smaller organizations such as Trek Medics International, are attempting to enhance or set up emergency medical services frameworks in developing countries, where prehospital care could decrease casualty rates. The U.S emergency ambulance services industry incorporates around 5,000 foundations with consolidated yearly revenue of around $14 billion. Increments in migration, birth rates, life expectancies, morbidity rate, and in addition emergency medical occasions, drives the overall demand for ambulance stretchers market. Multinational organizations have focal points of scale in contract transactions, service abilities, innovation, and geographic scope. Smaller organizations can contend successfully by giving superior administration and emergency services in particular areas locally.
New technology assessment in pneumatic and hydraulic based ambulance stretchers are boosting the demand in North America and Europe. Transportable stretchers such as pneumatic stretchers/hydraulic stretchers and electric powered stretchers are gaining more traction among emergency service providers and hospitals. To quote an example, POWERFlexx+ Powered Ambulance Cot (Ferno-Washington, Inc.) delivers 700 lbs. unassisted lift capacity, equipped with hydraulic actuator and dual lifting cylinders, multi-position foot-end lfit bar, and other top end features.
Market Synopsis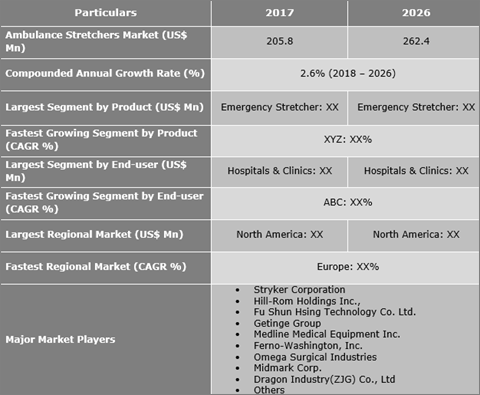 Get a sample copy for more information
The Transportable Ambulance Stretcher is expected to Register Higher Growth by the End of 2026
Transportable ambulance stretchers are gaining traction across the globe and are majorly used at the emergency service centers. Cost-effective services 24*7, easy-to-use ambulance stretchers, maintaining a high level of safety, comfort, and patient-centered care are likely to witness faster adoption among end users.
Transportable stretchers offer faster and uninterrupted care to patients. New hybrid devices are also being utilized that coordinate the usefulness of a stretcher, chair seat and a treatment or procedural table into one equipment. For example, powered system and Hybrid System stretchers manufactured by Stryker, with enhanced features and mobility. In few regions, the ambulance market has a new trend of renting out stretchers for short span of time that manages the hospitals to easily operate the received funding throughout the year.
New compact design of ambulance stretchers, and efficient workflow along with patient safety, manufacturers are proposing new products in the developing nations to acquire more market share. Newly manufactured ambulance stretchers shows improved adherence to conventional manufacturing guidelines.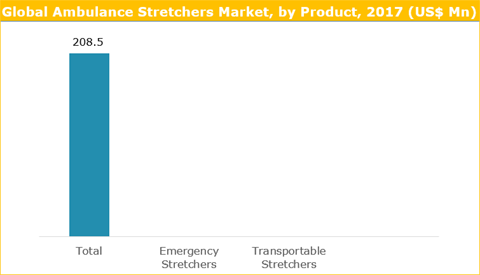 Get a sample copy for more information
On the Basis of Product Type, the Emergency Stretchers Segment is forecast to Command the Market From 2018 to 2026
Owing to a surge in the geriatric population, rising emergency trauma or accidental cases, sports injuries, growing medical tourism, rising awareness among general public about emergency services across the world, the adoption of emergency ambulance stretchers is on the rise and is expected to continue the dominance over the forecast period. For instance, the U.S. employers reported over 3000,000 workplace injuries in the year 2015. Work-related injuries are common in emergency services, and about half the on-the-job injuries sustained by EMS providers occur while lifting and moving patients. In addition, patient transfer operations through new emergency stretchers are smooth and dynamic even in the presence of crowds. Majority of the emergency stretchers are highly affordable and may not necessitate skilled caregivers to handle patients.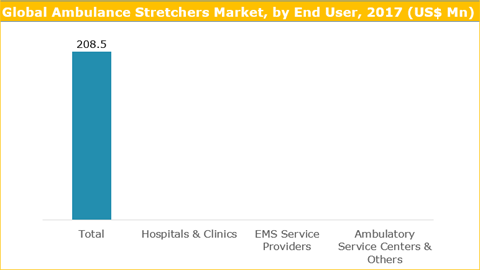 Get a sample copy for more information
Hospitals & Clinics Segment Contribute Maximum to the Overall Growth of Ambulance stretchers Market
Emergency vehicle transport and prehospital care could minimize casualty rates from mortality, for example, traffic related wounds, self-perpetrated injuries, relational violence, burns, and others - which are all among the main worldwide reasons for injury related deaths, as indicated by the WHO, more than 5 million individuals pass on every year due to these injuries. According to an independent source, in 2018, there are more than 145,000 hospitals across the globe. Worldwide surge in the number of hospitals & clinics coupled with comparatively higher adoption of ambulance stretchers during the emergency is supporting the dominance of the hospitals segment for higher adoption of emergency stretchers which contributes maximum patient safety with improved adherence. Additionally, increasing instances of accidental cases, cardiovascular related emergency cases, injury at workplace or sports injury rates may increase the demand of ambulance stretchers in the developing nations. Catastrophic events or natural calamities likewise increment the requirement for emergency care services and transport administrations.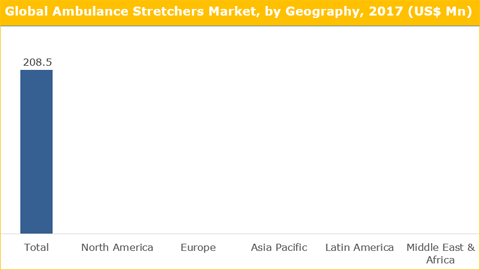 Rising Burden of Trauma & Accidental Cases and the Presence of Top Manufacturers Holds North America in Dominant Position
North America contributed maximum revenue share in the ambulance stretchers market in 2017, due to the presence of huge & structured emergency service providers in the U.S., along with growing adoption of top-end advanced ambulance stretchers for better and faster management of providing medical services. Also, rising concerns about safety among clinical staff, elderly population, and progress of novel ambulance stretchers is driving the market growth in North America region. Most US ambulance service providers are local businesses. Around 60% of the U.S ambulance service providers are part of single-site organizations. The states with the most ambulance service companies are Pennsylvania, Texas, California, and New York. Demand for ambulance services will grow as the US population ages and increases. About 20% of the U.S population will be age 65 or older in 2030, up from around 13% in 2010. The EMS (Emergency Service) service providers in the U.S. are connecting with hospital EHRs (electronic health record), EMS organizations in states such as California, New York, and Texas are piloting systems that facilitate information exchange with other health providers, according to Federal Emergency Management Agency. Asia Pacific is expected to register comparatively higher CAGR over the forecast period due to rising number of trauma cases, expanded emergency care services, increased healthcare expenditure, government funding for emergency care and growing awareness among the end user about new ambulance care and services in the remote and local regions.
Dominance of Established Multinational Players with Strong Product Portfolio Makes Market Penetration Difficult For Emerging Players
Major players in this space are Stryker Corporation, Hill-Rom Holdings Inc., Fu Shun Hsing Technology Co. Ltd., Getinge Group, Medline Medical Equipment Inc., Ferno-Washington, Inc., Omega Surgical Industries, Zhangjiagang New Fellow Med Co., Ltd., Dragon Industry (ZJG) Co., Ltd, CI Healthcare and others. These market participants are adopting growth strategies such as new product launches, mergers & acquisitions, partnerships, and collaborations to gain a competitive advantage.
Historical & Forecast Period
This study report represents analysis for each segment from 2016 to 2026 considering 2017 to be the base year. Compounded Annual Growth Rate (CAGR) for each of the respective segments are estimated for the forecast period from 2018 to 2026.
Report Scope by Segments
Ambulance stretchers market encompasses current and future market dynamics along with quantitative and qualitative analysis of the global market. The report describes thorough worldwide information of global ambulance stretchers market by segmenting the market in terms of product type, end-use, and geography. This global report would guide emergency service providers and medical care & other healthcare professionals and key market participants to understand the overall growth of the market along with market positioning and decision making.
ATTRIBUTE
DETAILS
Research Period
2016-2026
Base Year
2017
Forecast Period
2018-2026
Historical Year
2016
Unit
USD Million
Segmentation

Product Segment (2016-2026; US$ Mn)
• Emergency Stretchers
• Transportable Stretchers

End-user Segment (2016–2026; US$ Mn)
• Hospitals and Clinics
• Emergency Service Providers
• Ambulatory Service Centers

Geography Segment (2016–2026; US$ Mn)
• North America (United States and Canada)
• Europe (U.K., Germany, Rest of Europe)
• Asia Pacific (China, Japan, Rest of Asia Pacific)
• Latin America (Brazil, Mexico, Rest of Latin America)
• Middle East and Africa (GCC, Rest of MEA)
The current report also comprehends qualitative market assessment factors such as market trends, key market drivers, restraints and opportunities that gives a better market understanding of the overall ambulance stretchers market. Furthermore, the report also comprises graphical representation of competitive landscape based on their market initiatives and strategies, product portfolio and business strengths.
Key questions answered in this report
What are the current market trends and dynamics in the ambulance stretchers market and valuable opportunities for emerging players?
Which company contributes to the maximum revenue in 2017?
Which segment accounts for the fastest CAGR during the forecast period?
Which product type held the major market share in 2017?
Which end-user holds a larger market share and why?
What is the impact of high cost equipment on the ambulance stretchers market?
Are low and middle-income economies investing in the ambulance stretchers market?
What is the market trend and dynamics in emerging markets such as Japan, Latin America and Middle East & Africa?