Benzyl benzoate is a kind of ester compound formed by condensation of benzoate and benzyl alcohol and has several important applications. It forms either a viscous liquid or solid flakes and has a weak, sweet-balsamic odor. It can mainly be used in pharmaceuticals, textile auxiliaries, flavors & fragrance and plasticizer applications. It is on the World Health Organization's List of Essential Medicines, a list of the most important medications needed in basic health system. Benzyl benzoate lotion is commonly used for scabies treatment; Scabies is an infectious skin disease caused by microscopic mites known as Sarcoptes scabiei, which lives inside human skin. It is also used in treatment of pediculosis; pediculosis is a relatively common problem in school children in various parts of the world. Market size and forecast of each application is presented for the period 2015 to 2025 along with respective CAGR % for the forecast period 2017-2025.
Geographically, the global hand sanitizers market is studied for the following regional markets:
North America
Europe

Germany
France
Italy
Rest of Europe

Asia Pacific

China
India
Japan
Rest of Asia Pacific

Latin America

Brazil
Mexico
Rest of Latin America

Middle East and Africa

GCC
Rest of Middle East and Africa
The market size and forecast for the period 2015-2025 along with the CAGRs for the period 2017-2025 for the mentioned segments are also presented in this study.
Qualitative information sets such as market dynamics (drivers, challenges and opportunities) and market inclination insights are provided in this market assessment report. Tools such as competition assessment and attractive investment proposition are also included in this study for assessment of market competition. The report concludes with company profiles section that highlights key information about the major market players operating in the global benzyl benzoate market.
Emerald Kalama Chemical, Hunan Hongrun Chemical Technology Co., Ltd., Hubei Greenhome Fine Chemical CO., LTD., Jiangsu BVCO Biological Technology CO., LTD. , LANXESS, Liaoning Huayi Chemical Industry& Commerce Co., Ltd., Tianjin Dongda, Tianjin Dajia Chemical Co., Ltd., Wuhan Biet Co., Ltd., Wuhan Sinocon New Chemical Materials Co., Ltd., Wuhan Youji Industries Co., Ltd., Zengrui Chemical Zibo Co., Ltd., etc. are few key manufacturers in benzyl benzoate market.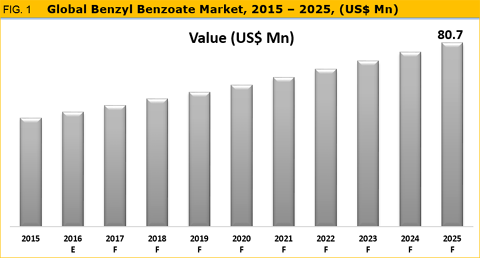 Purpose of the Report
The purpose of this strategic research study titled "Global Benzyl Benzoate Market - Growth, Opportunities, Share & Competitive Analysis, 2017 – 2025" is to offer industry investors, company executives, and industry participants with in-depth insights to enable them make informed strategic decisions related to the opportunities in the benzyl benzoate market.
Target Audience
Industry Investors
Procurement Managers from End-user Companies
Benzyl Benzoate Manufacturers
Distributors
USP and Key Offerings
The report titled "Global Benzyl Benzoate Market - Growth, Opportunities, Share & Competitive Analysis, 2017 – 2025" offers strategic insights into the overall benzyl benzoate market along with the market size, and estimates for the duration 2017 to 2025. The said research study covers in-depth analysis of multiple market segments based on applications and cross-sectional study across different regions.
In order to help strategic decision makers, the report also includes competitive profiling of the leading players in benzyl benzoate market in terms of their product portfolio, financial health and business strategies. Other in-depth analysis provided in the report includes:
Current and future market trends to justify the forthcoming attractive markets within the benzyl benzoate industry
Market drivers, market impediments, and their impact on the market growth
In-depth competitive environment analysis
Historical market size and data (2015 & 2016)
Overall, the research study provides a holistic view of the benzyl benzoate market, offering market size and estimates for the period from 2015 to 2025, keeping in mind the above mentioned factors.