Industry Outlook
Bio-alcohol market is expected to reach US$ 13498.8 Mn by 2026 with 6.6% CAGR during the forecast period from 2018 to 2026. Stringent regulations over automotive emissions along with demand for greener fuel, long-term energy security to supply energy in accordance with economic developments and environmental needs are some of the key aspects driving the market growth. Bio-alcohol are biologically produced alcohols such as produced by fermentation of cellulose, sugar and starches. Increasing use of biofuels has gained attention as an alternative to fossil fuels. Trend shows that growing applications of biofuels aims to counter global warming and carbon footprint and are therefore emerging as fuels of the future. Bio-alcohol are mixed with fossil fuels to suppress the emission of harmful gases such as sulphur, carbon monoxide, nitrogen oxide and ozone. Also, fluctuating crude oil prices is also expected to augment the development of bio-alcohol in coming years. Asia Pacific is projected to be the fastest growing region owing to rapid growth in applications such as transportation, power generation, medical and others. Asia Pacific being major hub of automotive continuously demand high performance products and transportation industry being the major consumer of bioethanol is expected to surge the demand of bioethanol over the forecast period.
Market Synopsis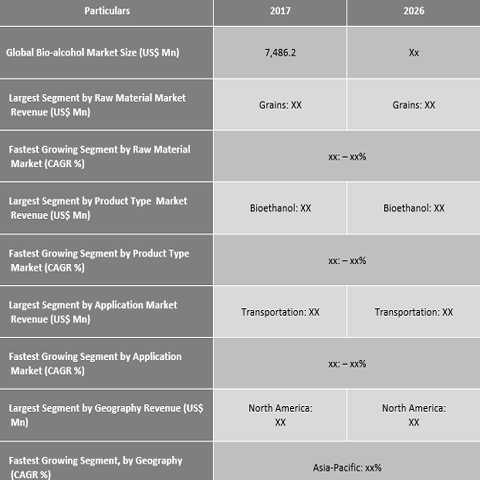 Get a sample copy for more information
"Grains segment to dominate the global bio-alcohol market by raw material"
In 2017, grains segment dominated the market by value and volume, and expected to maintain its dominancy throughout the forecast period. Cereal grains are widely used for food and feed applications; however, overproduction of cereals and advancement in technology in seed production, tillage, sowing led cereals to be used as an energy source. Additionally, staggering rise in production of automobiles especially in industrialized nations provides robust thrust to the adoption of ethanol as an ecofriendly fuel in transportation sector. On the other hand, biomass possess enormous potential as an energy source leading to production of different biofuels such as ethanol and biodiesel. Owing to high availability and low cost, biomass is envisaged to provide significant amount of feedstock for the production of bioethanol in the medium and long term. Feedstock and investment cost affects economy of scale as more than 75 percent of the ethanol production is reliant on feedstock. Rising conversion of biomass to ethanol as alternative markets to sugar and grain surplus is dependent on food market situations. This in turn provides significant opportunities for utilization of biomass in the coming years.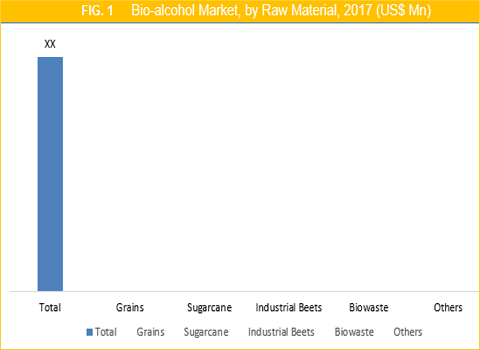 Get a sample copy for more information
"Bio-ethanol segment to dominate the global bio-alcohol product type market"
In 2017, bio-ethanol was the largest market by value and volume, and expected to maintain its dominancy throughout the forecast period. Ethanol is the most widely used additive to fuel in certain countries. Owing to its high octane number over ethane, ethanol boosts the octane of a fuel. Apart from this, ethanol produced from biomass burns clean and leads to little or zero contamination of vehicle parts. Multiple car producers are now manufacturing flexible-fuel vehicles (FFV's) that can run on various combinations of bioethanol and petrol, such as up to 100% bioethanol. Emerging uses of bioethanol in energy-oriented applications such as in power generation provides lucrative opportunities for market growth. Substantial increase in blending of petrol with bioethanol can enhance the life span of diminishing oil supplies and ensure fuel security globally. Biomethanol is projected to be the fastest growing product type market for bio alcohol growing with CAGR of 8.6% by value throughout the forecast period.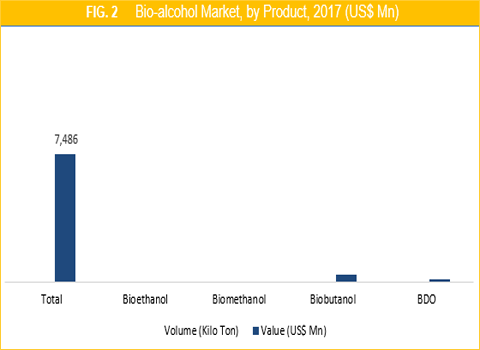 Get a sample copy for more information
"Transportation application exhibits enormous potential for development of global bio-alcohol market"
In 2017, transportation application dominated the market by value and volume, and expected to maintain its dominancy throughout the forecast period. As per the Organization for Economic Co-operation and Development (OECD), transport sector contributes to more than two-fifth of total greenhouse gas emissions (GHG). Currently, biofuels are witnessing stringent demand as an alternative to gasoline leading to significant reduction in GHG emissions. Vehicles are the major consumers of conventional fuel and therefore little modifications are required to work with vehicles. Bio-ethanol and biodiesel are the primary biofuels consumed in transport sector. Increasing use of biofuel as an advanced fuel in engines and other systems to improve the vehicle performance and efficiency expected to surge the market growth.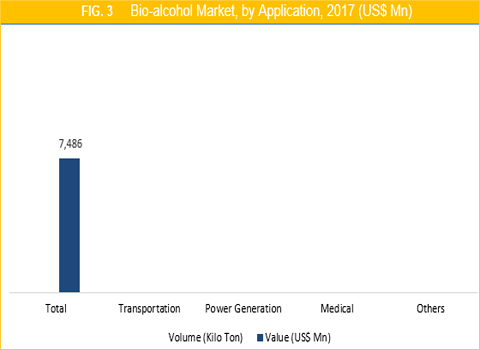 "North America dominated the global bio-alcohol market during the forecast period"
North America possessing huge manufacturing base of bio alcohols manufacturers, thus dominating the market share followed by Latin America. Fluctuating oil prices has provided an incentive to develop biofuels in North America. Apart from this, 2005 Energy Policy Act and tax reforms has significantly led to ethanol production in the United States. Governmental subsidies over production of corn (primary feedstock of ethanol) has led to increased ethanol production. Apart from this, U.S. Environmental Production Agency (EPA) implemented policy such as Renewable Fuels Standard (RFS2), which required gasoline in United States to be mixed with some amount of liquid fuel, spurring the overall consumption of bio-alcohol. Recent commitment by the United States Government to boost the bio-energy threefold in coming decade has added impetus to the search of viable biofuels, in turn driving the consumption of biofuel in this region. On the other hand, Brazil in Latin America is the second major producer of biofuel after USA. Growing number of ethanol bio refineries in Brazil, national bio-fuel policies for fuel production as well as rising number of gasoline stations are some of the major factors surging the demand for bio-alcohol in this region.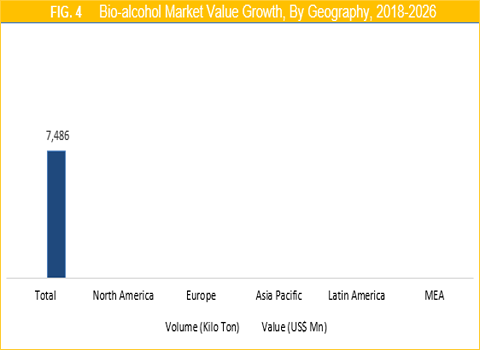 BP p.l.c is one of the promising players in the Bio-alcohol Market
Mergers and acquisition has been adopted as a key strategy by BP p.l.c in the global bio alcohol market. For example, in March 2017, BP acquired the biomethane business of Clean Energy Fuels Corporation for USD 155 Mn. Clean Energy Fuels Corporation, based in U.S, deals with natural gas fuel for transportation in North America. Hence, the acquisition will help the company to meet the growing demand for renewable natural gas fuel or biomethane that in turn is expected to accelerate the growth of this market during the forecast period. Other notable players competing in Bio-alcohol Market are BioAmber Inc., Cargill Inc., Fulcrum BioEnergy Inc., BASF SE, DuPont, Mitsubishi Chemical Corp, BP Biofuels and Genomatica Inc. among others.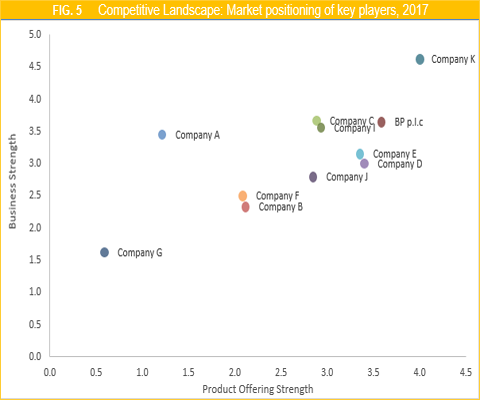 Historical & Forecast Period
This research report presents the analysis of each segment from 2016 to 2026 considering 2017 as the base year for the research. Compounded Annual Growth Rate (CAGR) for each respective segments are calculated for the forecast period from 2018 to 2026.
Report Scope by Segments
Bio-alcohol market report presents the current market dynamics along with quantitative analysis of the global market. The report elucidates the detailed outline of global Bio-alcohol Market by categorizing the market in terms of application and geography. The objective of publishing this extensive research report is to aid market stakeholders in making better decisions and strategic initiatives in the Bio-alcohol Market.
ATTRIBUTE
DETAILS
Research Period
2016-2026
Base Year
2017
Forecast Period
2018-2026
Historical Year
2016
Unit
USD Million
Segmentation

Raw Material Segment (2016–2026; Kilo Ton, US$ Mn)
• Grains
• Sugarcane
• Industrial Beets
• Biowaste
• Others (Jerusalem artichoke, cassava, etc.)

Product Type Segment (2016–2026; Kilo Ton, US$ Mn)
• Bio-ethanol
• Bio-methanol
• Bio-butanol
• BDO

Application Segment (2016–2026; Kilo Ton, US$ Mn)
• Transportation
• Power Generation
• Medical
• Others (construction, chemicals, alcoholic beverages, etc.)

Geography Segment (2016–2026; Kilo Ton, US$ Mn)
• North America (U.S., Canada)
• Europe (Belgium, Germany, France, Italy, Spain, Rest of Europe)
• Asia Pacific (China, Thailand, India, Rest of APAC)
• Latin America (Brazil, Mexico, Rest of LATAM)
• Middle East and Africa (GCC, Rest of MEA)
This research report further describes the major qualitative market assessment factors including key market trends, market drivers and restraints, to aid in better understanding of global Bio-alcohol market. Each market assessment factor including market drivers, challenges and opportunities are extensively explained considering the current market scenario. This report graphically maps the market players based on their market initiatives and strategies, product offering and business strength. Furthermore, the report provides attractive investment proposition based on the extensive geographical research.
Key questions answered in this report
What are the current market trends in the bio-alcohol market and valuable opportunities for the players?
How the regulatory framework affects the global as well as the regional markets?
Which are the prominent regions for investment for the players?
Which are the dominant players in bio-alcohol market and their market strategies?
What are the main applications and new revenue pockets in bio-alcohol Market?
What is the market size and trend in emerging markets?