Flax is one of the oldest cultivated crops. It is a member of linaceae family. Flax is grown across the globe including India, Canada, U.S, and China and all over Europe. Flax oil is also known as linseed oil which are sold as varnish in hardware stores. Linseed and flaxseed are often used interchangeably however there is a significant difference. When flax used for human consumption it is referred by flaxseed and linseed is referred when it has been used for industrial purposes. The largest planted areas of flax seed are in Canada, U.S, Russia, China and Kazakhstan.
Flaxseeds are nutritionally enriched seeds used for human consumption and animal feed. It is the richest source of omega-3 fatty acids. It contains more than 50% of linolenic acid and offers numerous health benefits such as reduces blood pressure, lowering serum cholesterol and also maintaining the health in cardiovascular diseases, asthma, diabetes and arthritis. There are new prospects to increase the use of flax for gums, breads, protein, breads and cereals. The humanization of pets has also created opportunities for flax. Apart from food linseed oil is also used in related industries due to its polymerization property. The global demand for flax is growing considerably, owing to its demand from the textile, food, and paper industries. Moreover, usage of flax in the personal care products and plastic industries is another key factor driving the market.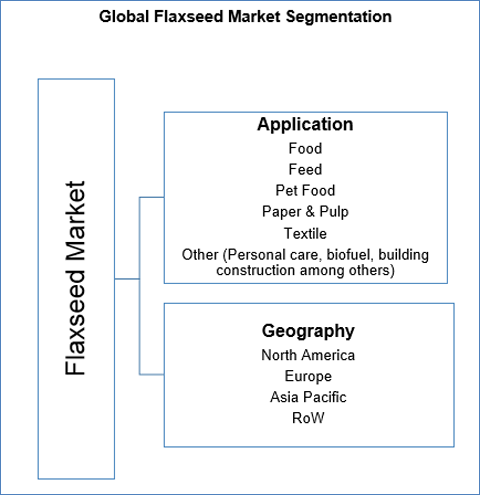 The report titled "Global Flaxseeds Market- Growth, Share, Opportunities and Competitive Analysis, 2015 – 2022" offers strategic insights into the global flaxseed market along with the market size and estimates for the duration 2014 to 2022. The said research study covers in-depth analysis of multiple market segments based on applications and cross-sectional study across different geographies. The study covers the comparative analysis of different segments for the years 2014 & 2022. The report also provides a prolific view on market dynamics such as market drivers, restraints and opportunities.
In order to help the strategic decision makers, the report also includes profiles of the leading flaxseed manufacturers, their SCOT (Strength, Challenges, Opportunities and Weaknesses) analysis and key developments. The major players profiled in the report are AgMotion Speciality Grains, S.S Johnson Seeds, Cargill Inc., CanMAr Grain Products Ltd, Stokke Seeds, Simosis International, Richardson International Ltd, Sunnyville Farms Ltd, TA Foods Ltd and Archer Daniels Midland Company. Further, the report also covers market positioning of the key players operating in the flaxseeds market. Other in-depth analysis provided in the report includes:
Current and future market trends to justify the forthcoming attractive markets within the flaxseeds industry
Market fuelers, market impediments, and their impact on the market growth
In-depth competitive environment analysis
SRC (Segment-Region-Country) Analysis
Overall, the research study provides a holistic view of the global flaxseeds market, offering market size and estimates for the period from 2015 to 2022, keeping in mind the above mentioned factors.