Fructooligosaccharides (FOS) is a prebiotic ingredient which has been used as a sweetener over the last few years mainly in the food & beverage industry. The product is projected to replace various sweeteners from the food & beverage industry such as xylitol, aspartame and sucralose on account of its cost effectiveness and superior properties. Furthermore, the FOS is considered to be less harmful when added to numerous products as compared to its other counterparts. Increasing consumer demand for low calorie or fat-free food along with health benefits FOS is projected to have a positive impact on the market.
Increasing application scope of FOS in various other industries such as in gums, dairy, soups and processed meat is projected to boost the market demand over the forecast period. Other applications for FOS includes animal feed and pet food. Growth in the pet food and animal feed industries in emerging economies is projected to augment demand over the next six years. Increasing consumption of functional foods mainly in North America and Europe is projected to increase FOS demand over forecast period. Moreover, it also used in manufacturing of dietary supplements as it helps in improve digestion when consumed in appropriate quantities. Investments in R&D to introduce new applications with cost effective manufacturing routes for FOS is projected to have new market opportunities over the next six years.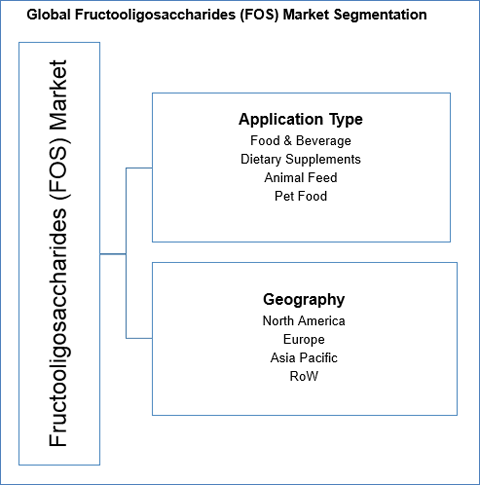 The report titled "Global Fructooligosaccharides (FOS) Market- Growth, Share, Opportunities and Competitive Analysis, 2015 – 2022" offers strategic insights into the global fructooligosaccharides (FOS) market along with the market size and estimates for the duration 2014 to 2022. The said research study covers in-depth analysis of multiple market segments based on applications and cross-sectional study across different geographies. The study covers the comparative analysis of different segments for the years 2014 & 2022. The report also provides a prolific view on market dynamics such as market drivers, restraints and opportunities.
In order to help the strategic decision makers, the report also includes profiles of the leading fructooligosaccharides (FOS) manufacturers, their SCOT (Strength, Challenges, Opportunities and Weaknesses) analysis and key developments. The major players profiled in the report are Meiji Seika Kaisha Ltd, Jarrow Formulas, Cheil Foods and Chemicals Inc, Beneo-Orafti, Victory Biology Engineering Co., Ltd., Quantum Hi-Tech, Beghin-Meiji, Cosucra,
Bailong Chuangyuan and CJ CheilJedang. Further, the report also covers market positioning of the key players operating in the fructooligosaccharides (FOS) market. Other in-depth analysis provided in the report includes:
Current and future market trends to justify the forthcoming attractive markets within the fructooligosaccharides (FOS) industry
Market fuelers, market impediments, and their impact on the market growth
In-depth competitive environment analysis
SRC (Segment-Region-Country) Analysis
Overall, the research study provides a holistic view of the global fructooligosaccharides (FOS) market, offering market size and estimates for the period from 2015 to 2022, keeping in mind the above mentioned factors.