Industry Outlook
Hemorrhoids are characterized by swelling and inflammation of veins in the anal canal and cause irritation, pain and itching to the patients. At present, several sufferers seek relief with an assortment of products such as home remedies, topical ointments of varying strengths and compositions. Direct application products offer temporary relief and have to be used for a limited period. Products such as cushions also offer comfort while sitting and cannot be considered as a treatment. Demographic studies have also revealed that those who purchase hemorrhoid care products have some primary factors in common such as age, low-income average, low education and so on. High education and high income bracket of patients is more appealing to permanent surgical treatments. However, lowering prices of band ligation treatments is anticipated to attract further patient groups.
Hemorrhoids is a common condition. It is estimated that as the U.S. population approached 50, half of this group will have experienced hemorrhoids; common causes being constipation, obesity, heavy lifting, compromised diet, sitting for longer periods and also diarrhea. The National institute of Diabetes and Digestive Kidney Diseases reported that 10.4 million Americans suffer from hemorrhoids, with 1 million new cases being reported every year. Among these, only one in three individuals seek medical help and treatment, thus leaving a huge set of population untreated. In several cases where medical treatment and lifestyle changes are not effective, patients are treated surgically and endoscopically.
Market Synopsis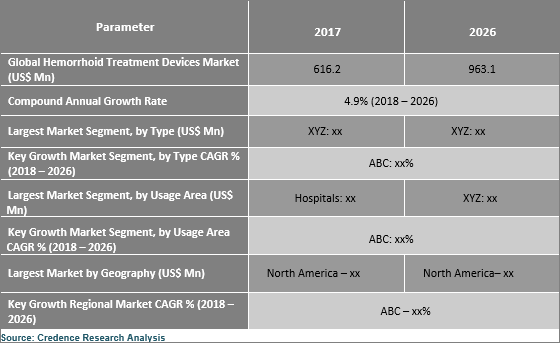 Get a sample copy for more information
"Band ligation to remain the most sought treatment method"
For internal and severe form of hemorrhoids, where conventional non-surgical are not effective invasive treatments such as band ligation, infrared coagulation and sclerotherapy are preferred. However, there is no clinical consensus on optimal treatment. The treatment goal of each of these treatments is limiting vascularity. Among the considered treatment methods, rubber band ligation is the most commonly performed procedure in outpatient settings. This treatment modality is reserved for patients with more severe patients that are not responding to non-operative therapies. There is substantial clinical data suggesting the efficacy of band ligation and significant reporting is available comparing band ligation with other methods. Recurrence of hemorrhoids after treatment is a chief limitation of band ligation, therefore restricting the market growth.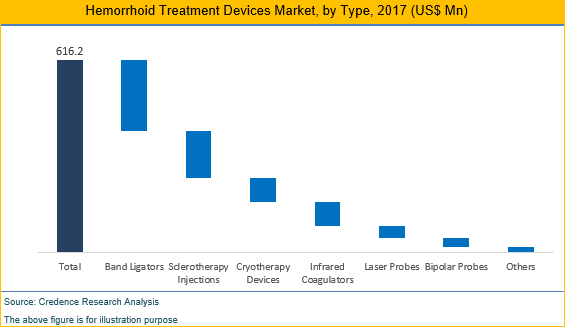 Get a sample copy for more information
"Ambulatory surgery centers and clinics to pick pace during the forecast period"
Currently hospitals are the most prominent segment where hemorrhoid treatments are largely performed. Lack of self-reporting for medical assistance and preference for invasive treatments only in urgent or severe cases assist in creating the dominance of hospitals, as treatment for severe hemorrhoids end up in seeking surgical treatments. Ambulatory surgical centers and clinics is anticipated to witness surge in patient footfall during the forecast period. improving awareness in the general population and cost containment of endoscopic treatments are facilitating the swift growth of these segments.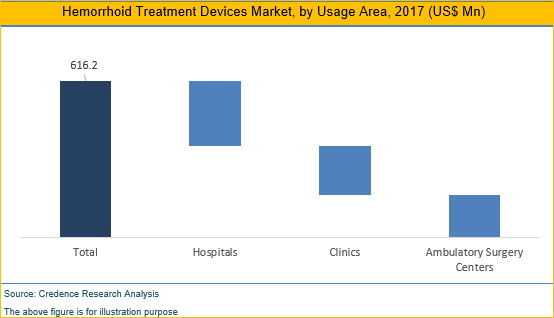 Get a sample copy for more information
"Despite the market domination, further expansion of North America and Europe are anticipated"
Geographically, the global hemorrhoid treatment devices market is cumulative to North America, Europe, Asia Pacific, Latin America and Middle East and Africa. Among these regions, North America and Europe are the largest regional markets for hemorrhoids treatments. However, consistently increasing prevalence of lifestyle associated conditions, obesity and constipation due to improper dietary habits will lead to further growth in incidence of hemorrhoids in the general population. Asia Pacific will witness rapid growth in the adoption of hemorrhoids treatment and therefore support the progress of the overall market. Improving awareness and increasing disposable incomes of the population are the key factors driving Asia Pacific market for hemorrhoid treatment devices.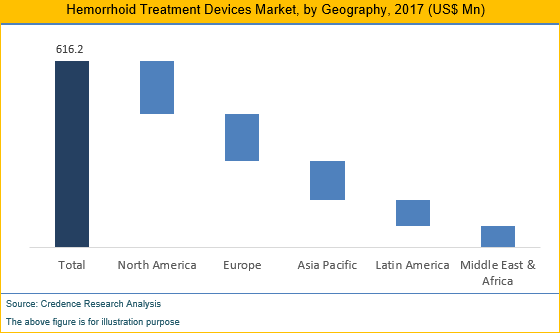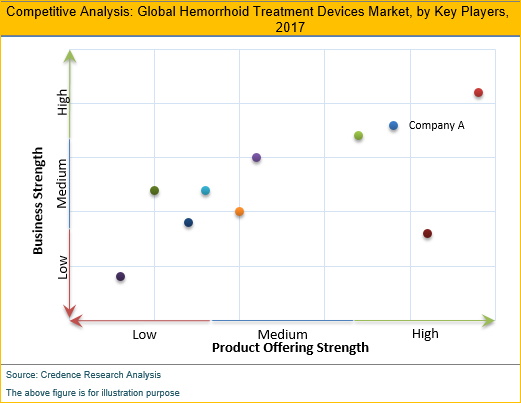 Historical & Forecast Period
This research report presents the analysis of each considered segment for the period from 2016 to 2026, having 2017 as the base year for estimations. Compounded annual growth rates (CAGRs) for each segment are calculated for the forecast period from 2018 to 2026.
Report Scope by Segments
The hemorrhoid treatment devices market report provides quantitative assessment of the industry terms of current and forecasted market size, while also presenting the market dynamics. This market is segmented based on types, and geography.
ATTRIBUTE
DETAILS
Research Period
2017-2027
Base Year
2018
Forecast Period
2019-2027
Historical Year
2017
Unit
USD Million
Segmentation

By Type (2016–2026; US$ Mn)
• Band Ligators
• Sclerotherapy Injections
• Cryotherapy Devices
• Infrared Coagulators
• Laser Probes
• Bipolar Probes
• Others

By Usage Area (2016–2026; US$ Mn)
• Hospitals
• Clinics
• Ambulatory Surgery Centers

Geography Segment (2016–2026; US$ Mn)
• North America (U.S., Canada)
• Europe (U.K., Germany, Italy, France, Spain, Rest of Europe)
• Asia Pacific (China, Japan, India, Australia, Rest of APAC)
• Latin America (Brazil, Mexico, Rest of Latin America)
• Middle East and Africa (GCC, South Africa, Rest of Middle East and Africa)
This report also includes company profiles section that gives insights on the company overview, product portfolio, financial information and key developments of major market players. The major players profiled in this report include Cook Medical, Medtronic Plc, Privi Medical, Sklar Corporation (Sklar Surgical Instruments), Integra LifeSciences Corporation, OBP Medical Corporation, A.M.I. GmbH, CONMED Corporation, Boston Scientific Corporation and Ethicon (Johnson & Johnson).
Key questions answered in this report
What is the estimated market size of the global hemorrhoid treatment devices market during the period 2016 to 2026?
What is the estimated CAGR of this market during the forecast period from 2018 to 2026?
What are the key trends that are being observed in the market which are defining the market movements?
Based on the product types, which device and therefore treatment modality is capturing the largest market share, and why?
Why the dominance of hospitals is challenged by ambulatory surgery centers?
Will North America and Europe further witness market growth due to the shedding inhabitance in the patients?