Industry Outlook
The global hyperbaric oxygen therapy (HBOT) devices market is anticipated to reach US$ 267.9 Mn by 2024. Increasing preference of physicians to use oxygen therapy has been greatly contributing to the market growth of HBOT devices. HBOT devices have received FDA approval for treatment of necrotizing soft tissue infection, injuries, burns, decompression sickness and others. Off-label use of HBOT devices encompasses treatment of brain injuries and even cancer, despite lack of robust clinical evidence. The HBOT devices market is therefore expected to witness boost in regional markets of Asia Pacific, Latin America and parts of Europe.
As the areas of applications of hyperbaric oxygen therapy are gradually increasing, there has been a resultant growth in the number of manufacturers offering HBOT devices. This has thus been driving the global HBOT devices market. However, moderate skepticism associated with adoption of hyperbaric oxygen therapy and large capital and space requirement may hold back the growth of this market. Further approvals expanding the application of hyperbaric oxygen therapy will consequently open avenues for market proliferation. Additionally, revived demand for HBOT devices will also be witnessed in the market due to growing adoption of multiplace devices.
Market Synopsis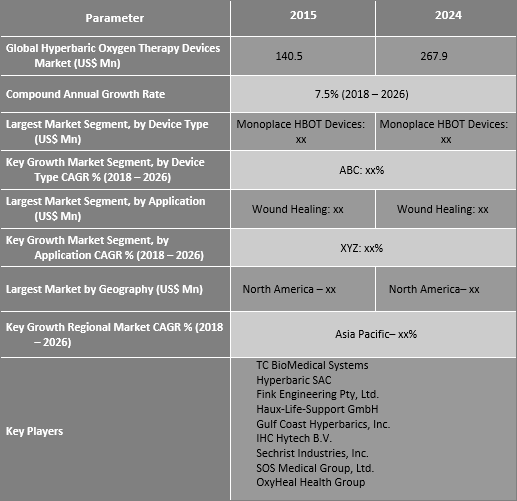 Heightened demand for multiplace HBOT devices to bolster the market position
At present, monoplace HBOT devices enjoy the dominance in the global HBOT devices market. Early introduction in the market and easy adoption in financially moderate settings facilitate the prominent position of this segment. On the other hand, the position of Monoplace HBOT devices will be significantly challenged by the growing popularity of multiplace devices segment. Multiplace devices are gaining heightened demand, particularly in the developed parts of the world due to greater affordability and ability to treat multiple patients simultaneously.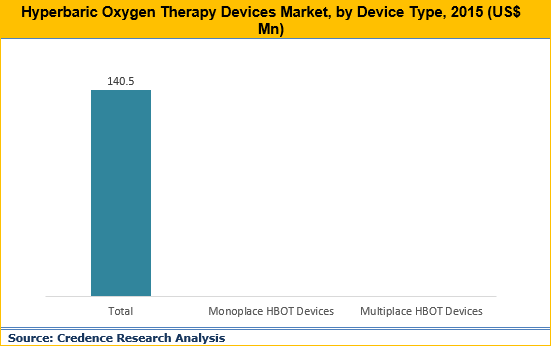 Wound healing to spearhead the HBOT devices market
Wound care and prevention of infection forms a prime concern for healthcare professionals worldwide. Rising incidence of pressure and diabetic ulcers, post-surgical complexities, and burns have urged the need for innovative and advanced would care solutions such as hyperbaric oxygen therapy. Oxygen therapy has been approved for wound healing purpose as it efficiently helps in improving morbidity while simultaneously providing moist environment for appropriate wound healing. Some of prime wound healing applications where HBOT is used include thermal burns, soft tissue infections, delayed radiation injuries, crush injuries and diabetic wounds. However, lack of awareness and less accessibility in resource poor settings may restrict the widespread adoption of HBOT devices for wound healing application.
Set to remain the leading market for medical devices, North America will dominate the market
North America is the largest regional market for hyperbaric oxygen therapy devices followed by Europe and Asia Pacific. Large patient population affected by diabetes and infection form the major driver of North America market. Existence of evolved healthcare infrastructure, favorable reimbursement policies, and greater awareness are the other key factors facilitating the dominance of North America on the global front. Additionally, Asia Pacific is identified as the fastest progressing regional market for hyperbaric oxygen therapy devices. Increasing disposable incomes, and widespread proliferation of healthcare system are the key drivers supporting the growth of Asia Pacific market. It is also anticipated that due to large geographical landscape, and growing healthcare facilities in the remote areas, the demand for topical HBOT devices will be high in Asia Pacific and Latin America.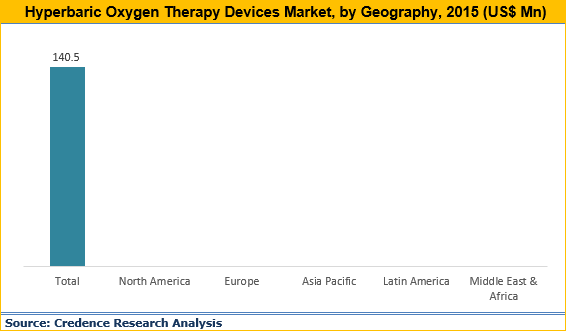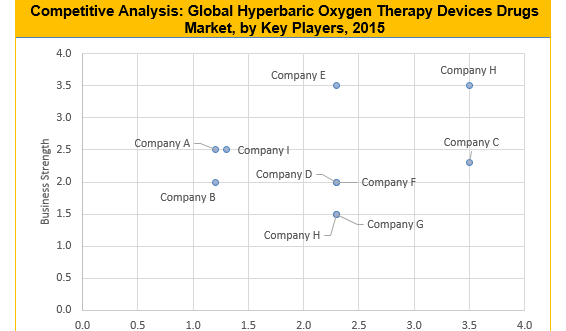 Historical & Forecast Period
2014 – Historical Year
2015 – Base Year
2016-2024 – Forecast Period
This research report presents the analysis of each segment considered for the period from 2014 to 2024, having 2015 as the base year for estimations. Compounded annual growth rates (CAGRs) for each segment are calculated for the forecast period from 2016 to 2024.
Report Scope by Segments
The hyperbaric oxygen therapy devices market report provides quantitative assessment of the industry in terms of current and forecasted market size, while also presenting the market dynamics. This market is segmented based on drugs and diagnostic tools, and geography.
by Device Type (2014–2024; US$ Mn)
Monoplace HBOT devices
Multiplace HBOT devices
by Application (2014–2024; US$ Mn)
Wound healing
Decompression sickness
Air or gas embolism
Infection treatment
Others
Laboratory Testing
Geography Segment (2014–2024; US$ Mn)
North America

Europe


U.K.
Germany
Rest of Europe

Asia Pacific (APAC)


China
Japan
India
Rest of APAC

Latin America (LATAM)


Brazil
Mexico
Rest of Latin America

Middle East and Africa (MEA)


GCC
Rest of Middle East and Africa
The overall dynamics of the global hyperbaric oxygen therapy devices market are analyzed for understanding the current market scenario and future outlook. Assessment of market drivers, challenges and opportunities gives the readers an insight into the major market aspects. This report also includes collection of the profiles of major players operating in the global hyperbaric oxygen therapy devices market. Some of such major market players are ETC Biomedical Systems, Sechrist Industries, Inc., HyperTec, Inc., OxyHeal Health Group, Perry Baromedical Corporation, Haux-Life-Support GmbH, HYPERBARIC S.A.C., Hyperbaric Technology (HyTech) B.V., Sands Hyperbaric Corporation, SOS Medical Group Ltd., Hearmec Co., Ltd., and Fink Engineering Pty. Ltd.
Key questions answered in this report
Status of the global hyperbaric oxygen therapy devices market in the base year 2015
How the global HBOT devices market will advance through the forecast period from 2016 to 2024?
What are the drivers and opportunities prevalent in the global HBOT devices market?
How the current market challenges may restrict the market growth during the forecast period?
What are the key growth strategies implemented or undertaken by the major market players for augmenting or retaining their positions?
Which device types holds dominance in the global market and which segment will post challenge to its dominance?
Which is the most prominent therapeutic use holding prominence in the global HBOT devices market?
How Asia Pacific market will fare in the global front during the forecast period from 2016 to 2024?