The moulded fibre pulp is widely used as primary and secondary packages in various end-use industries. The strong protective cushioning properties coupled with cost effective packaging solutions, drives the global moulded fibre pulp packaging market. Easy reprocessing and biodegradable offerings results in boosting the demand for the moulded fibre pulp packaging. Furthermore, products made from moulded fibre pulp saves storage space by almost 60%-70% when compared to EPS and other foam products which in turn lowers the logistics costs. Moulded fibre pulp packaging is used as green packaging solutions thus making them most sought by companies projecting positive eco-friendly image.
Transfer moulded type accounts major share among the molded pulp type and offers products with wall thickness of 3mm to 5mm with smooth surface finish on one side. Some of the factors such as high volume production with uniform density and short cycle time drives the transfer moulded pulp type segment.
Asia Pacific, accounts major share in the global moulded fibre pulp packaging market, attributed by the continued growth in the food & electronic packaging. The key global players are capitalizing on these opportunities by increasing capacities and offering regional innovative products. The market is Asia Pacific is fragmented with presence of various mid-small players, especially in China.
Despite challenges in recycling capability as weaker and short fibres are generated, the manufacturers are developing innovative as well as competitive pulp products, with addition of virgin fibres. This inclusion of virgin fibres is to offer high strength to avoid damage while transportation as well as performance improver to outperform its substitute EPS. Some of the key players present in this market are HUHTAMAKI GROUP, UFP Technologies, Inc., Brødrene Hartmann A/S, Pactiv LLC, Celluloses De La Loire, KEIDING INC., EnviroPAK Corporation, KEYES Packaging Group, Robert Cullen Ltd., and Hawk Group among others.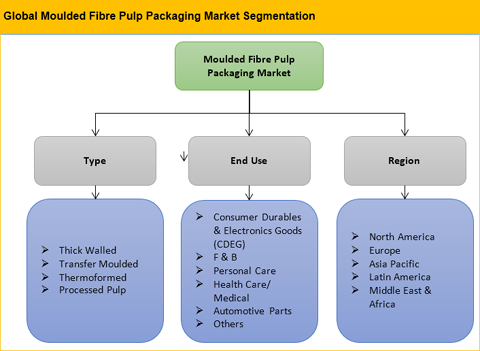 The report titled "Global Moulded Fibre Pulp Packaging Market - Growth, Future Prospects, and Competitive Analysis, 2017 – 2025" offers strategic insights into the global molded fibre pulp packaging market along with the market size and estimates for the duration 2015 to 2025. The said research study covers in-depth analysis of multiple market segments based on moulded pulp type, end-use and cross-sectional study across different geographies. The study covers the comparative analysis of different segments for the years 2016 & 2025. The report also provides a prolific view on market dynamics such as market drivers, restraints and opportunities.
In order to help the strategic decision makers, the report also includes profiles of the leading moulded fibre pulp packaging manufacturers, along with their, product portfolio and key developments. Other in-depth analysis provided in the report includes:
Current and future market trends to justify the forthcoming attractive markets within the moulded fibre pulp packaging industry
Market fuelers, market impediments, and their impact on the market growth
In-depth competitive environment analysis
Trailing 2-Year market size data (2015 – 2016)
SRC (Segment-Region-Country) Analysis
Overall, the research study provides a holistic view of the global moulded fibre pulp packaging market, offering market size and estimates for the period from 2017 to 2025, keeping in mind the above mentioned factors.