Industry Outlook
The global nanoemulsion market projected to reach US$ 14,760.4 Mn by 2026 from US$ 6,827.5 Mn in 2017, growing at a CAGR of 8.9% during the forecast period from 2018 to 2026. Technically nanoemulsions are thermodynamically stable, isotropic, translucent or transparent, and dispersions of oil & water stabilized with a film linking surfactant molecules with a droplet size of 20 to 500nm. Nanoemulsions are widely used in several applications such as vaccine delivery, DNA encoded drug, antibiotics, cosmetic & topical preparations. The key advantages of nanoemulsions are elimination of inconsistency in absorption, enhancing the absorption rate, assists solubility of lyophilic drug, increases bioavailability, and high thermodynamic stability. The key factors restraining the growth of nanopharmaceutical market are demand for improved characterization, potential toxicity issues, absence of explicit regulatory guidelines, unorganized cost-benefit strategies, and declining interest of a few health care professionals.
Market Synopsis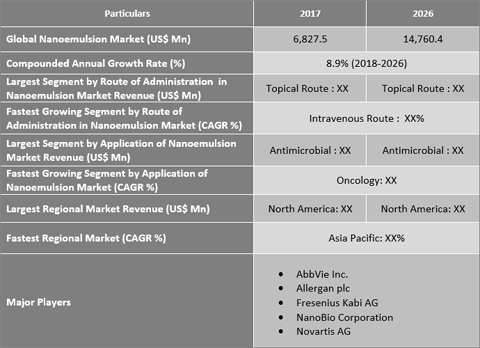 Get a sample copy for more information
"Intravenous route will grow significantly throughout the forecast period due to ongoing expansion in different therapeutic areas"
Emulsions deliver a central oil core, stably dispersed in water, which can act as reservoir for hydrophobic drugs. Emulsion are preferred for topical administration, the small size of nanoemulsions makes them attractive for parenteral delivery. In addition to solubilization of hydrophobic drugs, emulsions can reduce pain or irritation upon injection, improve pharmacokinetics, allow for new forms of administration, and can provide for sustained or targeted release. Nanoemulsion is ideal for parenteral delivery compared to macroemulsion due to higher bioavailability, and longer residence time in the body. Mucosal vaccines manufactured with nanoemulsion assists needle-free immunization by transporting recombinant protein, deactivated organism to a mucosal surface as nanoemulsion leads the protein surface to be adjuvanted, and facilitating uptake by antigen-presenting cells. Thus, intravenous route expected to grow significantly during the forecast period from 2018 to 2026.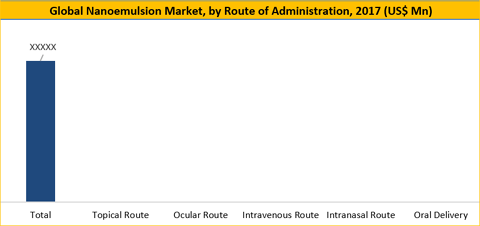 Get a sample copy for more information
"Increasing demand for formulations with high bioavailability and therapeutic efficiency is assisting the growth of nanoemulsion market in Asia Pacific"
Asia Pacific was the fastest growing nanoemulsion market throughout the forecast period from 2018 to 2026 due to key driving factors such as developing pharmaceutical research & development infrastructure, rising awareness related to early disease diagnosis & treatment, and incessant research in the field of nanoemulsion technology. In year 2017, North America dominated the nanoemulsion market and expected to maintain its dominance throughout the forecast period. The key factors responsible for North America's growth comprises technologically advanced research & development facilities, increasing demand for efficient drug formulations, and key market players are based in this region.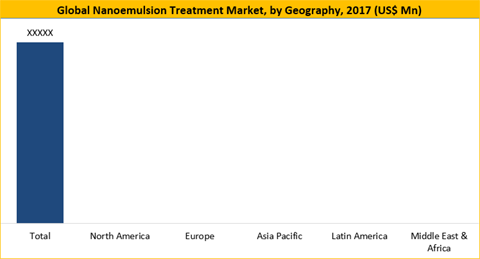 Get a sample copy for more information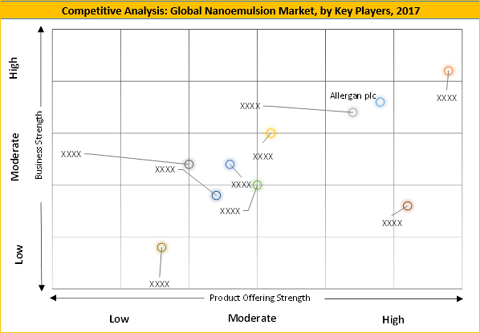 Historical & Forecast Period
The nanoemulsion market analyzed considering current market trends for base year 2017 and based on future trends CAGRs calculated for the forecast period from 2018 to 2026.
Report Scope by Segments
This report on nanoemulsion market offers in-depth information related to market dynamics and global trends. The report provides comprehensive summary of the global nanoemulsion market by segmenting the market based on route of administration, application, and geography. The objective of publishing this in-depth research report is to assist the industry stakeholders in carrying-out decisions and strategy implementation in the nanoemulsion market.
ATTRIBUTE
DETAILS
Research Period
2016-2026
Base Year
2017
Forecast Period
2018-2026
Historical Year
2016
Unit
USD Million
Segmentation

Route of Administration Type Segment (2016–2026; US$ Mn)
• Topical Route
• Ocular Route
• Intravenous Route
• Intranasal Route
• Oral Route

Application Segment (2016-2026; US$ Mn)
• Antimicrobial
• Cosmetic
• Oncology
• Prophylactic in Bioterrorism
• Mucosal Vaccines
• Cell Culture Technology
• Others (non-toxic disinfectants & gene delivery vector among others)

Geography Segment (2016–2026; US$ Mn)
• North America (United States and Canada)
• Europe (U.K., Germany, Rest of Europe)
• Asia Pacific (China, Japan, Rest of Asia Pacific)
• Latin America (Brazil, Mexico, Rest of Latin America)
• Middle East and Africa (GCC, Rest of MEA)
This report further describes the major qualitative assessment factors including key market trends, market drivers & restraints, to assist in better understanding of global nanoemulsion market. Furthermore, the key players analyzed graphically based on their product offering, market strategies and business strength. The report also provides attractive investment proposition based on the extensive geographical research carried out based on PESTEL analysis. Key players profiled in the report include AbbVie Inc., Allergan plc, AstraZeneca plc, Fresenius Kabi AG, Kaken Pharmaceutical Co., Ltd., Covaris, Inc., NanoBio Corporation, Novartis AG, GlaxoSmithKline plc, and Sanofi S.A. among others.
Key questions answered in this report
What are nanoemulsions and their evolving applications?
How route of administration plays key role in nanoemulsion technology?
What are the recent market trends and growth opportunities for the companies operating in nanoemulsion industry?
Which are the most attractive markets geographically for nanoemulsion technology?
Which is the fastest growing application of nanoemulsion?
What is the competitive landscape of nanoemulsion market?