The neurofeedback systems market is set to reach from US$ 820.7 Mn in 2017 to US$ 1,565.6 Mn by 2026 at a compound annual growth rate (CAGR) of 7.5% during the forecast period from 2018 to 2026. According to the latest research findings published in Lancet by the Global Burden of Disease (GBD), neurological disease are the leading cause of death and disability worldwide. Neurofeedback system is also called as EEG biofeedback system is a noninvasive type of brain training system. It employs electrodes to record and modulate brain waves in the treatment of neurological diseases.
Market Synopsis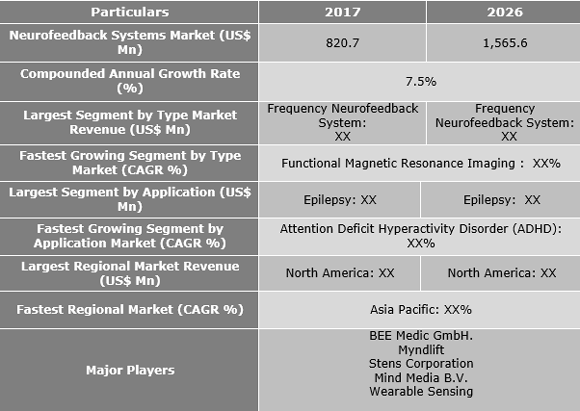 Get a sample copy for more information
"Simplicity and popularity among neurologist drives the market growth for frequency neurofeedback system"
Frequency neurofeedback system is currently reigning the type segment for neurofeedback systems market. The key features contributing to its positive growth are its ease and simplicity to operate and popularity among neurologist. It uses 2 to 4 surface electrodes and so is popularly called as surface neurofeedback. It is employed to change the speed and amplitude of specific brain waves for the treatment of neurological disorders such as ADHD, insomnia and anxiety. Functional magnetic resonance imaging (fMRI) is the latest neurofeedback system which is employed to modulate brain activity from deep subcortical brain region. It is the most effective method used in the planning and execution of epilepsy surgery.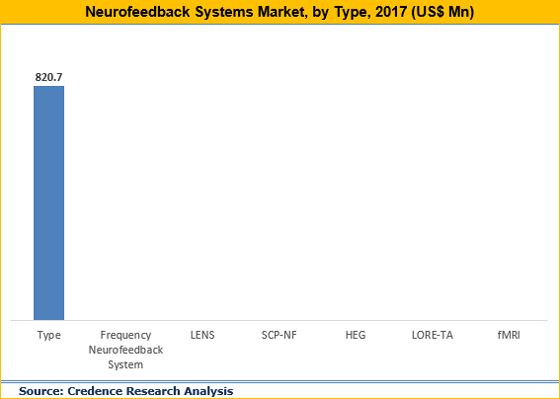 Get a sample copy for more information
"Increasing prevalence rate and significant rise in the patients showing resistance to medication drive the market growth for epilepsy"
Epilepsy is currently dominating the application segment for neurofeedback systems market. 50 million people throughout the globe are suffering with epilepsy making it the most common neurological disease. It causes social discrimination and stigma to people suffering with epilepsy. There has been a significant increase in the number of patients showing resistance to medication. In epilepsy the brain continuously misfires signals, hence neurofeedback modulates the brain to inhibit slow waves and promote mid-range frequencies which eventually prevents seizures. Attention deficit hyperactivity disorder (ADHD) has garnered a lot of attention in the last decade. Medications such as Concerta, Ritalin and Dexedrine have been used as long term treatment for ADHD, evidence have reported with severe adverse effects associated with this medication such as anxiety, insomnia and decreased appetite. Neurofeedback therapy decreases the brain activity in theta band region and promotes activity in beta band region in patients suffering with ADHD.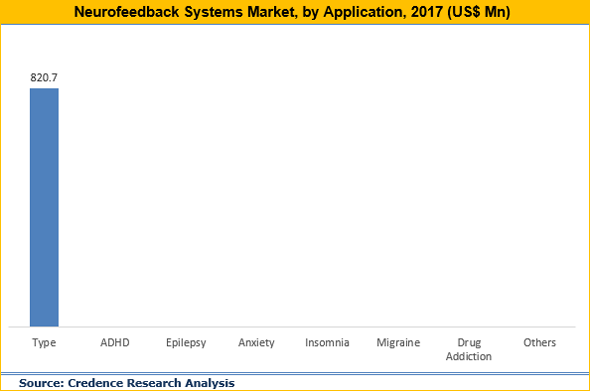 Get a sample copy for more information
"Rising prevalence of neurological disorders and existence of advanced healthcare infrastructure drive the market growth in North America"
North America currently holds a share of 60% in the neurofeedback systems market. The major features responsible for its dominance in global neurofeedback systems market are rising prevalence of neurological disorders and existence of advanced healthcare infrastructure. As per the statistics provided by Center for Disease Control and Prevention (CDC), there are approximately 3.4 million U.S. citizens suffering with active epilepsy. Europe is the second largest market with a share of 20% on account of large population base suffering with insomnia and anxiety. Several patients are showing resistance to medication and are seeking EEG based therapies to change the brainwaves to counteract ADHD, epilepsy and migraine. Asia Pacific represents a share of 8% and is set to register impressive growth during the forecast period from 2018 to 2026 on account of developing health infrastructure and rampant growth in neurological diagnosis and treatment.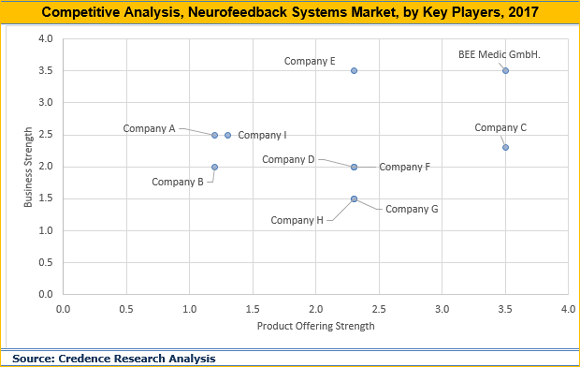 Historical & Forecast Period
This research report presents the analysis of each segment from 2016 to 2026 considering 2017 as the base year for the research. Compounded annual growth rate (CAGR) for each respective segments are calculated for the forecast period from 2018 to 2026.
Report Scope by Segments
The market segmentation comprises of by type, application and geography.
ATTRIBUTE
DETAILS
Research Period
2016-2026
Base Year
2017
Forecast Period
2018-2026
Historical Year
2016
Unit
USD Million
Segmentation

By Type (2016–2026; US$ Mn)
• Frequency Neurofeedback System (FNS)
• Low Energy Neurofeedback System (LENS)
• Slow Cortical Potential Neurofeedback System (SCP-NF)
• Hemoencephalographic Neurofeedback System (HEG)
• Low Resolution Electromagnetic Tomography (LORE-TA)
• Functional Magnetic Resonance Imaging (fMRI)

By Application (2016–2026; US$ Mn)
• Attention Deficit Hyperactivity Disorder (ADHD)
• Epilepsy
• Anxiety
• Insomnia
• Migraine
• Drug Addiction
• Others

Geography Segment (2016–2026; US$ Mn)
• North America (United States and Canada)
• Europe (U.K., Germany, Rest of Europe)
• Asia Pacific (China, Japan, Rest of Asia Pacific)
• Latin America (Brazil, Mexico, Rest of Latin America)
• Middle East and Africa (GCC, Rest of MEA)
Medical device manufacturers producing EEG equipment for neurofeedback systems are BrainMaster Technologies, Inc., BEE Medic GmbH, Mind Media B.V., Mitsar Co., Ltd., Myndlift, Neurobit Systems, NeuroCare Group GmbH, Stens Corporation, Thought Technology Ltd. and Wearable Sensing.
Key questions answered in this report
Which major players are active in the neurofeedback systems market?
What are the latest technological advancement in the EEG devices and how effective are they in modulating abnormal brain waves?
What is the disease etiology of common brain illness and how effective is neurofeedback systems in their treatment?
What is FMRI and how is it employed in the treatment of epileptic surgical procedures?
What is ADHD and what is the treatment regimen employed?
Which factors are responsible for the dominance of North America in global neurofeedback systems market?