Polybutene is a polymer which is derived from isobutylene. Polybutene is a colorless to pale yellow viscous liquid. It is has slight characteristic odor or is odorless and tasteless. It is also known as a liquid oligomer which has application as a plasticizer for various applications in the market. It is used as a plasticizer for high molecular weight polymers such as polyethylene, lubricants and carriers among others. Polybutene is colorless and is available in various grades in the market. It is differentiated based on grades by characteristic such as molecular weight and the grades with high molecular weight are known to have increased viscosity.
Polybutene is often known to be similar to but different from Polybutylene. Polybutene is manufactured by a process of cationic polymerization of butylenes which consist of mixed C4 feedstock known as streams. The mixed C4 feedstock is derived from different sources which include FCC cracker streams and refinery streams among others. These streams consist of butane-1, butane-2 and isobutylene which are then included to a few degree in the polymer chain.
The research and development activities have continued to find new opportunities for polybutene. The advantages of polybutene make it vulnerable for wide range of applications in the end-user industries. Non-toxic, non-drying, UV stable, permanently tacky, corrosion preventive and thermal stability are some of its advantages which have led to use of polybutene in various end-user industries worldwide. The major applications of polybutene are fuel and lubricant additives, adhesives, lubricants, electrical insulation, cosmetics, and personal care products among others.
Growing demand for polybutene from the end-user industries worldwide is the major driving factor for growth of global polybutene market. The advantageous properties of polybutene have attracted the attention of manufacturers across the worldwide market for various applications. Therefore, polybutene is expected to experience high growth in the near future. Asia Pacific is one of the major emerging markets globally. It accounted for major market share of polybutene due to high demand from the petroleum industries in the region. High demand for fuel and lubricant additives and lubricants in the region is driving market growth of polybutene in Asia Pacific. Other regions such as Europe, North America, Latin America and Middle East and Africa are expected to follow Asia Pacific in terms of demand for polybutene during the forecast period. Therefore, high demand is reported for polybutene from various end-user industries worldwide.
Polybutene market was valued at US$ 1,827.0 Mn in 2016 and is expected to reach US$ 2,733.9 Mn by 2025, growing at a CAGR of 4.6% during the forecast period 2017-2025.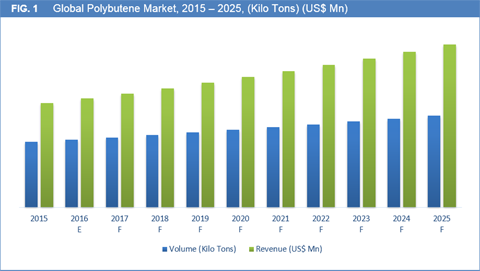 Purpose of the Report
The purpose of this strategic research study titled "Polybutene Market - Growth, Future Prospects & Competitive Analysis, 2017 – 2025" is to provide company executives, industry investors, and industry participants with in-depth insights to enable them make informed strategic decisions regarding the opportunities in the global polybutene market.
Target Audience
Industry Investors
Polybutene Vendors
Other Intermediaries
Institutional Research Scholars
USP and Key Offerings
The report titled "Polybutene Market - Growth, Future Prospects & Competitive Analysis, 2017 – 2025" offers strategic insights into the global polybutene market along with the market size and estimates for the duration 2015 to 2025. The said research study covers in-depth analysis of multiple market segments based on application and cross-sectional study across different geographies. In order to help strategic decision makers, the report also includes competitive profiling of the leading polybutene vendors, their expansion strategies, market positioning, and latest developments. Other in-depth analyses provided in the report include:
Current and future market trends to justify the forthcoming attractive markets within polybutene industry
Market fuelers, market impediments, and their impact on the market growth
In-depth competitive environment analysis
Trailing 2-Year market size data (2015 – 2016)
Overall, the research study provides a holistic view of the global polybutene market, growth, offering market size and estimates for the period from 2017 to 2025, keeping in mind the above mentioned factors.