Key Market Insights
"Large Benefit of Ultracapacitor over Batteries will spur the Market Growth during the Forecast Period"
The global ultracapacitor market was valued at US$ 1.52 Bn in the year 2018 and expected to reach US$ 7.93 Bn by the year 2027, expanding at a CAGR of 20.2% during the forecast from 2019 to 2027.
Ultracapacitor is an electrostatic energy storage device that stores energy by polarizing the electrolytic solution. The device is gaining momentum in present and coming years due to rise in energy consumption regulations, and increasing preference for renewable energy over fossil fuels. Its benefits over traditional batteries such as high efficiency, small charging & discharging time, and capability to work in extreme temperatures make them more preferable for wind turbine, hybrid electric vehicles, and other diverse applications. As per Maxwell Technologies Inc., the company deployed more than 65 Mn ultracapacitor cells for various stationary and mobile applications globally.
Market Synopsis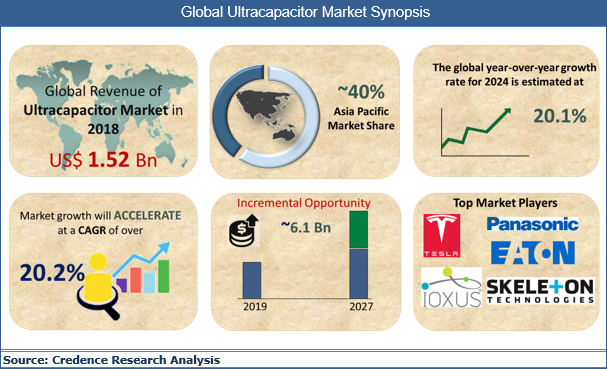 Get a sample copy for more information
Application Analysis
"Consumer Electronics led the Global Ultracapacitor Market in the year 2018"
In 2018, consumer electronics segment dominated the global ultracapacitor market with nearly 50% revenue share. The robust growth of the segment majorly attributed to proliferation of smartphones in Asian countries such as China, India, and Brazil. In addition, shifting consumer trends towards smart devices including smart watch, smart glasses, e-papers, and other smart electronics has uplifted the market growth to an impressive level.
Automotive & transportation segment seeks significant growth during the forecast period owing to increasing preference for Hybrid Electric Vehicle (HEV). Chasing problems of air pollution and other environmental concerns have proliferated the adoption of HEV. They also keep company with fuel consumption laws and regulations. In the wake of further advancement in HEV, ultracapacitor is used against batteries to improve their fuel economy by 15-30%. Furthermore, low cost of ultracapacitor is another prime factor for its profound market growth in the automotive sector.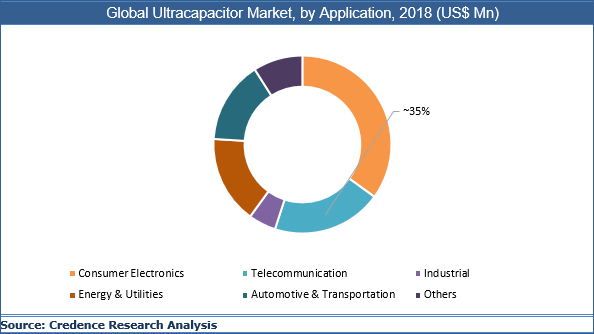 Get a sample copy for more information
Regional Analysis
"Asia Pacific garnered the largest revenue share of the Global Ultracapacitor Market in 2018"
The Asia Pacific accounted for majority of the revenue share in the global ultracapacitor market for 2018. In addition, the region expected to grow considerably during the forecast period. The Asia Pacific was the most dynamic region in the consumer electronics segment over 2010-2015 and the same trend continued during the forecast period from 2019-2027. This is mainly due to the overwhelming growth in percent household and annual disposable income in the region.
In addition, Asia Pacific anticipated to lead the automotive ultracapacitor market during the forecast period from 2019-2027. This is mainly due to high production rate of passenger vehicles in countries such as Japan, China, and South Korea. However, North America and Europe accounted for significant share in the global ultracapacitor market owing to pioneer developers of innovative automotive products.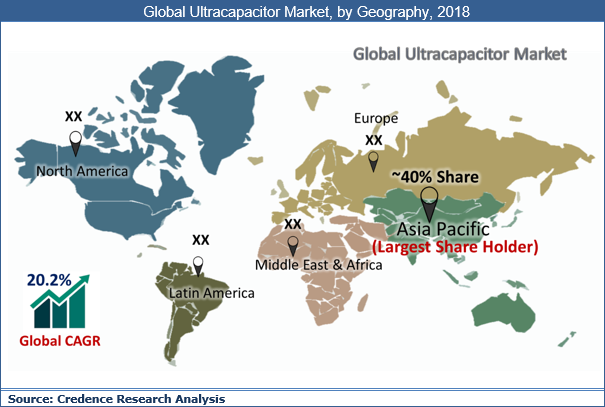 Get a sample copy for more information
Key Players & Competitive Landscape:
"Rising Investment in Ultracapacitor has boost the Competition in the Global Ultracapacitor Market"
Increasing research & development in ultracapacitor along with its increasing demand as an environment-friendly energy storage solution has spurred the competition among players significantly. In the wake of same, market players invest significantly for product development to retain their market position.
List of Companies Covered:
Ioxus Inc.
Skeleton Technologies
Cap-XX
LS Mtron
Tesla Inc
Nec-Tokin
Nippon Chemi-Con Corporation
Panasonic Corporation
Supreme Power Solutions Co Ltd
Vinatech Co Ltd
Yunasko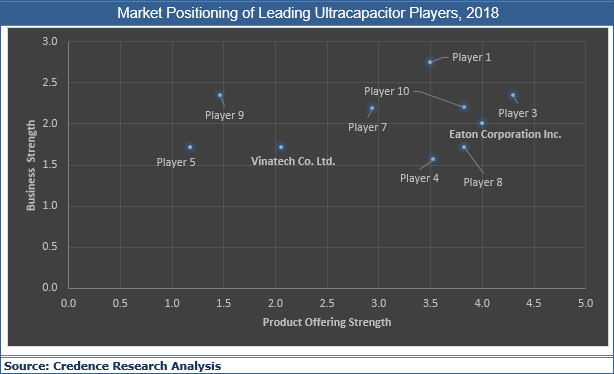 Key Industry Development:
On September 24, 2019, First Graphene Ltd. signed an agreement with the Manchester University for developing graphene-hybrid materials that are used in supercapacitors. These materials have the potential to develop new generation ultracapacitors that are frequently used in wide range of applications ranging from electric vehicles to cranes and elevators.
On March 05, 2018, Eaton Corporation Inc. announced its new XT supercapacitor of 3.0 volts that offers 20% higher power density and 15% greater energy density. The new supercapacitor costs comparatively lower for per watt-hour compared to other available supercapacitors. It also allows to reduce weight and size for designs that implies high cell count.
On April 28, 2017, Maxwell Technologies Inc., a subsidiary of Tesla Inc. announced to acquire Nesscap Energy Inc., a Canada-based ultracapacitor manufacturing and developing company. The acquisition will help Maxwell to extend its existing product portfolio and market capabilities in the ultracapacitor business.
Historical & Forecast Period
This research study provides qualitative as well as quantitative insights for each segment and sub-segment from 2017 to 2027, considering 2018 as the base year for the research. CAGR (Compounded Annual Growth Rate) for each segment and sub-segment calculated for the forecast period from 2019 to 2027.
Report Scope by Segments
The research study titled ultracapacitor market offers market size and forecasts based on market dynamics and predominant trends shaping the industry. The report provides all round view of the global ultracapacitor market based on application, and geography. Key segments covered in the report are as follows:
ATTRIBUTE
DETAILS
Research Period
2017-2027
Base Year
2018
Forecast Period
2019-2027
Historical Year
2017
Unit
USD Billion
Segmentation

Application Segment (2017–2027; US$ Bn)
• Consumer Electronics
• Telecommunication
• Industrial
• Energy & Utilities
• Automotive & Transportation
• Others (Automated Meter Reading (AMR), heavy equipment, etc)

Geography Segment (2017–2027; US$ Bn)
• North America (U.S, Rest of North America)
• Europe (U.K., Germany, France, Rest of Europe)
• Asia Pacific (China, Japan, India, Rest of Asia Pacific)
• Rest of the World (Middle East & Africa, Latin America)
Key questions answered in this report
What was the global market size of ultracapacitor in 2017 & 2018?
What is estimated forecast and market projections up to 2027?
Which is largest regional market for ultracapacitor?
Which is the most lucrative application segment of ultracapacitor?
Which are the predominant trends shaping the global ultracapacitor market?
Which is the most promising, attractive, and less-explored region in the global ultracapacitor market?
Who are the leading players in the global ultracapacitor market?
What are the premiere strategies adopted by the leading players in the global ultracapacitor market?