Industry Outlook
A notable rise in beverage consumption has been observed from past few years with a wide variety of beverages at the disposal of consumers. The trend of beverage consumption certainly encouraged sales of beverage dispensers allowing the market to register market value of over US$ 1 Bn. The market estimated to grow steadily and touch a considerable mark in 2026 with a progressive growth rate of 3.2% throughout the forecast period from 2018 to 2026. Consumers' preferences, ease of availability and changing lifestyles of modern day human being are few of the several factors helping the beverage dispenser market to grow. Dramatic growth in food & beverages industry also projected to aid the growth of market in coming years.
Market Synopsis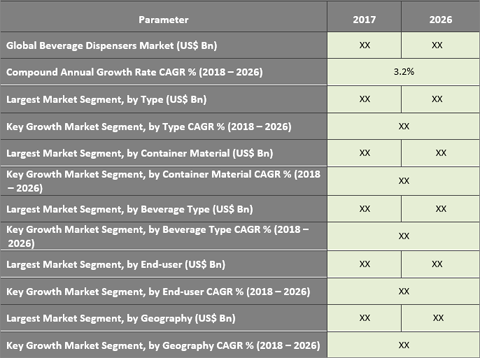 Get a sample copy for more information
"Consumers' Preference for Refrigerated Dispensers Aided the Segment to Claim its Supremacy"
Majority of beverages tastes best when served chilled as suggested by almost every beverage manufacturers. This helped refrigerated beverage dispensers market to gain upper hand over other beverage dispensers. Majority of cafés, bars, restaurants, hotels and catering services prefer to procure refrigerated dispenser to serve their customers' the best services. Small cafés, bars, and residential applications go for insulated dispensers consequently, ranked below refrigerated and above uninsulated beverage dispensers market value. Uninsulated beverage dispensers projected to lose their market share to refrigerated and insulated version in coming years.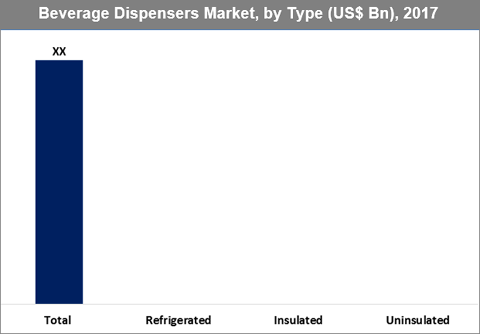 Get a sample copy for more information
"High Consumption of Carbonated and Acidic Beverages Urged Metallic Container Dispenser to Lead the Market"
Increasing consumer preference for acidic or carbonated drinks encouraged the demand for metallic container beverage dispensers. These metallic containers are generally made up of stainless steel which does not react chemically with any beverage nature and temperature. Alcoholic or non-alcoholic carbonated drinks are generally kept in metallic beverage dispensers. Besides, polycarbonate and acrylic container beverage dispensers trail metallic version respectively. Polycarbonate containers are unbreakable and facilitate easy cleaning. Although acrylic is not unbreakable, its transparency is more compared to polycarbonate and increase aesthetic value of beverages stored. Glass contributed least to the overall market.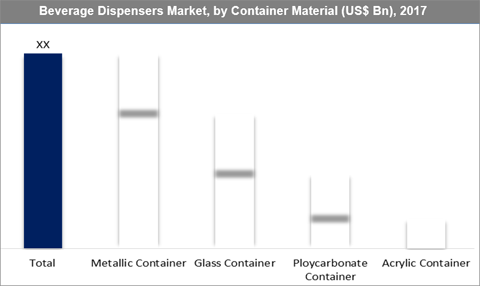 Get a sample copy for more information
"Growing Cafés & Bar Culture in Developing Countries Kindled some Pace in the Beverages Dispensers Market"
Rapidly evolving café and bar culture in developing countries in Asia Pacific and prominent tourist destinations in Europe is a major contributor in the growth of beverage dispensers market. Consequently, cafés & Bars are the top contributors in the overall segment followed by hotels & restaurants in terms of market value. The trend not expected to settle down in coming years which is an encouraging scenario for beverage dispenser manufacturers. Others segments consist of malls, public transportation stations, and catering contractors. Other segments projected to demonstrate considerable growth with growth in a number of mall and station eateries. The performance in residential end-user sales projected to contribute below average in the overall market in coming years.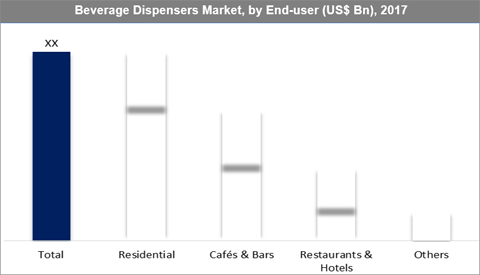 "Asia Pacific as Dark Horse Estimated to Lead Market Beyond Forecast Period"
In 2017, North America contributed the majority of market value share in overall beverage dispensers market followed by Europe. North America is well known for its love for both alcoholic and non-alcoholic beverages along with its fast-paced lifestyles. This worked as a major driving factor for North America to dominate the market. However, huge population with majority of youth in Asia Pacific projected to uplift café culture in coming years with significant growth rate. Consequently, Asia Pacific projected to big positive impact on the demand for beverage dispensers in coming years.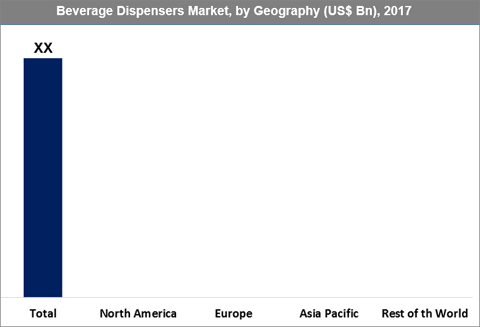 Market Segmentation
ATTRIBUTE
DETAILS
Research Period
2016-2026
Base Year
2017
Forecast Period
2018-2026
Historical Year
2016
Unit
USD Billion
Segmentation

By Type (2016–2026; US$ Bn)
• Refrigerated
• Insulated
• Uninsulated

By Container Material (2016–2026; US$ Bn)
• Metallic Container
• Glass Container
• Polycarbonate Container
• Acrylic Container

By Beverage Type (2016–2026; US$ Bn)
• Alcoholic Beverage
• Non-alcoholic Beverage

By End-user (2016–2026; US$ Bn)
• Residential
• Cafes & Bars
• Hotels & Restaurants
• Others (Malls, Public Transportation Stations, Catering, etc.)

Geography Segment (2016–2026; US$ Bn)
• North America (U.S. and Canada)
• Europe (U.K., Germany, France, and Rest of Europe)
• Asia Pacific (Japan, China, India, and Rest of Asia Pacific)
• Rest of World (Middle East & Africa (MEA), Latin America)
"Product Development is the Key for Beverage Dispenser Manufacturers to Stay One Step Ahead"
Similar to several other consumer products associated with food & beverage sector, beverage dispenser market is also highly fragmented market. The market value is a contribution of local as well as international beverage dispenser manufacturers toiling extremely hard to increase their sales as well as profits. Attracting particular class of customers by continuously upgrading products is one of the key survival strategies adopted by the leading players. Some of the key beverage dispensers vendors profiled in this research study include Igloo Products Corp., Welbilt, Inc., Cornelius, Inc., FBD Partnership, LP, FOLLETT LLC, Hoshizaki Lancer, BRAS INTERNAZIONALE SPA, Danby Appliances Inc., Cambro Manufacturing Company, Inc., Bunn-O-Matic Corporation among others.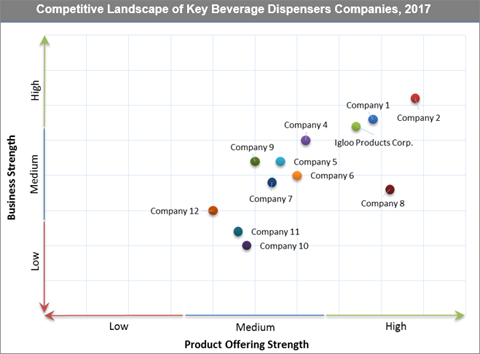 Key questions answered in this report
What are the latest trends in the beverage dispensers market and potential opportunities for the computing players?
How growing café culture and number of eateries affect the growth of global as well as regional beverage dispensers market?
Which are the largest and fastest growing segment in terms of type, container material, beverage type, and end-user?
Which is the most attractive geographical region/country for overall beverage dispensers market?
How will changing lifestyle and food habits play a vital role in overall beverage dispensers market in coming years?
What is the market size and trends in developing regions such as Asia Pacific, Middle East & Africa, and Latin America?