Industry Outlook
Bio-based polyethylene terephthalate (PET) market projected to exhibit the CAGR of 20.8% during the forecast period from 2018 to 2026. Bio-based polyethylene terephthalate (PET) market is currently gaining traction owing to rising demand for eco-friendly sustainable solution from end-use industries coupled with growing public awareness and increasing customer interest in bio-based plastics. Polyethylene terephthalate is highly commercialized and preferred resin in packaging industry, can be derived from bio MEG as well as petroleum derived PTA. However, manufacturers are currently shifting to bio-based PET owing to ongoing green movement and also bio-based PET find its usage in all existing application of polyethylene terephthalate.
Favorable government and environmental regulations driving the market as an environment friendly substitute. However, inadequate supply of raw materials due to high for ethanol from biofuel and food and beverage sector projected to limit the availability of MEG. Moreover, the emergence of substitutes such as polyethylene furanoate (PEF) expected to hamper industry growth in the near future. For instance, In December 2011, The Coca-Cola Company signed an agreement with Avantium for the development of PEF, 100% recyclable and bio–based polymer has superior properties as compared to bio-based PET and has the potential to replace conventional resources based durable material polyethylene terephthalate (PET).
The U.S. has been one of the largest consumers of bio-PET for manufacturing bottles and consumer goods. Surge in demand for eco-friendly packaging from food & beverage, pharmaceutical, and consumer products in order to mitigate the greenhouse gas (GHG) emissions on a domestic level expected to fuel the market in developed economies. Also, increasing demand from non-packaging application industry such automotive, textile, and electronics expected to play a significant role in driving growth in the near future.
The majority of bio-PET comprises 70% petroleum-based PTA and 30% bio-based MEG. However, some companies are heavily investing for the development of 100% bio-based and biodegradable PET. Key players operating in the bio-based polyethylene terephthalate (PET) market includes Toray Industries Inc., Teijin Limited, M&G Chemicals, and Toyota Tsusho among others.
Market Snapshot
Market Snapshot: Global Bio-based Polyethylene Terephthalate Market Volume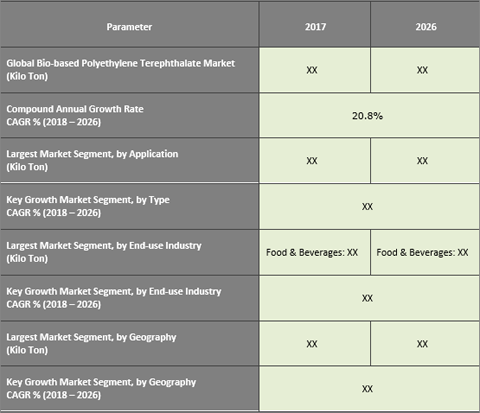 Get a sample copy for more information
"Beverages Container Segment Represents Over 3/4th Share of Total Bio-based Polyethylene Terephthalate Demand"
Beverages container segment dominated the Bio-based polyethylene terephthalate (PET) market demand in 2017 and expected to maintain its position during the forecast period with majority of the demand coming from bio-PET water bottles followed by carbonated soft drinks bottle and others. Growing importance of sustainable packaging among beverages manufacturers such as Heinz, Coca-Cola, and PepsiCo expected to be the key driving factor for the overall market growth.
Films & Sheets segment accounted for the second largest share in 2017, followed by food and non-food containers. Food containers includes wide range of food storage products such as bottles, jars, tubs, and so on. Films & sheets and fabrics application segment projected to witness the robust growth during the forecast period owing to increasing demand of bio-PET from these application.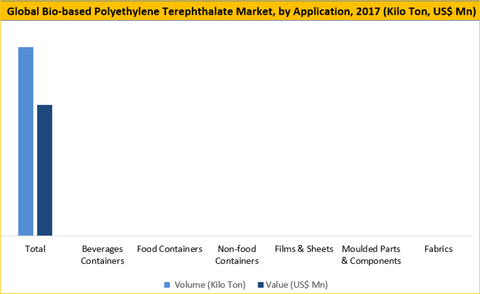 Get a sample copy for more information
"Food & Beverages End-use Industry Held the Largest Share in 2017 and Projected to Remain Dominant during the Forecast Period"
Food & Beverages segment accounted for more than 70% of bio-based polyethylene terephthalate market demand in 2017. Bio-PET is becoming preferred packaging material over oil-base PET for many food and beverages products. Being an inert material with good physical properties, glass-like transparency, and environment friendly nature makes Bio-PET a good option for water and carbonated soft drink packaging. Moreover, its compatibility with food grade materials, good gas barrier properties, and retention of carbonation during the normal distribution and usage of carbonated beverages fuelling its growth in food & beverages industry. Bio-PET also exhibits a high strength to weight ratio that enables the manufacture of lightweight unbreakable containers.
Bio-PET also find promising application in textile industry. Many manufacturers are moving towards producing bio-polyester fabrics resulting in much lower greenhouse gas emissions while offering same versatility and performance as its petroleum counterpart expected to boost the demand for bio-PET from textile industry.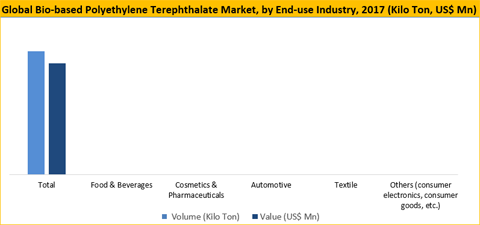 Get a sample copy for more information
"Growing End-Use Industries in Asia-Pacific, Making It the Leading Region"
Asia-Pacific market accounted for the largest market value and volume share in 2017. Growing end-use industries such as food & beverages, automotive, and textile in Asia-Pacific offers several growth opportunities for bio-based polyethylene terephthalate market. Asia Pacific cosmetics & pharmaceutical and consumer goods market is also flourishing owing to rising disposable income and strong economic growth, which will also stimulate government spending, solid consumer spending, and increased demand for goods. These factors are expected to positively contribute to the growth of bio-PET in Asia-Pacific region.
Economic Growth in Leading Asia-Pacific Countries

Majority of Bio-PET demand comes from economies such as India and China. Rising disposable income, high economic growth, improving living standards, and high government spending, etc. offering abundant opportunities for Bio-PET in these emerging economies.
North America is the second largest market with the significant value and volume share, followed by Europe in 2017. North America bio-based polyethylene terephthalate market is mainly driven by technical innovation, rising consumer awareness about the use of green products, and strict government & environment regulation for reducing GHG emission market. Latin America is projected to be one of the most lucrative region besides Asia-Pacific for producing bio-based PET on account of abundance availability of sugar alcohol sources including corn and sugarcane in Brazil. Moreover, rapid growth of soft drinks market in Latin America expected to propel the bio-PET market in the region.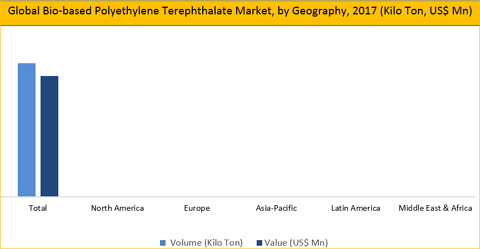 "New Product Development is the Preferred Strategy Adopted by Key Players in Bio-based Polyethylene Terephthalate Market"
Increasing costs of petrochemical feedstock and consumer shift towards environmentally friendly products motivate manufacturers to develop green substitute of polyethylene terephthalate to cater varying consumer needs. Bio-based Polyethylene Terephthalate market is highly fragmented with the presence of many public and private players forcing companies to form strategic alliances for manufacturing 100% bio-based product. However, new product development is the preferred strategy adopted by key players to get an edge over other players. For instance, In April 2016, Wisconsin-based Company, Virent introduced world's first 100% plant-based polyester shirts in order to develop the petroleum-free polyester and a lower carbon footprint alternative to current petroleum-based fabrics. Key manufacturers of bio-based polyethylene terephthalate market includes The Coca-Cola Company, Teijin Limited, Toray Industries Inc., and Toyota Tsusho Corporation among others.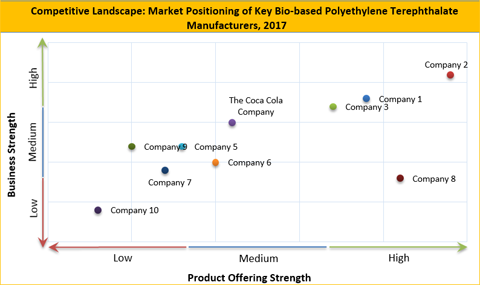 Historical & Forecast Period
Each market segment is analyzed in our study for the period of 2016 to 2026 with 2017 as the base year while period from 2018 to 2026 is considered for the CAGR calculation.
Report Scope
The report enlightens the thorough outline of global bio-based polyethylene terephthalate market by categorizing the market in different segment given below:
ATTRIBUTE
DETAILS
Research Period
2016-2026
Base Year
2017
Forecast Period
2018-2026
Historical Year
2016
Unit
USD Million
Segmentation

By Application Segment (2016–2026; Kilo Ton, US$ Mn)
• Beverages Containers
• Food Containers
• Non-food Containers
• Films & Sheets
• Moulded Parts & Components
• Fabrics

By End-use Industry (2016–2026; Kilo Ton, US$ Mn)
• Food & Beverages
• Cosmetics & Pharmaceuticals
• Automotive
• Textile
• Others (consumer electronics, consumer goods, etc.)

Geography Segment (2016–2026; Kilo Ton, US$ Mn)
• North America (United States and Canada)
• Europe (U.K., Germany, Rest of Europe)
• Asia Pacific (China, Japan, Rest of Asia Pacific)
• Latin America (Brazil, Mexico, Rest of Latin America)
• Middle East and Africa (GCC, Rest of MEA)
Key questions answered in this report
What are the current market trends in the bio-based polyethylene terephthalate market and valuable opportunities for the players?
How the environmental regulations affect global as well as the regional markets?
Which is the most lucrative region for investment?
What is the market size and trends in emerging markets?
Which are the prime end-use industries of Bio-PET across different geographies?
Which are the major application of Bio-PET and their market sizes?
Which are the leading players and their market position?