Curcumin is a bright yellow color is derived from curcuminoids which are fat soluble, polyphenolic pigments. Curcumin is also known as turmeric extract. Curcumin is present in two tautomeric forms such as enol and keto. The enol form of curcumin is energetically stable in liquids and solid phase. The beneficial properties of curcumin have led to high demand in various ne d-user industries in the market. Curcumin possesses anti-inflammatory, antifungal and antiviral actions. It exerts anti-inflammatory activity by inhibition of number of different molecules which play an important role in inflammation.
Based on application, global curcumin market is segmented into pharmaceutical, food, cosmetics and others which include cyanide detection and dye. Among these, pharmaceuticals accounted for larger share of the global curcumin market is expected to rise during the forecast period. Growing demand for curcumin in the pharmaceutical industry has boosted market growth of global curcumin market. The beneficial properties of curcumin such as anti cancer and anti-viral has made its useful in manufacturing wide range of medicines and herbal supplements. Therefore, pharmaceutical industry is anticipated to generate high demand for curcumin in the near future. Food accounted as the second largest application segment of curcumin. Curcumin is widely used as spice in Asia Pacific and as a food colorant in the West. Therefore, high demand if reported for curcumin from Asia Pacific as curcumin is used in the Asian cuisine. Curcumin is insoluble in water and this is expected to hinder the growth of global curcumin market. However, water soluble salts of curcumin are expected to take over the market as they can be used in wide range of applications in end-user industries.
Curcumin market was valued at US$ US$ 35.7 Mn in 2014 and is expected to reach US$ 84.3 Mn by 2022, growing at a CAGR of 11.6% during the forecast period 2015-2022.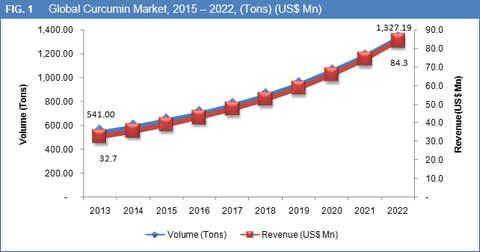 Purpose of the Report
The purpose of this strategic research study titled "Global Curcumin Market - Growth, Share, Opportunities, and Competitive Analysis, 2015 – 2022" is to provide company executives, industry investors, and industry participants with in-depth insights to enable them make informed strategic decisions regarding the opportunities in the global curcumin market.
Target Audience
Industry Investors
Curcumin Providers/Vendors
Research Professionals
Emerging Companies
Raw Material Suppliers/ Buyers
Product Suppliers/ Buyers
Research Institutes
USP and Key Offerings
The report titled "Global Curcumin Market - Growth, Share, Opportunities, and Competitive Analysis, 2015 – 2022" offers strategic insights into the global curcumin market along with the market size and estimates for the duration 2015 to 2022. The said research study covers in-depth analysis of multiple market segments based on end-user applications, and cross-sectional study across different geographies. In order to help strategic decision makers, the report also includes competitive profiling of the leading curcumin vendors, their expansion strategies, market positioning, and latest developments. Other in-depth analyses provided in the report include:
Current and future market trends to justify the forthcoming attractive markets within curcumin industry
Market fuelers, market impediments, and their impact on the market growth
In-depth competitive environment analysis
Trailing 2-Year market size data (2013 – 2014)
SRC (Segment-Region-Country) Analysis
Overall, the research study provides a holistic view of the global curcumin market, of growth, offering market size and estimates for the period from 2015 to 2022, keeping in mind the above mentioned factors.