Industry Outlook
Across the world, deep brain stimulation (DBS) is being used for treating pain and movement disorders such as tremors and Parkinson's disease. Some other recognized conditions for deep brain stimulation include epilepsy, obsessive compulsive disorders and dystonia. There are other conditions such as Tourette syndrome, bipolar disorder, auditory disorders, tinnitus and others, which are investigational for DBS therapy. Particularly about DBS for psychiatric disorders, the subcommittee of the World Society for Stereotactic and Functional Neurosurgery had published consensus on Guidelines for Stereotactic Neurosurgery for Psychiatric Disorders. This suggested that DBS for psychiatric disorders is investigational and the procedures need to be done based on scientific protocol, by multidisciplinary team and with regulatory and ethical oversight. Over a million patients have been treated with DBS worldwide and the potential patient population is still growing. Furthermore, as there is no inaccessible area in the brain, the limit as to where the electrodes can be applied is nonexistent. Therefore, there is no limit to the diseases treatable with DBS. This in turn, has raised certain ethical issues, particularly with respect to neuroethics concerning alteration of central nervous system circuitry. Hence, the ethical front of the application of DBS should be determined on the basis of the current social philosophy.
Market Synopsis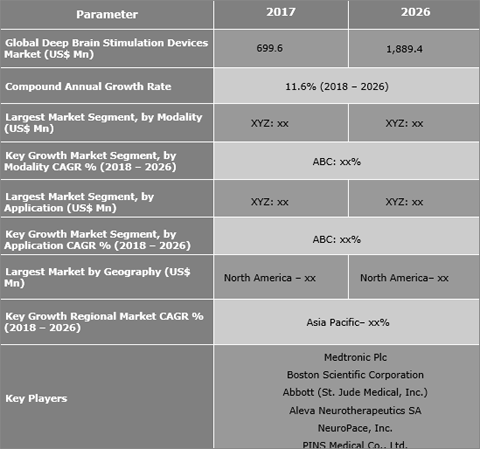 Get a sample copy for more information
"Subthalamic Nucleus to Remain the Commonly Used Target for DBS"
DBS of the brain thalamus was first approved by the USFDA for tremors in 1997. Afterwards, DBS for subthalamic nucleus (STN) and globus pallidus interna (GPi) for Parkinson's disease were approved in 2002 and 2003 respectively. The GPi DBS gained further approval for dystonia treatment under humanitarian device exemption in 2003. At present GPi and STN are the prominent viable targets for DBS. The choice of site mainly focuses on the type of motor and non-motor symptoms, being the key determinants of quality of life. The STN is the most commonly used target for DBS for the treatment of Parkinson's disease. The STN is a prime location in the basal ganglia circuits therefore serve as a major target for cortical afferents and receive inputs from other parts of the basal ganglia. About half of the DBS treatments for Parkinson's disease are performed on the STN target. STN DBS offers very effective therapy for certain motor symptoms of Parkinson's disease such as stiffness, tremors and bradykinesia, therefore gaining high popularity in the market. on the other hand, dystonia patients often opt for GPi DBS, as it offers significant remission of painful cramping and posturing. GPi DNS is also effective for relieving motor symptoms of Parkinson's disease.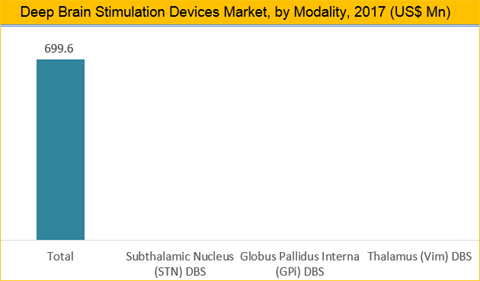 Get a sample copy for more information
"Proven Benefits and Efficacy of DBS in Parkinson's Disease to Remain the Mainstay for Market Growth"
Following the success of DBS in treating Parkinson's disease, DBS surgery has revamped the interest in neurological management of psychiatric disorders. Based on this DBS received FDA approval for treatment of obsessive compulsive disorder on humanitarian device exemption status. Other conditions in which DBS therapy is shown to have benefits include epilepsy, neuropathic pain, post-stroke pain, depression, cluster headache, multiple sclerosis tremors and so on. DBS surgery is also being investigated for addictions, traumatic brain injury, eating disorders, and post-traumatic stress disorders. At present DBS application for Parkinson's disease treatment dominates the global market. Proven clinical evidence and early bird advantage are the key factors assisting the prominence of DBS for Parkinson's disease segment. DBS has gradually become the procedure of choice for Parkinson's disease treatment as it does not involve destruction of the brain tissue, adjustable and can be reversed. GPi and STN are the preferred targets for DBS for Parkinson's disease. However, reports suggest that Vim can also be used in cases of primary symptoms of tremors.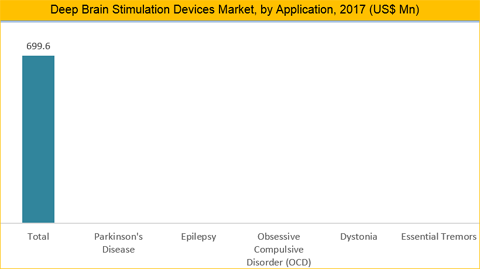 Get a sample copy for more information
"North America to Dominate the Global Market through the Forecast Period due to Significantly Large Patient Pool"
Currently, North America leads the global deep brain stimulation devices market. Greater prevalence of neurological conditions, faster diagnosis and adoption rates, and better reimbursements mainly contribute to the dominance of North America market. Europe is estimated to be the second in lead on the global front. Intensive marketing of DBS and rapid adoption of novel technologies in the region facilitates the prime position of North America. Additionally, Asia Pacific will advance at the fastest growth rate during the forecast period. Improving government policies for attracting players from the developed regions, evolving reimbursements, growing awareness and skills, and proliferating medical tourism industry in the region facilitate the progress of Asia Pacific market.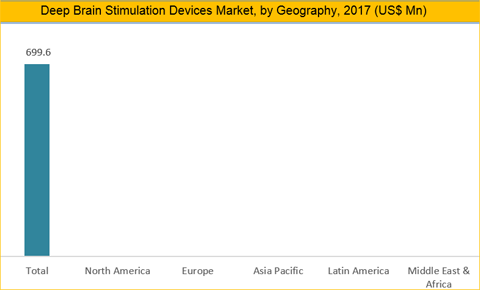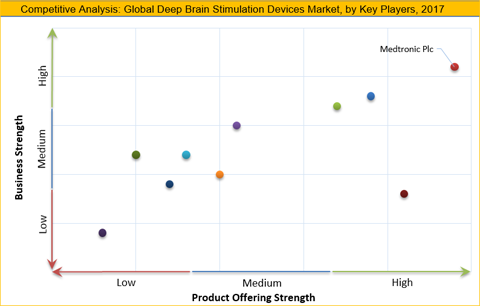 Historical & Forecast Period
This research report presents the analysis of each considered segment for the period from 2016 to 2026, having 2017 as the base year for estimations. Compounded annual growth rates (CAGRs) for each segment are calculated for the forecast period from 2018 to 2026.
Report Scope by Segments
This report on global deep brain stimulation devices market offers both quantitative information of the industry in terms of market size and forecast for the considered segments and prevalent market dynamics. The qualitative information incorporated in the report include a brief about the market dynamics such as the market drivers, challenges and opportunities currently prevalent in the industry. For the purpose of this study, the global deep brain stimulation devices market is studies for modalities, applications and geography.
ATTRIBUTE
DETAILS
Research Period
2016-2026
Base Year
2017
Forecast Period
2018-2026
Historical Year
2016
Unit
USD Million
Segmentation

By Modality (2016–2026; US$ Mn)
• Subthalamic Nucleus (STN) DBS
• Globus Pallidus Interna (GPi) DBS
• Thalamus (Vim) DBS

By Application (2016–2026; US$ Mn)
• Parkinson's Disease
• Epilepsy
• Obsessive Compulsive Disorder (OCD)
• Dystonia
• Essential Tremors

Geography Segment (2016–2026; US$ Mn)
• North America (United States and Canada)
• Europe (U.K., Germany, Rest of Europe)
• Asia Pacific (China, Japan, Rest of Asia Pacific)
• Latin America (Brazil, Mexico, Rest of Latin America)
• Middle East and Africa (GCC, Rest of MEA)
The report also includes competitive analysis of the prominent players in the global deep brain stimulation devices market. The profiles of such players are also assessed in the study based on their business overview, product portfolio, financial information, and key developments. The prime players operating in the global deep brain stimulation devices market are Medtronic Plc, Boston Scientific Corporation, Abbott (St. Jude Medical, Inc.), Aleva Neurotherapeutics SA, NeuroPace, Inc., PINS Medical Co., Ltd.
Key questions answered in this report
What is the current position of the global deep brain stimulation devices market?
How the global market will advance through the forecast period from 2018 to 2026?
What are the currently prevalent market dynamics and how are they defining the trends?
Which the key market opportunities can be tapped for achieving market success?
What are the key strategies adopted by major market players?
How is the market turf for new entrants?
Which region will witness the most prominent changes during the forecast period?