Faux finishing or faux painting are decorative paint finishes which imitate the appearance of materials such as stone, marble and wood. Faux finish coating plays an important role in architecture industry, where they are used to embellish the interiors of buildings and furnitures. Faux finishes can be applied to various parts and surfaces, such as doors, handrails, columns, panels, and more.
Faux coatings is one of the latest trends and fastest growing market in decorative paints industry. As the market is gaining popularity, more techniques are available for this art. Companies are highly focusing on increasing market penetration through wide range of products offering in the faux finishing coating segment.
Globally, the faux coatings sector is gaining momentum, accounting for more than 10% share of the decorative coatings market. It has shown impressive growth, increasing from 5.2 billion in 2013, and set to cross the 10 billion mark in 2024 at a CAGR of 6.5% from 2016 to 2024. Faux coatings growth has been driven by new construction, particularly in emerging markets where commercial developments and housing ownership are showing strong growth. Faux coatings are also performing well in a various developed markets where the housing market, particularly new builds, are strong, notably in the U.S., U.K. and Spain. Furthermore, in the decorative coatings industry, consumers are interested in innovative products but are unwilling to sacrifice efficacy. Consumer loyalty towards the use of faux coatings is higher when compared to traditional coatings. New and innovative formulation and greater efficacy is helping the manufacturers to gain customer loyalty.
Faux coatings are available in various type such as metallic, plasters, wall glazing, marbleizing and others (wood grain, tuscan finish, etc.). Among these types, plasters and metallics accounted for major share of global faux finish coating market owing to their low price and availbility of new and innovative finishes.
For the purpose of this study, the global faux finish coating market is categorized into regional markets viz., North America, Europe, Asia Pacific and Latin America and Middle East and Africa. In base year 2015, Asia Pacific was observed as the largest market for faux finish coating. The major factors driving the growth in Asia Pacific include the rapid industrialization, rise in disposable income, rapid development of domestic and trade infrastructure in countries such as India and China.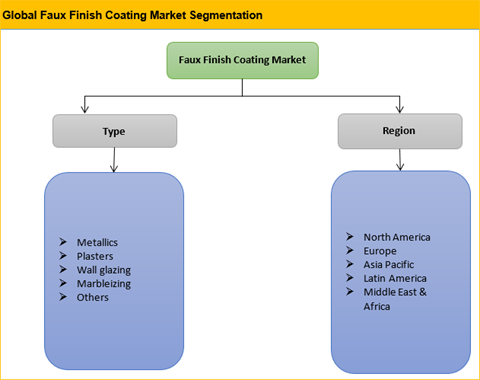 The report titled "Global Faux Finish Coating Market - Growth, Future Prospects, and Competitive Analysis, 2016 – 2024" offers strategic insights into the global faux finish coating market along with the market size and estimates for the duration 2013 to 2024. The said research study covers in-depth analysis of multiple market segments based on type, and cross-sectional study across different geographies. The study covers the comparative analysis of different segments for the years 2015 & 2024. The report also provides a prolific view on market dynamics such as market drivers, restraints and opportunities.
In order to help the strategic decision makers, the report also includes profiles of the leading faux finish coatings manufacturers, along with their, product portfolio and key developments. The major players profiled in the report are Adicolor, Inc., Anvil Paints & Coatings, Inc., Crescent Bronze, Inc, DecoArt, Inc, The Valspar Corporation, and Roman Decorating Products, LLC among others. Other in-depth analysis provided in the report includes:
Current and future market trends to justify the forthcoming attractive markets within the faux finish coating industry
Market fuelers, market impediments, and their impact on the market growth
In-depth competitive environment analysis
Trailing 2-Year market size data (2013 – 2014)
SRC (Segment-Region-Country) Analysis
Overall, the research study provides a holistic view of the global faux finish coatings market, offering market size and estimates for the period from 2016 to 2024, keeping in mind the above mentioned factors.