Laser technology offers high accuracy and speed for various industrial processes as compared to the conventional processing methods. Additionally, laser processing is a non-contact process, it delivers clean and damage free processes. This is the most prominent factor responsible for increasing penetration of laser technology across different manufacturing processes. Laser processing systems are commonly used across industry verticals such as automotive, electronics & semiconductors, machine tool manufacturing & original equipment manufacturers (OEMs), plastic processing and others. Growing demand for fast and accurate material processing across these industries is another major factor fueling the laser processing systems market growth. Additionally, rising miniaturization trend in the electronics industry is another factor boosting the demand for laser-based micro-processing. Laser technology is increasingly being used in production of integrated circuits (ICs), small size circuit boards and other micro-electronics components.
Laser technology is also useful for marking and engraving in small dimensions. Laser technology is popularly being used for marking food containers, electronic components, jewelry and others. Thus, laser technology is expected to witness strong demand for marking & engraving processes in the coming years. Moreover, many national governments are recommending laser technology for clear and permanent marking on medical and food products mandates. This is anticipated to enhance the adoption of laser technology in marking & engraving during the forecast period. Nevertheless, major restraint for the market is high initial costs of these system.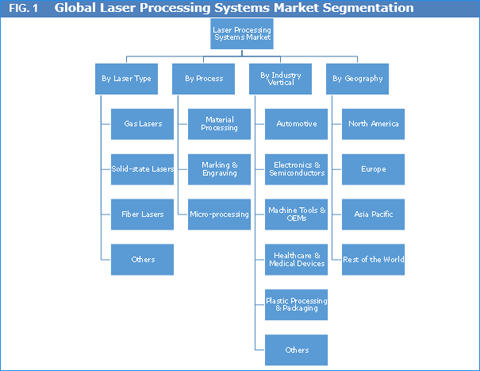 The report titled "Global Laser Processing Systems Market- Growth, Share, Opportunities and Competitive Analysis, 2015 – 2022" offers strategic insights into the global laser systems industry along with the market size and estimates for the duration 2013 to 2022. The said research study covers in-depth analysis of multiple market segments based on laser types, processes, industry verticals and cross-sectional study across different geographies. The study covers the comparative analysis of different segments for the years 2014 & 2022. The report also provides a prolific view on market dynamics such as market drivers, restraints and opportunities.
In order to help the strategic decision makers, the report also includes profiles of the leading laser processing system manufacturers, their SCOT (Strength, Challenges, Opportunities and Weaknesses) analysis and key developments. The major players profiled in the report are Rofin-Sinar Technologies, Inc., TRUMPF GmbH + Co. KG, Amada Co., Ltd., Coherent, Inc., Universal Laser Systems, Inc., Eurolaser GmbH, Jenoptik Laser GmbH, Han's Laser Technology Co., Ltd., Epilog Laser, Inc. and Newport Corporation. Further, the report also covers market positioning of the key players operating in the laser processing systems market. Other in-depth analysis provided in the report includes:
Current and future market trends to justify the forthcoming attractive markets within the laser processing systems industry
Market fuelers, market impediments, and their impact on the market growth
In-depth competitive environment analysis
Trailing 2-Year market size data (2013 – 2014)
SRC (Segment-Region-Country) Analysis
Overall, the research study provides a holistic view of the global laser processing systems market, offering market size and estimates for the period from 2015 to 2022, keeping in mind the above mentioned factors.