Key Market Insights
"Growing digitalization along with public awareness towards smart transit cards will boost the market"
The global public transport smart cards market is growing proficiently, projected to grow at a CAGR of 10.20% during the expected period from 2019 to 2027, starting from US$ 57.20 Bn in 2018.
A smart card is defined as a small computer chip that is used for a fare payment system to keep track on the user's ticketing value. The increase in online payments is one of the factors which is driving the market across the globe. With the rise in digitalization the requirement for secure and decentralized digital payments is increasing with each passing year, therefore to reduce the fraudulent the companies are moving towards digital currencies.
Furthermore, rising utilization of public transport and rising digitalization in the payment mode are some of the major factors which are driving the market across the globe. The emerging economies are heavily investing in public transport due to the rising population and increasing the cost of fuels. To gain profit from public transport the government of various nations is adopting smart cards resulting in a reduction in fraudulent.
Market Synopsis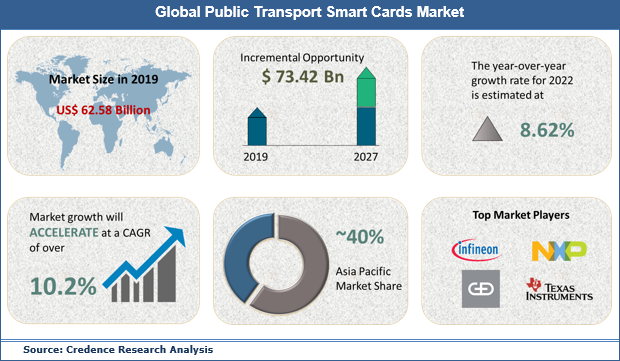 Get a sample copy for more information
Component Analysis
"Public transport smart card with microcontroller based smart cards will spark the market growth"
In 2018, the overall public transport smart cards market was led by the microcontroller-based smart cards segment with more than 50% market share. This is due to the additional features and functionality offered by these cards including security and intellectual data processing features are few factors which is driving the segment across the globe. The segment is expected to retain its dominant position in the market over the forecast period.
In order to access the information from a smart card, the card needs an interface to communicate with a reader or terminal. Data can be transferred either by using electrical connections with the contact pads on the surface of the smart card, physical contact, without contact, and using radio frequency (RF) transmission. Additionally, the contactless data transmission is used by numerous of the newer smart cards issued for applications like mass transit tickets through debit and credit payment cards like ExpressPay from American Express® , Discover® Network ZipSM, MasterCard® PayPass™. For instance, Infineon have developed a "32-bit AURIX™" a microcontroller based on TriCore™ embedded with safety and security features basically targeted towards automotive industries.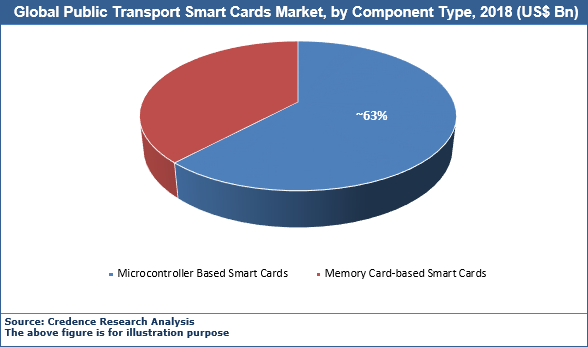 Get a sample copy for more information
Regional Analysis
"Dominance is led by the technological expansion in transit system coupled with rising demand for smart ticketing to drive the global public transport smart card market"
The global public transport smart cards market was dominated by Asia-Pacific holding a market share, in terms of revenue, of more than 40% in the year 2018. This is due to increasing investment by various manufactures and advancement in technology in payment systems in the region is one of the major factors driving the market. Additionally, the rising demand for smart ticketing systems from various countries including India, China, Japan and others are also contributing to the growth of the market. Moreover, the smart card is also being adapted to reduce the fraudulent caused by the individuals.
Furthermore, certain contactless smart card technologies are likely to dominate certain geographical areas in the Asia Pacific region, and are also likely to dominate certain applications sectors. For instance, the transportion sector have implemented Sony contactless smart card technology in Singapore, which has directed a long-term goal of merging with the local electronic purse scheme by issuing a dual-interface card. Moreover, introduction of smart contactless cards by developing countries like "TAIPEI'S EASYCARD", "SINGAPORE'S EZLINK", "HONG KONG'S OCTOPUS", "MALAYSIA'S TOUCH'N GO", "KOREA'S METROPOLITAN AFC SCHEME FOR SEOUL", "CHINA'S SHENZHEN TONG CARD", "JAPAN'S SUICA CARD", and many more is likely to fuel the market economy for public transport smart cards across the region.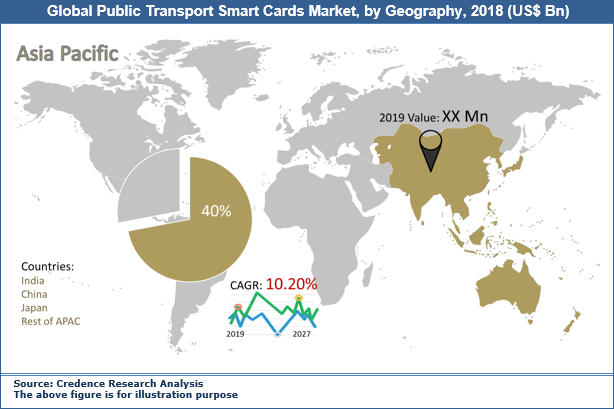 Get a sample copy for more information
List of Companies Covered:
Infineon Technologies AG
NXP Semiconductors N.V.
Texas Instruments Inc.
Oberthur Technologies S.A.
Gemalto NV
Giesecke & Devrient GmbH
CPI Card Group Inc.
American Express Company
Atos SE
INSIDE Secure SA
ZTE Corporation
OEM Technology Solutions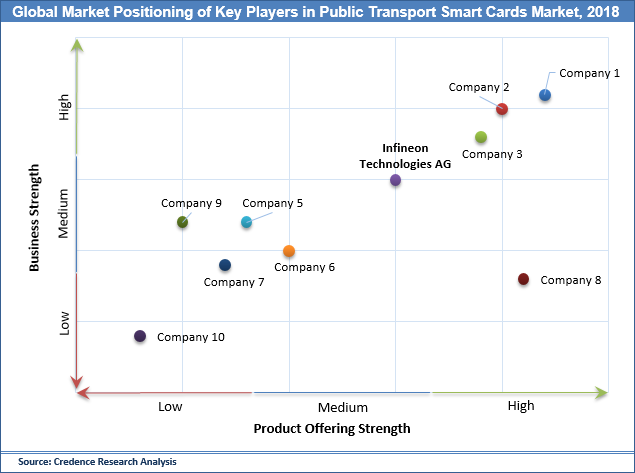 Key Industry Development:
In September 2016, the East Japan Railway have announced to offer "Suica's contactless payment and smart ticketing system" on Apple Pay. Additionally, it will allow users to use the device as contactless readers for public transit payments.
In September 2016, the state government of West Bengal have deployed an digitally advanced ticketing machines on the buses which are being operated by the Calcutta Road State Transport Corporation.
In September 2016, the Rajkot Municipal Corporation presented a computer-generated ticketing system for rapid transit system in city buses, which will allows commuters to purchase virtual tickets from e-commerce website like Paytm and use the QR code for boarding.
Historical & Forecast Period
This study report represents analysis for each segment from 2017 to 2027 considering 2018 to be the base year. Compounded Annual Growth Rate (CAGR) for each of the respective segments estimated for the forecast period from 2019 to 2027.
Market Segmentation
ATTRIBUTE
DETAILS
Research Period
2017-2027
Base Year
2018
Forecast Period
2019-2027
Historical Year
2017
Unit
USD Billion
Segmentation

Component Type (2017–2027; US$ Bn)
• Microcontroller Based Smart Cards
• Memory Card-based Smart Cards

Interface Type (2017–2027; US$ Bn)
• Contact Smart Cards
• Contactless Smart Cards
• Others

Mode of Transportation (2017–2027; US$ Bn)
• Bus
• Train
• Light Rail Transit
• Others

Geography Segment (2017–2027; US$ Bn)
• North America (U.S. and Canada)
• Europe (U.K., Germany, Spain, Italy, and Rest of Europe)
• Asia Pacific (Japan, China, India, and Rest of Asia Pacific)
• Rest of World (Middle East & Africa (MEA), Latin America)
The current report also comprehends qualitative and qualitative market valuation factors such as key market drivers, market trends, restraints and opportunities that give a better market understanding of the overall public transport smart cards market. Additionally, the global report also comprises graphical representation of competitive landscape based on their market initiatives and strategies, product portfolio and business strengths.
Key questions answered in this report
What was the market size of public transport smart cards in 2018 and forecast up to 2027?
Which is the largest regional market microcontroller based smart cards in its component segment?
What are the major trends followed in the public transport smart cards market across different regions?
Who is the key public transport smart card companies leading the market?
What are the key strategies adopted by the leading public transport smart card companies in the market?