Global quartz sand market is anticipated to witness high growth owing to increasing demand from various end use industries. Rapid growth in disposable income of the middle class fueling the demand for residential and commercial building, automobiles with in turn is driving the demand for glass, ceramic and other product. Further, increasing shale gas production in U.S. and Canada is also driving the demand for quartz sand over the forecast period (2017-2025)
Considering the economic overview of the market, Asia Pacific is expected to account for a major revenue share of the global quartz sand market. In 2016, Asia Pacific accounted for more than 30% market revenue share in global quartz sand market. This is attributed to strong growth in manufacturing industry especially in China along with high demand for quartz products in India and China. Market size and forecast of each application is presented for the period 2015 to 2025 along with respective CAGR % for the forecast period 2017-2025.
Geographically, the global quartz sands market is studied for the following regional markets:
North America
Europe
Asia Pacific

China
India
Japan
Rest of Asia Pacific

Latin America

Brazil
Mexico
Rest of Latin America

Middle East and Africa

GCC
Rest of Middle East and Africa
The market size and forecast for the period 2015-2025 along with the CAGRs for the period 2017-2025 for the mentioned segments are also presented in this study.
Qualitative information sets such as market dynamics (drivers, challenges and opportunities) and market inclination insights are provided in this market assessment report. Tools such as competition assessment and attractive investment proposition are also included in this study for assessment of market competition. The report concludes with company profiles section that highlights key information about the major market players operating in the global quartz sands market.
Donghai Colorful Mineral Product Co., Ltd., Donghai Shihu Quartz, Kyshtym Mining/Sumitomo Corporation, Jiangsu Pacific Quartz Co. Ltd., Quartz Corp., Unimin Corporation, Xinyi Mingwang Quartz Sand Factory, Lane Mountain Company, Essem MetaChem, Basstech International, STYNEN Minerals BV, SMARCO Industries Private Limited/Shree Mahalaxmi Resin-coated Sand Pvt. Ltd., Industrial Minerals (NZ) Ltd., Jinjiang Shenhu Xifeng Natural Quartz Sand, Universal Minerals & Chemicals, AB Anykščių Kvarcas, California Silica Products LLC, Quarzwerke GmbH., SCR-Sibelco N.V., WOLFF & MULLER Holding GmbH & Co. KG., U.S. Silica Holdings Inc., Fairmount Santrol Holdings Inc., Heemskirk Consolidated Limited, Mitsubishi Corporationetc., etc. are few key manufacturers in global quartz sands market.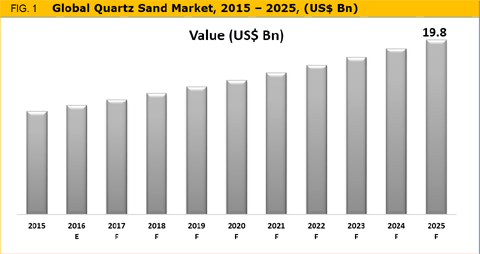 Purpose of the Report
The purpose of this strategic research study titled "Global Quartz Sand Market - Growth, Opportunities, Share & Competitive Analysis, 2017 – 2025" is to offer industry investors, company executives, and industry participants with in-depth insights to enable them make informed strategic decisions related to the opportunities in the quartz sand market.
Target Audience
Industry Investors
Procurement Managers from End-user Companies
Quartz Sand Manufacturers
Distributors
USP and Key Offerings
The report titled "Global Quartz Sand Market - Growth, Opportunities, Share & Competitive Analysis, 2017 – 2025" offers strategic insights into the overall quartz sand market along with the market size, and estimates for the duration 2017 to 2025. The said research study covers in-depth analysis of multiple market segments based on applications and cross-sectional study across different regions.
In order to help strategic decision makers, the report also includes competitive profiling of the leading players in quartz sand market in terms of their product portfolio, financial information and business strategies. Other in-depth analysis provided in the report includes:
Current and future market trends to justify the forthcoming attractive markets within the quartz sand industry
Market drivers, market impediments, and their impact on the market growth
In-depth competitive environment analysis
Historical market size and data (2015 & 2016)
Overall, the research study provides a holistic view of the quartz sand market, offering market size and estimates for the period from 2015 to 2025, keeping in mind the above mentioned factors.