"Transformation of information and communication technologies and evolution of new generations of data management techniques is likely to fuel the growth of the 4D printing market"
Globally, the 4D printing market is expected to grow with a CAGR of more than 33% during the forecast period from 2019 to 2027, starting from US$ 55.5 Mn in 2018. Globally, the manufacturing industry is transforming from 3D to 4D printing, based on numerous advantages associated with this advanced technology. 4D printing technology helps in producing structures that can transform themselves in a pre-programmed way when the component is exposed to appropriate stimuli. This ability of reshaping has opened new way for manufacturers and researchers focusing on this technology and creates lucrative opportunities areas such as building construction, furniture, and robotics. In addition to this, increasing demand for upgraded and modernized 3D printing applications to make more reliable product is also fueling the growth of 4D printing market. Additionally, factors such as technological advancements in the field of scanning, increasing number of research and development investments and increasing demand for advanced technologies from hardware manufacturers and software developers are also expected to drive the 4D printing market growth. Furthermore, 4D printing technology allows use of limited material for multiple purposes, which facilitates to reduce to costs associated with raw material and get more work done in less quantity. These features provide great opportunities for the key players to expand their business as intense competition in the industry has generated need to reduce the costs associated with manufacturing and processing. Moreover, widespread applications of 4D printing technique across bio-medical, aerospace, and defense industries is also driving the growth of this market. However, impact of various drawbacks associated with 4D printing on commercialization of the products, high development costs, and concerns associated with intellectual property rights are some factors, which are projected to hamper the growth of 4D printing market during the forecast period.
Market Synopsis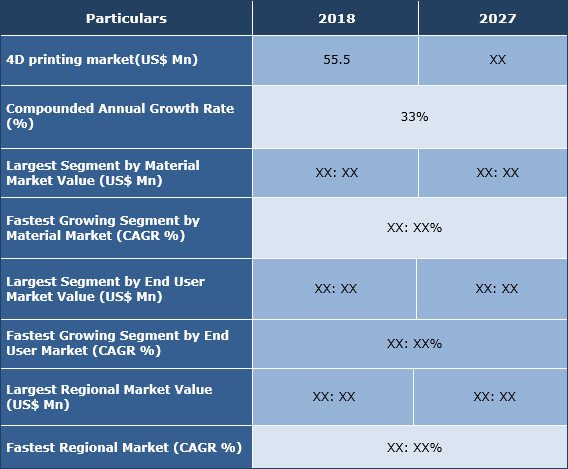 Get a sample copy for more information
"Programmable carbon fiber material segment is expected witness highest growth in 4D printings market"
Based on the materials, the 4D printing market is categorized into programmable carbon fiber, programmable biomaterial, programmable textile, and programmable wood. The programmable carbon fiber materials segment is projected to witness a high growth during the forecast period based on the advantages associated with this material. Programmable carbon fiber material is lightweight, super-strong, and stiff material, which makes it useful for numerous industrial applications. They help minimizes failure-prone mechanisms and decreases the total weight of the product. Despite its advantages, programmable carbon fiber's high cost and slow production time has affected its adoption in some industries. Furthermore, programmable textiles, programmable wood and programmable biomaterial are also projected to showcase a significant growth during the forecast period.
Get a sample copy for more information
"North America to dominate the 4D printing market"
North America dominates the 4D printing market by holding largest market share of the total revenue generated worldwide. Owing to high investments in research and development in the North American region, 4D printing is emerging as a prominent technology since past few years. In this region, US is the major contributor as it is considered to be the innovators and pioneers, in adoption of 4D printing technology for additive manufacturing. Furthermore, increasing advances in manufacturing sector and growing demand for innovative ways of development and production is primarily contributing to the growth of 4D printing technology market in this region. Based on North America's hold on advanced technology, and high rate of adoption, this regional segment is expected to maintain its dominant position, during the forecast period. However, Asia-Pacific is expected to follow North America by witnessing a rapid growth in the global 4D printing market. Factors such as technological advancements and the increasing focus on innovating of new ways of manufacturing innovative products are expected to fuel the 4D printing market growth in Asia Pacific. This region offers lucrative growth opportunities for the key players operating in the local and international markets and enables them to expand their business in the high growth sector. However, the high investment bared initially, and lack of awareness are some factors that are likely to hinder the market growth in Asia-Pacific during the forecast period.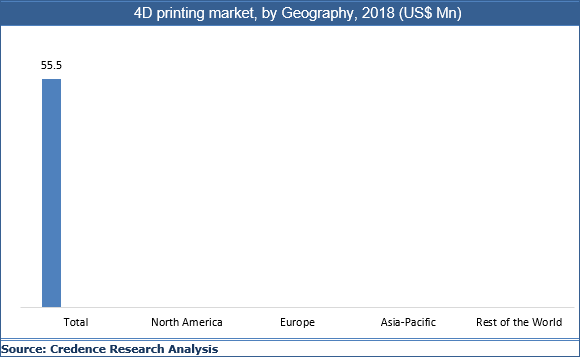 Get a sample copy for more information
Some of the prominent players operating in the 4D printing market include Massachusetts Institute of Technology, Autodesk Inc., Stratasys Ltd, ARC Centre of Excellence for Electromaterials Science (ACES), 3D Systems Corporation, Hewlett Packard Corporation, Materialise NV, Exone Corporation, Organovo Holdings Inc., among others.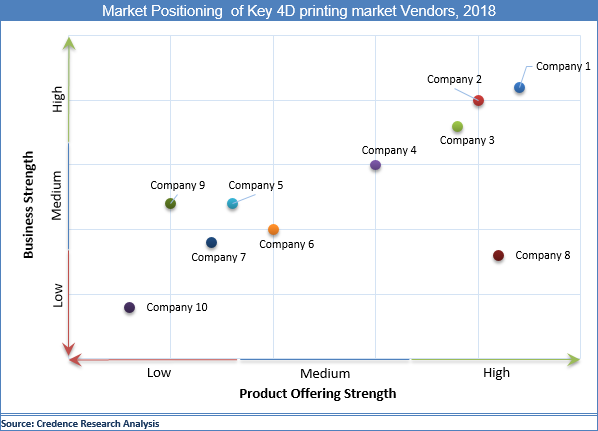 Historical & Forecast Period
This research report presents the analysis of each segment from 2017 to 2027 considering 2018 as the base year for the research. Compounded Annual Growth Rate (CAGR) for each respective segments calculated for the forecast period from 2019 to 2027.
Report Scope by Segments
The 4D printing market report provides market size and estimates based on market dynamics and key trends observed in the industry. The report provides a holistic view of global 4D printing market based on material, end user, and geography. Key segments covered in the report are as follows:
ATTRIBUTE
DETAILS
Research Period
2017-2027
Base Year
2018
Forecast Period
2019-2027
Historical Year
2017
Unit
USD Million
Segmentation

Material Segment (2017–2027; US$ Mn)
• Programmable Carbon Fiber
• Programmable Textiles
• Programmable Bio material
• Programmable Wood

End User Segment (2017–2027; US$ Mn)
• Medical
• Aerospace and Defense
• Automotive
• Other End Users

Geography Segment (2017–2027; US$ Mn)
• North America (U.S., Rest of North America)
• Europe (U.K., Germany, France, Rest of Europe)
• Asia Pacific (China, Japan, India, Rest of Asia Pacific)
• Rest of the World (Middle East & Africa, Latin America)
Key questions answered in this report
What was the market size of 4D printing in 2018 and forecast up to 2027?
Which is the largest regional market for Programmable Carbon Fiber segment?
What are the major trends followed in 4D printing market across different regions?
Who are the key 4D printing companies leading the market?
What are the key strategies adopted by the leading 4D printing companies in market?
Unique data points of this report
Statistics on 4D printing penetration and spending worldwide
Recent trends across different regions in terms of adoption of 4D printing for various applications in various industries
Notable developments going on in 4D printing industry
Attractive investment proposition for segments as well as geography
Comparative scenario for all the segments for years 2018 (actual) and 2027 (forecast)