"Penetration of Computer Vision across End-use Applications to Bolster the Demand for 3D Reconstruction Technology"
3D reconstruction technology market expected to hit US$ 1,520.3 Mn by 2027, expanding with a CAGR of 6.47% during the forecast period from 2019 to 2027. 3D reconstruction refers to process of generating digital model with 3D appearance of an object from set of two-dimensional informative images. It is common in computer vision and healthcare applications, such as serial sections generated by computed tomography (CT) as well as magnetic resonance imaging (MRI) or electron microscopy among several others. 3D reconstruction technology demonstrated to be effective in military training, tele-operation of vehicles, tourism, creating and using story narratives, street navigation and others applications. Although commercial applications are yet to be fully explored, advancement in such technology showcase huge potential to solve real life problems in future as well. Further, unlike traditional manufacturing, there is no cutting, drilling, welding operation involved in the reconstruction process. This makes 3D reconstruction fast, clean and efficient manufacturing process with reduced wastage of raw materials. Since the manufacturing process is based on digital model, the product designs have become easier to analyze, customize and manufacture. Considering the significant potential of 3D reconstruction, several global tech giants have started heavily investing in technology through acquisition of other players in the market. Subsequently, the 3D reconstruction technology market accounted to register rapid growth worldwide in the coming years.
Market Synopsis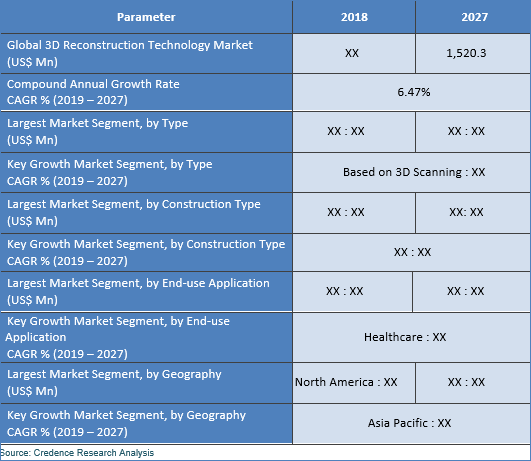 Get a sample copy for more information
"Healthcare Segment to Ensure Fastest Growth in 3D Reconstruction Technology Market"
Healthcare segmented accounted to experience fastest growth in 3D reconstruction technology market compared to its counterparts. For better understanding of medical conditions, images play vital role in medical diagnosis and treatments. 3D reconstruction technology based on deep learning and transfer learning is proving its huge potential across the healthcare sector. 3D reconstruction also notifies whether any objects is in working space of the device and to alert medical staff before collision occurs. 3D reconstruction also opens the path to many new applications utilizing this data such as 3D video generation and workflow analysis among others. Steady development in 3-D reconstruction technology would ensure strong adoption across the healthcare segment throughout the forecast period.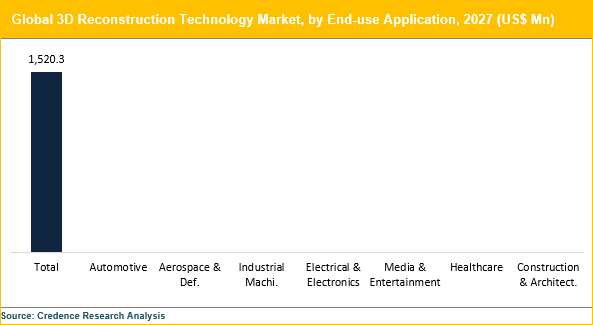 Get a sample copy for more information
"Persistent Development of End-use Industries to Ensure Fastest Growth of 3D Reconstruction Technology Market In Asia Pacific Region throughout the Forecast Period"
3D reconstruction technology gaining massive traction over the traditional analysis methods due to its high precision and efficacy. The 3D reconstruction market, based on geography led by North America in 2018. The growth of this region is primarily credited to growing penetration of 3D reconstruction technology in number of end-use verticals especially in the aerospace & defense industry. The U.S. dominated the overall North American market in 2018 and accounted to retain its position in the following years. Europe accounted for the second largest 3D reconstruction market share followed by Asia Pacific in 2018. Asia Pacific also projected to emerge as the fastest growing region across the forecast period from 2019 to 2027. Industries are seeking development in product design process to achieve optimum cost benefit. 3D reconstruction technology with its ability enables deep analysis of product design that reduces actual manufacturing cost by greater margin. Developing automotive, industrial machinery and electrical & electronics industry among several others projected to augment the growth prospects of 3D reconstruction market in the Asia Pacific region.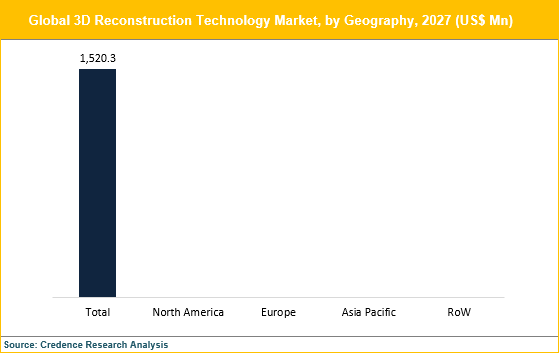 Get a sample copy for more information
Key players of global 3D Reconstruction Technology market profiled in the report include Pix4D SA, Agisoft LLC, Autodesk, Inc., Blackboxcv, Elcovision, Photometrix Photogrammetry Software, PhotoModeler Technologies, Capturing Reality s.r.o., Intel Corporation, Skyline Software Systems, Inc., Vi3Dim Technologies and others.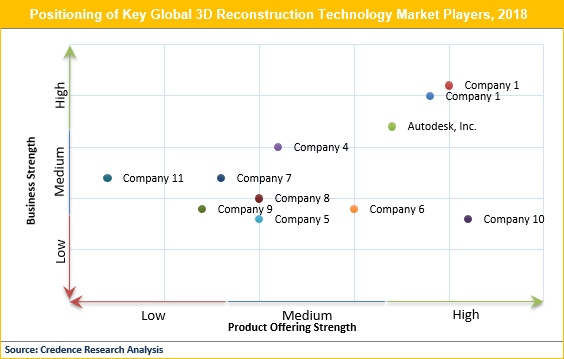 Historical & Forecast Period
This research report presents the analysis of each segment from 2017 to 2027 considering 2018 as the base year for the research. Compounded Annual Growth Rate (CAGR) for each respective segments calculated for the forecast period from 2019 to 2027.
Report Scope by Segments
3D Reconstruction Technology market report provides market size and estimates based on market dynamics and key trends observed in the industry. The report provides a holistic view of global 3D Reconstruction Technology market based on type, construction type, end-use application and geography. Key segments covered in the report are as follows:
ATTRIBUTE
DETAILS
Research Period
2017-2027
Base Year
2018
Forecast Period
2019-2027
Historical Year
2017
Unit
USD Million
Segmentation

Type Segment (2017–2027; US$ Mn)
• 3D Reconstruction Technology Software
• Based on Images & Video
• Based on 3D Scanning

Construction Type Segment (2017–2027; US$ Mn)
• Active Construction
• Passive Construction

End-use Application Segment (2017–2027; US$ Mn)
• Automotive
• Aerospace & Defense
• Industrial Machinery
• Electrical & Electronics
• Media & Entertainment
• Healthcare
• Construction & Architecture

Geography Segment (2017–2027; US$ Mn)
• North America (U.S., Rest of North America)
• Europe (U.K., France, Germany, Rest of Europe)
• Asia Pacific (Japan, China, India, Rest of APAC)
• Rest of the World (Latin America, Middle East & Africa)
Key questions answered in this report
What was the market size of 3D Reconstruction Technology in 2018 and forecast up to 2027?
Which is largest regional market for 3D Reconstruction Technology?
What are the key market trends observed in the 3D Reconstruction Technology market?
Which is the most promising type, construction type and end-use application in 3D Reconstruction Technology market?
Who are the key players leading the market?
What are the key strategies adopted by the leading players in market?
What are the key product designing trends across different geographies and sub-geographies?