Industry Outlook
Adhesive bandages market accounted for a market value of US$ 1,895.0 Mn in 2017 and projected to grow at a CAGR of 4.8% during the forecast period from 2018 to 2026. The key factors responsible for growth of adhesive bandages globally is the rising awareness related to the acute wound protection in developing countries, and increasing awareness programmes for diabetes patients to treat acute wound efficiently with adhesive bandages. In case of developing and under developed countries government & non-government bodies are educating geriatric and young population to use adhesive bandages to prevent further complications associated acute wounds. Thus, adhesive bandages market will grow steadily throughout the forecast period being one of the most evolved and mature markets.
Market Synopsis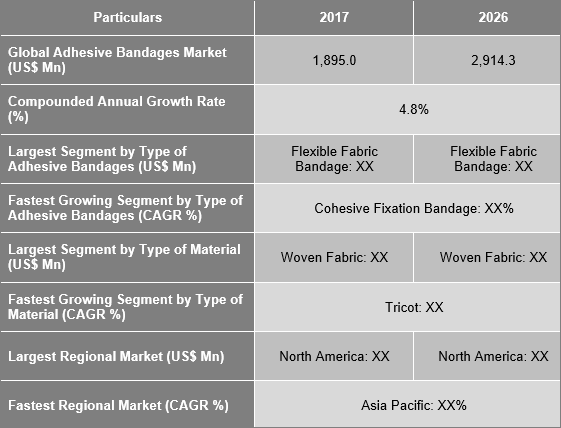 Get a sample copy for more information
Woven fabric & plastic materials account more than 50% market share in the adhesive bandages market
The key factors responsible for domination of woven fabric and plastic material are the high efficiency related to the protection, & recovery of wound, and physiological properties of material enhances the process to avoid sepsis. The variety of bandages available in the market comprises woven fabric & plastic because major players manufacturing adhesive bandages consider these two materials as the ideal materials due to their physical properties that help in wound recovery & care. The technological developments in the field of processing and manufacturing of materials such as woven fabric & plastic have enhanced the design and advantages of adhesive bandages. During the forecast period 2018 to 2026, tricot expected to show a significant growth as it possess properties of woven fabric & plastic both, and its latex free.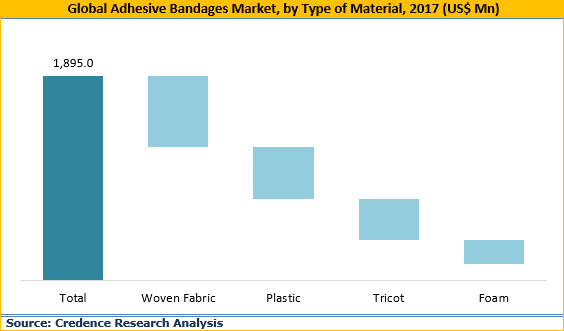 Get a sample copy for more information
Asia Pacific identified as the fastest growing market due to large population base and increasing prevalence of diabetes
During the forecast period from 2018 to 2026, Asia Pacific will grow at significant rate due to key market driving factors such as increasing awareness related to acute injuries or wounds in diabetic patients, presence of two world's highly populated countries China & India, and high product accessibility coupled with cost-efficiency of the adhesive bandages. As diabetic patients are more prone to sepsis related to acute wound; awareness related to wound protection is increasing through awareness campaigns and patient education sessions organized by NGOs. The prevalence of type 2 diabetes in South Asia estimated to surge ten folds between 2000 and 2035. However, the key factors responsible for this surge will be aging, sedentary lifestyle, and urbanization along with this adverse intrauterine environment and following epigenetic changes could also contribute in many South Asian countries.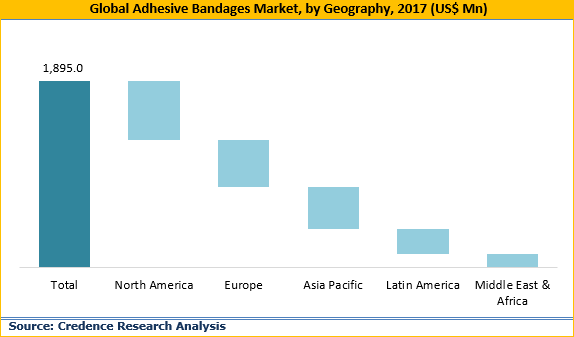 Get a sample copy for more information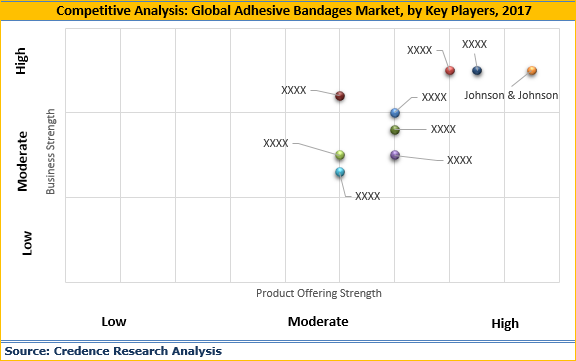 Historical & Forecast Period
The adhesive bandages market analyzed considering current market trends for base year 2017 and based on future trends CAGRs calculated for the forecast period from 2018 to 2026.
Report Scope by Segments
This report covers detailed analysis of adhesive bandages market covering analytical and descriptive information coupled with major market dynamics such as opportunities, drivers, & restraints that affects overall market positively or negatively. An exhaustive information related to market drivers, challenges & opportunities based on country-level and regional segmentation. This report covers detailed information related to the global adhesive bandages market including segments such as types of adhesive bandages, material, and geography. The report also covers competitive landscape of the major companies operating in adhesive bandages market including detailed data points related to the competitive landscape of the market and the current strategies & products launches assisting or affecting the market.
ATTRIBUTE
DETAILS
Research Period
2016-2026
Base Year
2017
Forecast Period
2018-2026
Historical Year
2016
Unit
USD Million
Segmentation

Type of Adhesive Bandages Segment (2016–2026; US$ Mn)
• Flexible Fabric Bandage
• Cohesive Fixation Bandage

Type of Material Segment (2016–2026; US$ Mn)
• Woven Fabric
• Plastic
• Foam
• Tricot

Geography Segment (2016–2026; US$ Mn)
• North America (United States and Canada)
• Europe (U.K., Germany, Rest of Europe)
• Asia Pacific (China, Japan, Rest of Asia Pacific)
• Latin America (Brazil, Mexico, Rest of Latin America)
• Middle East and Africa (GCC, Rest of MEA)
The key market players involved in the adhesive bandages industry analyzed based on financial data, product portfolio, current press releases, and major market strategies. This report also covers attractive investment proposition studied based on exhaustive geographical PESTEL analysis. Major players included in the report are Johnson & Johnson, Beiersdorf, 3M, Medline Industries, Smith & Nephew, B. Braun Melsungen, ConvaTec, and Acelity among others.
Key questions answered in this report
Which is the most preferred material type for adhesive bandages in the market & Why?
What are the current market strategies practiced by the key market players & competitive analysis specific to adhesive bandages market?
Which are the key geographical markets (regions and countries) in adhesive bandages market?
Which is the largest and fastest growing adhesive bandages types globally?
How is the competitive landscape of adhesive bandages market and strategies of major players present in this industry?
What are the drivers, restraints, & opportunities in the adhesive bandages market?