Market Excerpt
"Improving outlook of shipping industry is driving the demand for bunkering services market"
The global market for bunkering services is expected to cross US$ 165.5 Bn by 2026 at a CAGR of 5.6% throughout the forecast period from 2018 to 2026. Improving outlook of shipping industry is the primary driving factor for the growth of this industry. Shipping industry is playing a vital role in the global freight transportation system. The industry contributes for transporting almost 90% of the world trade as it is the most inexpensive and efficient mode of transporting goods. In addition, vessels can carry bulk of goods for long distances at an affordable cost compared to other mode of transport including roads, rail, air etc. This, along with rising international trades are expected to increase the demand for bunkering services globally.
Bunker tankers refer to the ships or barges designed for supplying fuel to vessels. They are usually located at seaports or offshore and supply various types of fuels including marine diesel oil (MDO), marine gas oil (MGO), marine fuel oil (MFO), intermediate fuel oil (IFO) and heavy fuel oil (HFO). One of the most promising factors driving the MGO bunkering sales is The International Maritime Organization's (IMO) plans to reduce sulphur content in marine fuel from 2020 onwards. MGO is expected to be the fastest growing bunker fuel throughout the forecast period from 2018 to 2026. MGO, due to its low sulphur content, is expected to witness increased demand in the following years as a result of IMO's decision. In addition, favorable government policies in various countries across the world, supporting the international trades is expected to create a positive impact on the demand for MGO. However, high price of MGO as compared to other marine fuels is one of the restraints impacting the market.
Market Synopsis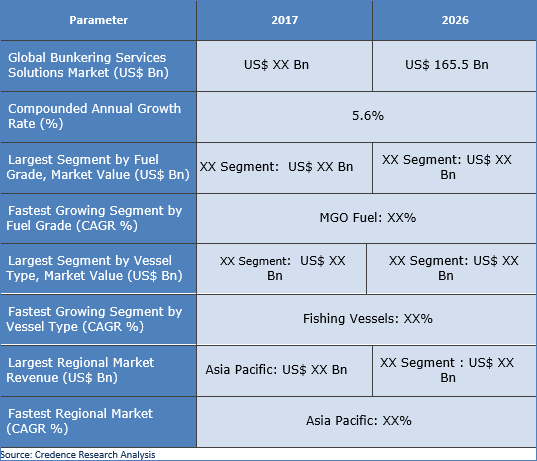 Get a sample copy for more information
"The global bunkering services market is dominated by Asia Pacific and expected to witness fastest growth throughout the forecast period"
Asia Pacific is the largest bunkering services market globally and expected to maintain its dominating position throughout the forecast period from 2018 to 2026. In 2018, annual vessel arrival tonnage was estimated 2.79 Bn gt. Increasing trades by China with global market is the major driving factor for bunkering services market in Asia Pacific. In 2017, China accounted for one third of the global exports and more than 28% of the imports were shipped to the country. Increasing trades between China and international market represents positive outlook for bunkering fuel suppliers in the region. India one of the fastest growing economy in the world and witnessing increase in marine trades.
Europe is another major market for bunkering services. Greece and Germany are two major markets for marine fuel suppliers. Greece is the country with largest cargo carrying capacity of around 308.8 Mn dead-weight ton (DWT) and Germany has capacity of around 112 Mn DWT.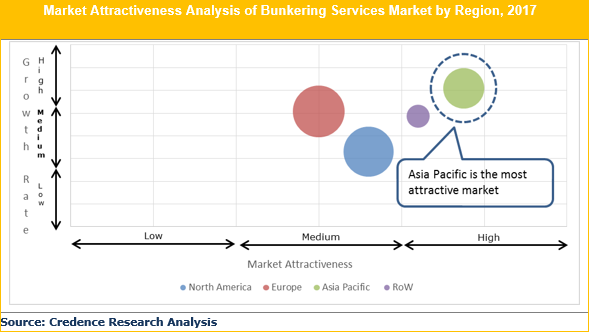 Get a sample copy for more information
"Bunkering services providers are focusing on strengthening supply chain and distribution network to strengthen their position in the global market"
One of the major areas of focus is strengthening of supply network. Similar strategy is adopted by puma in the region to expand its bunkering services in Asia Pacific region. Puma Energy and Asia Sun Energy (ASE) jointly started new petroleum products terminal in Myanmar at Thilawa port. This will help the company to expand its bunkering operations in Myanmar and nearby countries.
In order to sustain in competitive environment bunkering service providers are focusing on providing faster and efficient services for their customers' bunkering needs. Bunkering service providers are investing in advanced bunker tankers to match customers' bunkering needs. Recently, Bomin has purchased four modern double haul bunker barges which offers faster pumping rate for bunkering operation.
Established players in the industry are committed to help ship owners and operators in a rapidly changing market. These players have invested significantly in ensuring that their global infrastructure and resources are designed to deliver for their customers. Bunkering suppliers are focusing more to have complete control over the entire process from order to final delivery. This strategy enable companies maintain their profitability and develop strong client relationships by providing quality, efficient and cost effective services. Some major players in the global bunkering services include Bomin Bunker Oil Corp., Lukoil-Bunker LLC, Aegean Marine Petroleum Network, Inc., Chemoil Energy Limited, BP PLC, World Fuel Services Corporation, Bunker Holding A/S, Gazpromneft Marine Bunker LLC, GAC Bunker Fuels Ltd., Royal Dutch Shell Plc, Exxon Mobil Corporation and KPI Bridge Oil A/S.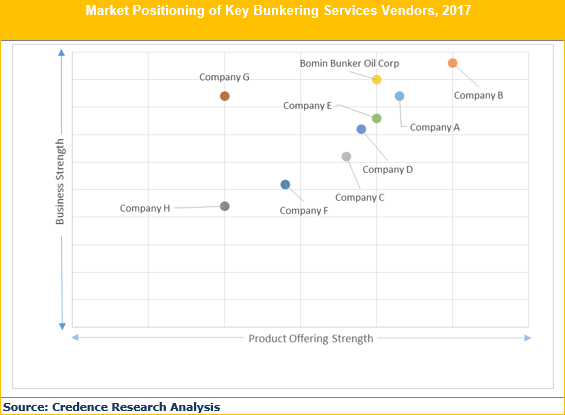 Get a sample copy for more information
The Bunkering Services market is segmented into following categories:
ATTRIBUTE
DETAILS
Research Period
2016-2026
Base Year
2017
Forecast Period
2018-2026
Historical Year
2016
Unit
USD Billion
Segmentation

Bunkering Services Market by Fuel Grade (2016–2026; US$ Bn)
• Marine Diesel Fuel (MDO)
• Marine Gasoil Fuel (MGO)
• Marine Fuel Oil (MFO)
• Intermediate Fuel Oil (IFO)
• Heavy Fuel Oil (HFO)

Bunkering Services Market by Vessel Type (2016–2026; US$ Bn)
• Tankers
• Container Ships
• Bulk Carriers
• Fishing Vessels
• Others

Bunkering Services Market by Geography Segment (2016– 2026; US$ Bn)
• North America (U.S., Canada)
• Europe (Germany, U.K., France, Rest of Europe)
• Asia Pacific (Japan, China, India, Rest of APAC)
• Rest of the World (Latin America, Middle East and Africa)
Historical & Forecast Period
2016 – Historical Year
2017 – Base Year
2018-2026 – Forecast Period (CAGR from 2018 to 2026)
Key questions answered in this report
What is the global fleet size of global bunker tankers?
What is the global market for bunker fuels?
What are the key investment areas in the global bunkering services market?
Which market trends and dynamics driving the growth of global bunkering services market?
Who are the major players and their market winning strategies in the global bunkering services industry?
Who are major customers for bunkering Services?
Which is largest and most potential application segment for bunkering services?
Who are established regional players?
What are recent fuel grade trends and regulations in bunkering services industry?