The global capnography equipment market is growing fruitfully, was valued at US$ 264.3 Mn in 2017 and expected to reach US$ 390.5 Mn by 2026. Worldwide increasing surgical procedures along with post-operative monitoring, the high prevalence of respiratory diseases, and utilization of advanced equipment for respiratory monitoring drive the overall market growth.
New technology advancement in the field of various applications such as cardiac care, trauma, and emergency care is growing significantly. New product launches in the point of care and portable equipment segment is driving the growth in the developed regions. In the product segment, mainstream equipment is expected to lead the market growth due to its higher accuracy and increase in adoption. Worldwide associations and organizations (WHO, Forum of International Respiratory Societies, European Resuscitation Council (ERC) and others) are now recommending to utilize capnography equipment during patient monitoring for anesthesia to improve higher patient safety. As indicated by WHO and Global Asthma Report, around 300 million suffer from asthma globally. Also, it has also been advocated by WHO to utilize the monitoring throughout certain medical procedures, such as endotracheal tube placement, hypoventilation, and esophageal intubation.
Moreover, the demand for portable equipment is gaining traction in the hospital settings. Moreover, rising incidences of trauma, asthma cases & emergency cases, increasing medical tourism for plastic/cosmetic surgery, easy affordability, demand for progressive diagnostic methodologies, and adoption of advanced equipment along with favorable reimbursement policies fuels the demand for capnography equipment market globally. However, the high cost of equipment, lack of skilled technicians, less awareness and affordability issues are accountable for restraining the growth of capnography equipment market globally.
Market Synopsis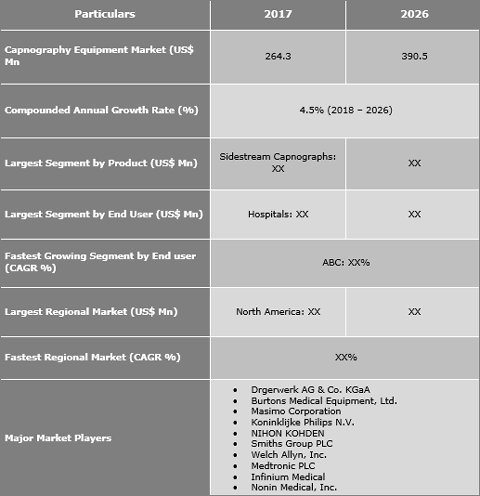 "Mainstream Capnography Product Segment is expected to Register Higher Growth by the End of 2026"
Adoption of mainstream capnography is in demand due to its higher accuracy and benefits, however, the sensors are expensive to replace. In various areas, microstream method for end-tidal CO2 (EtCO2) measurement is utilized. Major applications of capnography can be seen in the severity of asthma patients, monitoring head-injured patients, cardiac arrest and tube confirmation. Sidestream capnography is also being majorly utilized globally, holds maximum market share in the global market due to its ease of use with thin tubing sets, very less or no problems in sterilization, and support in the monitoring of non-incubated elements assisted with nasal adapters.
For instance, more than 360,000 respiratory failure cases are filed every year in the U.S, around 30% of deaths happen during hospitalization, as indicated by the American Thoracic Society. Preference for disposable consumables is high due to risk for hospital-acquired infections and other contamination risks via reusable consumables. Disposables segment is also generating a significant revenue share due to its regular requirement in evaluating and monitoring CO₂ levels.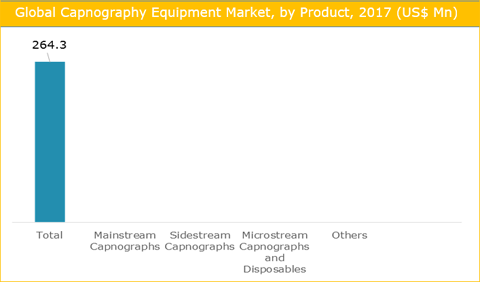 Get a sample copy for more information
"Increasing Admissions Due to Respiratory Disorders in the Hospital Segment to Witness a Significant CAGR"
Respiratory diseases and other chronic diseases are significant variables expected for the growth & development of the capnography equipment market. As per, American Academy of Allergy, Asthma & Immunology, around 2,000,000 individuals in the U.S. are admitted in the emergency centers due to asthma. Growing demand for mainstream and sidestream capnography products for various applications such as intubated patients during patient transfer in ambulatory care and hospitals, monitoring patients experiencing procedural sedation, in patient-controlled analgesia, and others. Increasing surgical procedures along with rising in advanced healthcare facilities in Europe, and Asia Pacific is a major factor in expanding the growth of the end user segment.
The rise in usage of multiparameter products is gaining traction due to their growing applications in emergency medicines. A noteworthy development in the hospitals, ambulatory centers, and research organizations has sustained the administrations of capnography equipment market due to its ease-of-usage, minimally invasive nature and enhanced capabilities in respiratory & monitoring solution procedures.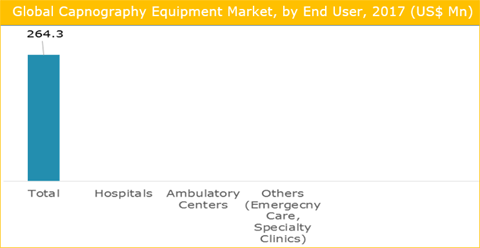 Get a sample copy for more information
"Increasing Population, New Product Launches and the Presence of Top Players Holds North America in Dominant Position"
In 2017, North America generates maximum revenue share in the global capnography equipment market attributed to the rising prevalence of respiratory disorders, asthma, increasing surgical procedures and increasing utilization of top equipment as a standard of care (critical/emergency medicine) for general anesthesia, and deep or moderate sedation. Others factors contributing to the overall growth of the market include, higher adoption in microstream capnography products (can be utilized for neonatal population and on patients after a surgery), high demand for effective CO2 monitoring, new product launch and increased applications in emergency care, point-of-care, military and veterinary segment globally. Also, few limitations in the applications of pulse oximetry may result in positive traction of the capnography equipment.
Major external factors contributing to the growth include growing awareness increasing hospitalizations, rising FDA approvals for new guidelines & products/services and the presence of top key manufacturers in the U.S. & Europe. Nevertheless, in low monetary nations such as China, India, South Africa, Brazil, and others, the availability of advanced equipment and services is limited. Lack of trained physicians, poor supply chain, less convenience of medical treatment and the high cost devices are restraining the development of the market.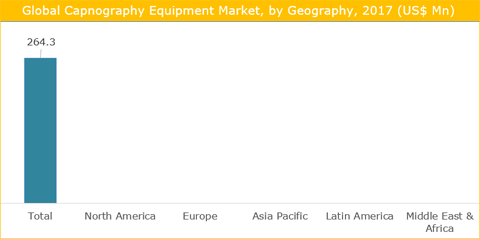 Get a sample copy for more information
"Dominance of Multinational Manufacturers with Strong Product Portfolio in the Developed Regions"
Major players in the capnography equipment market are Drgerwerk AG & Co. KGaA, Burtons Medical Equipment, Ltd., Masimo Corporation, Koninklijke Philips N.V., NIHON KOHDEN CORPORATION, Smiths Group PLC, Welch Allyn, Inc., Medtronic PLC, Infinium Medical, Nonin Medical, Inc. and others. Topmost companies are executing growth strategies along with new technology advancement in capnography equipment models, new product launch, and partnerships with medical organizations. For example, in June 2017, IntelliVue X3 was launched by Philips in Europe, which is mainly aimed for continuous monitoring throughout in-hospital transportation and at the bedside. Also, in February 2017, Masimo Corporation declared U.S. FDA clearance and universal launch of the full family of NomoLine capnography product sampling lines. In Oct 2013, Medtronic launched Capnostream 20p bedside monitor featured with Apnea-Sat Alert algorithm.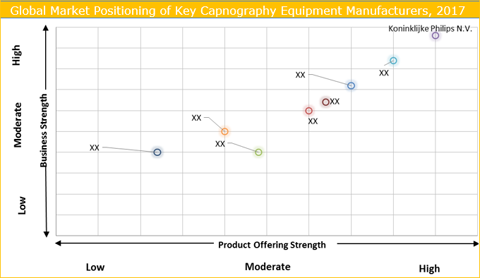 Historical & Forecast Period
This study report represents analysis for each segment from 2016 to 2026 considering 2017 to be the base year. Compounded Annual Growth Rate (CAGR) for each of the respective segments estimated for the forecast period from 2018 to 2026.
Report Scope by Segments
ATTRIBUTE
DETAILS
Research Period
2016-2026
Base Year
2017
Forecast Period
2018-2026
Historical Year
2016
Unit
USD Million
Segmentation

Product (2016–2026; US$ Mn)
• Mainstream Capnographs
• Sidestream Capnographs
• Microstream Capnographs and Disposables

End User Segment (2016–2026; US$ Mn)
• Hospitals
• Ambulatory Centers
• Others

Geography Segment (2016–2026; US$ Mn)
• North America (United States and Canada)
• Europe (U.K., Germany, Rest of Europe)
• Asia Pacific (China, Japan, Rest of Asia Pacific)
• Latin America (Brazil, Mexico, Rest of Latin America)
• Middle East and Africa (GCC, Rest of MEA)
The current report also comprehends qualitative and qualitative market valuation factors such as key market drivers, market trends, restraints and opportunities that gives a better market understanding of the overall capnography equipment market. Additionally, the global report also comprises graphical representation of competitive landscape based on their market initiatives and strategies, product portfolio and business strengths.
Key questions answered in this report
What are the current market trends and dynamics in the capnography equipment market and valuable opportunities for emerging players?
Market positioning of major key players operating in the market?
Which segment accounts for the fastest CAGR during the forecast period?
Which product type holds a larger market share and why?
What is the impact of high cost in the capnography equipment market?
Are low and middle-income economies investing in the capnography equipment market?
What is the market trend and dynamics in emerging markets such as Asia Pacific, Latin America and Middle East & Africa?