"New technology assessment in the cDNA and oDNA microchips market to exhibit noteworthy growth during the forecast period"
The global cDNA and oDNA microchips market is growing effectively, was valued at US$ 458.2 Mn in 2017 and expected to reach US$ 1,050.3 Mn by 2026. The global market is growing productively at a CAGR of 9.7% during the forecast period. Incorporation of new technologies in the biological and electronic component of microchips is enhancing the overall growth globally. Advancement in nanotechnology, clinical diagnostics, cancer research, and agriculture also reflects favorable growth during the forecast period. High global prevalence of cancer provides major opportunity in the global market. Increasing popularity of cDNA and oDNA microchips has encouraged many international players to enter the marketplace and gain profit from its growing demand on a global scale, especially in countries such as U.S., Germany, Israel, China, India, Singapore, Japan, and South Korea. DNA microarray market in these countries are poised for enormous growth as drug discovery, biotech & cancer research and clinical trials intensify the overall growth on a global scale.
Rising adoption of biochips for personalized medicine, growing applications in cancer, and technological assessments in advanced DNA microarray systems and sensors are the major drivers of the cDNA and oDNA microchips market. Additionally, the advanced technology in gene chips has now become very popular in the medical research sector and drug discovery, as it considerably brings down the overall research time with enhanced and quick results. This particular technology is mainly used to simultaneously quantify expression levels of thousands of genes. However, outsourcing of bio-processing activities of pharmaceutical and biotechnology companies, strict regulations, high instrumentation expenses in the developing markets may hinder the market development to a certain extent during the forecast period.
Market Synopsis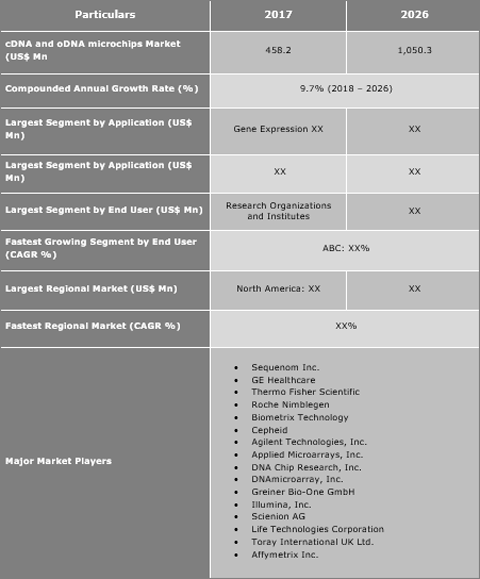 Get a sample copy for more information
"Gene expression application is expected to register higher growth by the end of 2026"
In 2017, gene expression and profiling in the application segment held the maximum revenue share. The penetration of this segment is high due to its sophisticated stability, low limits of gene detection and wide response range. The advanced product lines play highly complementary roles in genomics, molecular biology, and life science research.
In addition to genetic applications, DNA microarray is also utilized in toxicological, protein, and biochemical research in developed countries. The manufacturers are expanding the usage with higher technology assessment utilized for top applications such as cancer diagnosis, microbial genotyping, genomics, agricultural biotechnology, drug discovery, single nucleotide polymorphism (SNP) analysis and other applications including environmental biology, screening and monitoring of patient data in clinical trials, proteomics, and toxicogenomics. For example, Toyo Seikan Group Holdings (Japan) developing chips designed for definite applications. They have recently developed a DNA chip for examining fungi. The DNA chip distributes more than 630 species of fungi into 32 groups and can test them instantaneously.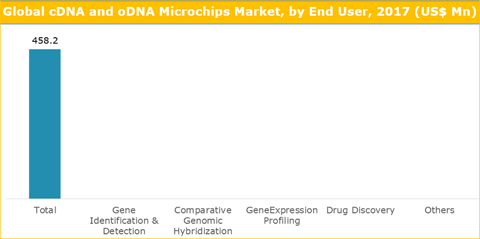 Get a sample copy for more information
"Research Organizations and Institutes to dominate the market with a significant CAGR"
Growth & development of the cDNA and oDNA microchips in research organizations along with biotech firms will gain traction during the forecast period. cDNA and oDNA microchips are now considered as an important tool for biomarker discovery, cancer research molecular cytogenetics, agricultural biotechnology and genomics. The rise in usage of genome testing is generating significant revenue share globally. A notable growth in the drug discovery applications, gene identification & detection show promising opportunities in the near future.
Additionally, administrations of cDNA and oDNA microchips as biochips, lab on chip, clinical proteomics and advanced usage for cancer diagnostics show significant growth in the market. The global market is largely driven by development in personalized medicine, need for early cancer detection and government or private funding in developing nations for advanced research.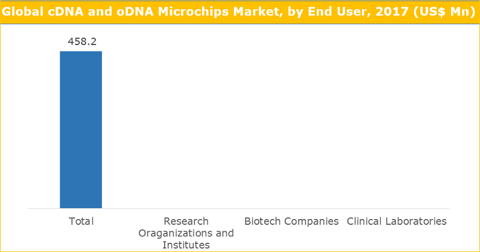 "Increasing applications along with swift new technology launch, and presence of top players holds North America in dominant position"
Presently, the U.S generated maximum market share in the global cDNA and oDNA microchips market attributed to the increasing adoption of DNA microarrays and progression in the field of biotechnology, microelectronics, and nanotechnology. The North America cDNA and oDNA microchips market is driven by the applications in drug discovery & development, higher preference for compact DNA microarrays, shift towards the use of live model systems for gene identification and evaluation, and growing demand for advanced research in cancer and diagnostics industry.
Key factors funding to the overall growth include rising R&D in the gene expression profiling segment, increasing adoption of personalized medicine and the development of miniaturized analytical equipment or chips on a global scale. Additionally, it is projected that the biochips market in the Asia Pacific and Europe will witness rapid growth in the given period of forecast. The increase in biopharmaceutical companies from the Asia Pacific, especially in countries such as China, South Korea, and India coupled with the recent trend of outsourcing of research processes to Asian countries for various genome applications would drive the market.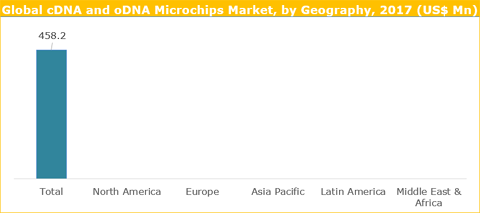 Get a sample copy for more information
"Presence of multinational manufacturers with strong technology portfolio in the developed regions"
Top manufacturers in the cDNA and oDNA microchips market are Sequenom, Inc., GE Healthcare, Thermo Fisher Scientific, Roche Nimblegen, Biometrix Technology, Cepheid, Agilent Technologies, Inc., Applied Microarrays, Inc., DNA Chip Research, Inc., DNAmicroarray, Inc., Greiner Bio-One GmbH, Illumina, Inc., Scienion AG, Life Technologies Corporation, Toray International UK Ltd., Affymetrix, Inc., and others.
Major corporations are implementing advanced approaches along with new technology assessments in new DNA microarray models in drug discovery, medical diagnostics, and advance biotech research. For instance, in June 2017, CellChipGroup at the Vienna University of Technology developed the miniaturized wound healing system (a chip for wound healing measurement). Additionally, in September 2017, GSI Lumonics, Inc. and NEN Life Science Products signed an agreement to jointly market laser scanner systems and DNA microarray systems globally.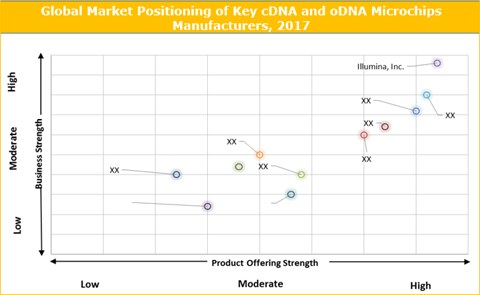 Historical & Forecast Period
This study report represents analysis for each segment from 2016 to 2026 considering 2017 to be the base year. Compounded Annual Growth Rate (CAGR) for each of the respective segments estimated for the forecast period from 2018 to 2026.
Report Scope by Segments
ATTRIBUTE
DETAILS
Research Period
2016-2026
Base Year
2017
Forecast Period
2018-2026
Historical Year
2016
Unit
USD Million
Segmentation

Applications (2016–2026; US$ Mn)
• Gene Identification & Detection
• Comparative Genomic Hybridization
• Gene Expression Profiling
• Drug Discovery
• Others (Re-sequencing/Genomics, Molecular Cytogenetics, Proteomics, Agricultural Biotechnology)

End Users (2016–2026; US$ Mn)
• Research Organizations and Academic Institutes
• Biotech Companies
• Clinical Laboratories

Geography Segment (2016–2026; US$ Mn)
• North America (United States and Canada)
• Europe (U.K., Germany, Rest of Europe)
• Asia Pacific (China, Japan, Rest of Asia Pacific)
• Latin America (Brazil, Mexico, Rest of Latin America)
• Middle East and Africa (GCC, Rest of MEA)
The current report also comprehends qualitative and qualitative market valuation factors such as key market drivers, market trends, restraints and opportunities that gives a better market understanding of the overall cDNA and oDNA microchips market. Additionally, the global report also comprises graphical representation of competitive landscape based on their market initiatives and strategies, technology type portfolio and business strengths.
Key questions answered in this report
What are the current market trends and dynamics in the cDNA and oDNA microchips market and valuable opportunities for emerging players?
What are the current dynamics in the DNA microchips market and valuable opportunities for emerging players?
Which segment accounts for the fastest CAGR during the forecast period?
Which application type holds prominent market share and why?
What is the impact of high cost of DNA microarray processes in the developing markets?
What are the products and brands in the DNA microchip industry that are growing more significantly and why?
What are the market trend and dynamics in emerging markets such as Asia Pacific, Latin America and Middle East & Africa?