Report Description
The growing need for efficient, reliable, and effective interoperable communication during mission critical operations is one of the major factors fueling demand for critical communication systems worldwide. The critical communication market is witnessing a shift in paradigm from analog systems to digital systems. The ongoing transition is the major trend prevailing in the market and is expected to have positive impact on the market growth. The quantum shift in technology leading to the introduction of advanced equivalents with improved features and capabilities is expected to trigger the replacement of existing systems. Thus, the advancements in communication technology is expected to offer the necessary push during the forecast period 2017 - 2025.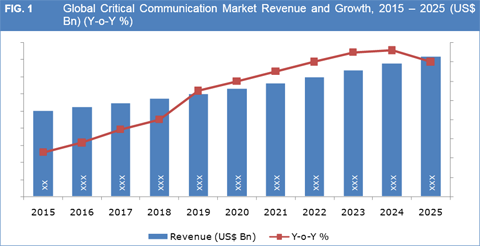 The global critical communication market is classified into following categories:
By Technology
Analog
Digital
By Application
Defense & Public Safety
Transport
Utilities
Industrial
Others
By Region

North America

The U.S.
Rest of North America

Europe

The U.K.
Germany
France
Rest of Europe

Asia-Pacific (APAC)

India
China
Japan
Rest of APAC

Rest of the World

Latin America
Middle East and Africa
The research study titled "Global Critical Communication Market – Growth, Future Prospects and Competitive Analysis, 2017 – 2025" offers strategic insights into the global Critical communication industry along with the market size and estimates for the duration 2015 to 2025. The said research study covers in-depth analysis of market segments based on technology, end-use application, and cross-sectional study across different geographies and sub-geographical regions. The study covers the comparative analysis of different segments for the years 2015 & 2025. The report also provides a prolific view on market dynamics such as market drivers, restraints and opportunities. In addition, the report includes a section providing insights on the key trends followed in the market.
In order to help strategic decision makers, the report also includes competitive profiling of the leading critical communication system manufacturers, their business strategy analysis, market positioning, and key developments. Some of the leading and promising players in the critical communication market include Motorola Solutions Inc., Harris Corporation, Thales-Raytheon Systems Company LLC., JVC Kenwood Corporation, BAE Systems Plc, Elbit Systems Ltd., CACI International Inc., Lockheed Martin, and The Boeing Company among others. Apart from the company profiles, the report includes a section covering the competitive landscape wherein the market positioning of the companies has been discussed. The section also provides a view of key business strategies adopted by the leading market players. Other in-depth analysis provided in the report includes:
Current and future market trends to justify the forthcoming attractive markets within the global critical communication market
Comparative analysis for different segments for the years 2016 & 2025
Market fuelers, market impediments, and their impact on the market growth
In-depth competitive environment analysis including the positioning of market players and their business strategy analysis
Trailing 2-Year market size data (2015 – 2016)
SRC (Segment-Region-Country) Analysis
Overall, the research study provides a holistic view of the global Critical communication market, offering market size and estimates for the period from 2017 to 2025, keeping in mind the above mentioned factors