Industry Outlook
The currently available techniques applied in surface disinfection are consistently improving to adapt to any environment. Conventional disinfection activities mainly aim to supplement healthcare facilities and improve healthcare system efficiency. As the overall emphasis on disinfection and maintaining sterile environment is advancing, the use of surfaces with inherent antimicrobial properties is being considered as a potential alternative to disinfection. However, the possible high cost of these items and distant availability have made the use of disinfectants imperative. The global market for hard surface disinfectants shall undergo stable growth through 2026. Growing incidence of healthcare-associated infections, high burden of managing such diseases, and evolving regulations for validation of disinfectants are the key drivers of this market. On the other hand, increasing risk of development of resistant microorganisms, and improper adherence to the recommended decontamination methods restrain the growth of this market. Considering the future outlook, the global hard surface disinfectants market is witnessing perpetual product innovation, with introduction of new products that have broader activity spectrum, less dwelling time and competitive prices.
Market Synopsis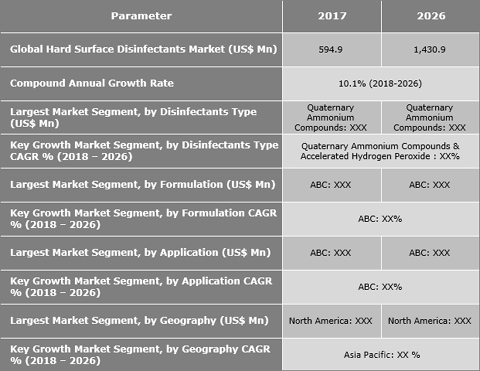 Get a sample copy for more information
"Quaternary Ammonium Compounds to Hold the Largest Market Share"
In the base year 2017, quaternary ammonium compounds held the largest revenue share in the global hard surface disinfectants market, and it will retain its dominance through the forecast period. These products are biodegradable in nature and have more efficacy, and are also used as antistatic agents, fabric softeners and surfactants. Being catatonic disinfectants quaternary disinfectants find application in disinfection of workplace floors, surfaces, countertops and toilets. Therefore, wide application area of these compounds render larger revenue share to the segment. Another factor attributing to the dominance of this segment is its activity spectrum against different microorganism. Quaternary ammonium compounds are efficient in killing enveloped viruses, fungi and amoebas. On the other hand, bleach-sodium hypochlorite will progress at the fastest growth rate during the forecast period from 2018 to 2026.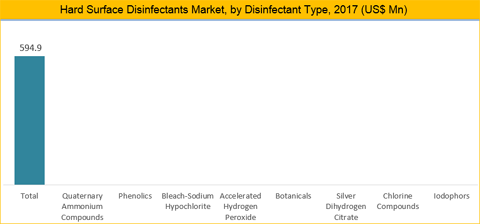 Get a sample copy for more information
"Ease of Use and Competitive Pricing to Support the Lead of Liquids Segment"
Based on types of formulation, the global hard surface disinfectants market is segmented into liquids, sprays and wipes; of which, liquids segment occupies the largest revenue share while progressing at the fastest growth rate. Ease of use and convenience in bulk buying are the key factors attributed to the dominance of this segment. Furthermore, competitive prices of liquid disinfectants and liberty in altering concentrations as per the environmental requirements drive the growth of this market. Additionally, sprays have a limited usage in cleaning countertops, operating utensils and workstations; therefore restricting their usage to small surfaces only. The wipes segment is gaining considerable traction in the global market. These products are in high demand due to their non-toxic nature, non-corrosive activity, less dwelling time and ease of use.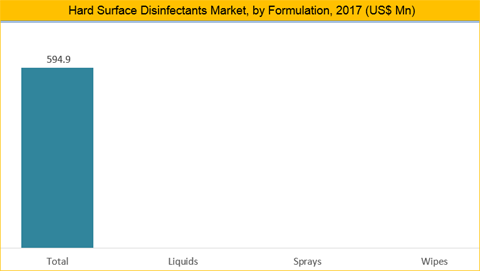 Get a sample copy for more information
"Increase in Adoption of Infection Prevention Measures to Make Hospitals the Largest Segment"
The currently available hard surface cleaning products are have dual properties of cleaning and disinfecting surfaces. Therefore, these products are widely used as a countermeasure for the prevention of nosocomial infections in hospitals. Hard surface disinfectants are formulated to balance cleaning efficiency with surface compatibility. For delivering safe work and healthcare environment in a cost effective way, there is a requirement to introduce broad-spectrum disinfectants with appropriate dwell time, safe for users and fast-acting. Higher number of hospitals as against other settings, and increasing threat of healthcare-associated infections are the key factors supporting the leading position of this market. Constant introduction of new cleaning agents with shorter contact time and broader action spectrum is anticipated through the forecast period.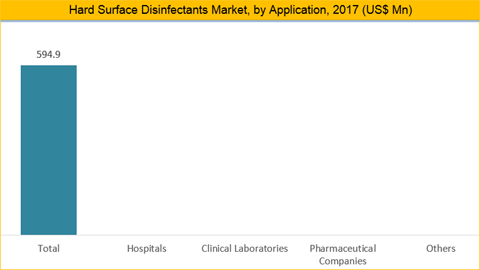 "Existence of Advanced Healthcare Infrastructure to Lead North America to Dominant Position"
In 2017, North America occupied the leading position in the global hard surface disinfectants market in terms of revenue. The demand for hard surface disinfectants in the region is high due to growing threat of superbug infections in hospitals and clinical settings. Additionally, high awareness and government guidelines for deploying disinfection and cleaning methods in healthcare and life-sciences settings also drive the North America market. Mandate of FDA sanction and validation for every disinfectants is the key feature of this regional market. In terms of formulation types, the North America market witness liquid disinfectants to have the largest revenue share, followed by sprays. Asia Pacific shall progress at the fastest rate during the forecast period. China, India and other South East Asian countries will accumulate the largest revenue share in the region. Proliferation of healthcare infrastructure in the region, fast growth of generic drugs market along with rapidly progressing medical tourism industry contribute to the growth of Asia Pacific market.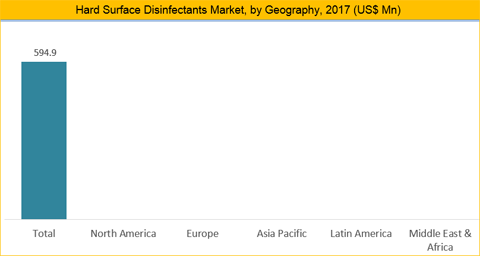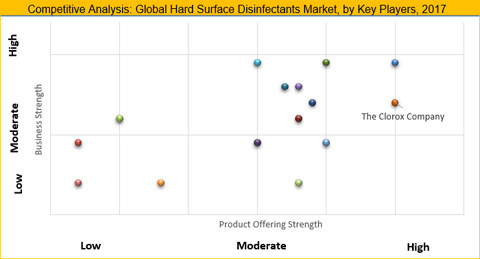 Historical & Forecast Period
This research report presents the analysis of each considered segment for the period from 2016 to 2026, having 2017 as the base year for estimations. Compounded annual growth rates (CAGRs) for each segment are calculated for the forecast period from 2018 to 2026.
Report Scope by Segments
This market research report on the global Hard Surface Disinfectants market comprises market size and forecast for the global market and the mentioned segments. The quantitative information pertaining to these segment in terms of market trends and analysis are is also provided in the report. Other sets of qualitative information offered through this report are attractive investment proposition, competitive landscape of the key players, drivers, challenges and opportunities; and company profiles of major market players.
ATTRIBUTE
DETAILS
Research Period
2016-2026
Base Year
2017
Forecast Period
2018-2026
Historical Year
2016
Unit
USD Million
Segmentation

By Type (2016–2026; US$ Mn)
• Motor Prosthetics
• Auditory Prosthetics
• Cognitive Prosthetics
• Visual Prosthetics

By Modality (2016–2026; US$ Mn)
• Deep Brain Stimulation (DBS)
• Vagus Nerve Stimulation (VNS)
• Spinal Cord Stimulation (SCS)
• Sacral Nerve Stimulation (SNS)
• Others

By Application (2016–2026; US$ Mn)
• Motor Neuron Disorders
• Parkinson's Disease
• Epilepsy
• Physiological Disorders
• Auditory Disorders
• Cardiac Disorders
• Chronic Pain
• Others (Ophthalmic and Kidney Disorders)
• Cognitive Disorders
• Alzheimer's Disease
• Severe Depression

Geography Segment (2016–2026; US$ Mn)
• North America (United States and Canada)
• Europe (U.K., Germany, Rest of Europe)
• Asia Pacific (China, Japan, Rest of Asia Pacific)
• Latin America (Brazil, Mexico, Rest of Latin America)
• Middle East and Africa (GCC, Rest of MEA)
The profiles of such players are also studied in this report based on parameters namely, business overview, product portfolio, financial information, and key developments. The prime players operating in the global Hard Surface Disinfectants market are Abbott Laboratories, Boston Scientific Corporation, Cochlear Limited, LivaNova, PLC, MED-EL, NeuroPace, Inc., Medtronic Plc, NDI Medical LLC, Nervo Corp., Retina Implant AG, Second Sight Medical Products, Inc., Sonova Holding AG, Cyberonics, Inc., St. Jude Medical, Inc. and BrainGate Company.
Key questions answered in this report
What is the current and forecast market size of the global Hard Surface Disinfectants market?
At what CAGR will the global Hard Surface Disinfectants market progress through the forecast period 2018 to 2026?
What is the market status of the motor prosthetics segment on the global front?
Which are the particular factors that are determining the overall market trends?
Will the dominance of spinal cord stimulation solutions be challenged by other modalities?
How will sacral nerve stimulation segment fare during the forecast period?
How the prevalence of degenerative disorders such as Parkinson's disease determining the progress of Hard Surface Disinfectants market for motor neuron diseases?
What are the key strategies adopted by the market players and new market entrants?
What is the roadmap followed in Asia Pacific market to achieve global dominance?