Pressing and bending is an important aspect of any mechanical machining processes. Metal components such as sheets, plates, rods, pipes, and beams are required to be deformed in specific angles to be used for several end-use applications. The controlled deformation requires a versatile and accurate machine for carrying out operation such as compression molding, stamping, punching, drawing and bending among others. All the required attributes to carry out aforementioned application are efficiently incorporated by hydraulic press machines. Flourishing manufacturing & processing along with other end-use industries stimulating the demand for hydraulic press and thus, encouraging the market growth at a consistent pace.
Market Synopsis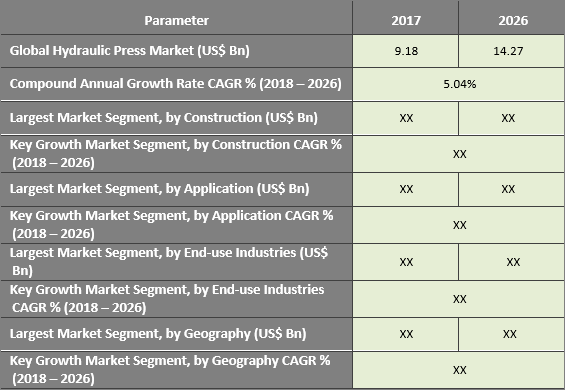 Get a sample copy for more information
"Versatile Applications for Different Application Allowed Four Post Hydraulic Press to Claim Majority of Market Share"
Hydraulic press is available in a number of varieties used for different applications. In the research study, the hydraulic press is broadly classified into C frame hydraulic press, H frame hydraulic press, four post hydraulic press and other press machines. Other included hydraulic press machines such as Bulldozer Hydraulic Press, Gantry Press, etc. which has considerably less market share compared to aforementioned three types. Among all, four posts hydraulic press claims the maximum market share in overall hydraulic press market. The machines are used for heavy application of forging big components and compression moldings by offering tremendous versatility. Other hydraulic press such as C frame and H frame are used for relatively low power applications and hence are used for small and medium category power applications. The segment is expected to behave consistently throughout the forecast period without much changes in their market positions.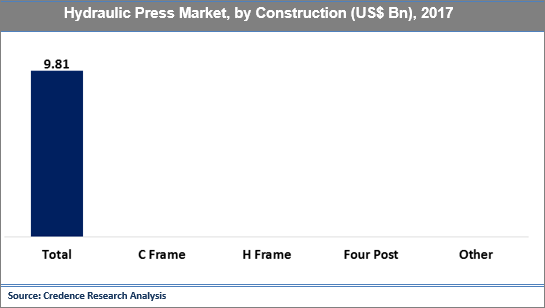 Get a sample copy for more information
"Growth in Automotive Industry Provided Strong Encouragement for Hydraulic Press Market Growth"
Hydraulic press is used across several end-use industries including manufacturing & process, automotive, electronics & Electrical, energy & power, construction & mining, and military & defense among others. Among the aforementioned end-use industries, automotive manufacturing has shown significant growth in past few years and directly impacted the demand for hydraulic press machines in a positive way. Hydraulic machine plays vital role in forming and bending chassis tubing & beams and body panels. Besides, several automotive other components require hydraulic press for manufacturing. Consequently, automotive industry claims the majority of market share in overall hydraulic press market. Manufacturing & processing and construction & mining also have considerable market share in the overall market.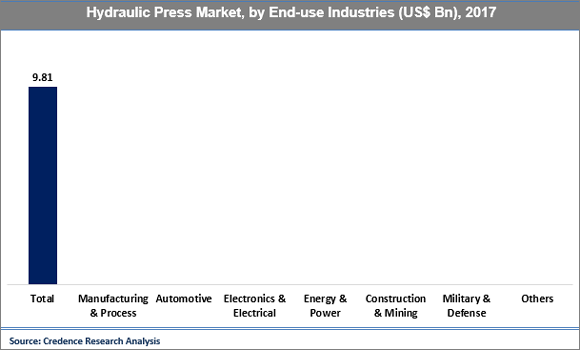 Get a sample copy for more information
"Rapidly Proliferating Industrial and Construction Industries Upheld Asia Pacific to Dominate Over the Global Hydraulic Press Market"
Asia Pacific is showing a significant development across all sectors in past few years and expected to continue its development in coming years. Owing to the consistent development, Asia Pacific appeared as the most dominating region in terms of market share in overall hydraulic press market. The region is growing at a considerable rate and projected to maintain its dominance over the market throughout the forecast periods. North America and Europe face each other in a tight competition for the second sport in the global hydraulic press market. Both the region are positive in term of market growth and expected to show consistent performance throughout the forecast period. Other developing regions including Middle East and Africa and Latin America projected to display considerable growth in coming years owing to the developing manufacturing, residential and commercial infrastructure.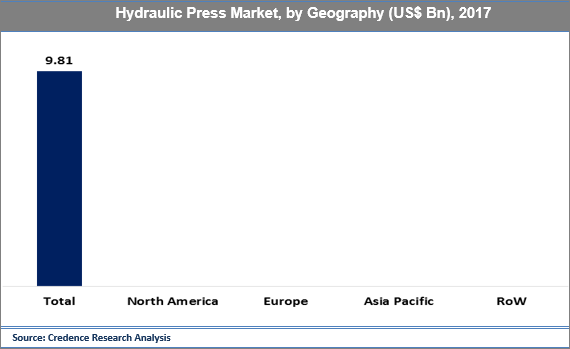 Market Segmentation
ATTRIBUTE
DETAILS
Research Period
2016-2026
Base Year
2018
Forecast Period
2018-2026
Historical Year
2016
Unit
USD Billion
Segmentation

By Construction (2016–2026; US$ Bn)
• C Frame
• H Frame
• Four Post
• Others (Bulldozer Hydraulic Press, Gantry Press, etc.)

By Application (2016–2026; US$ Bn)
• Compression Moulding
• Embossing
• Stamping
• Forging
• Lamination
• Trimming
• Others (Powder Compacting, Injection Modeling, Punching and Spotting etc.)

By End-use Industries (2016–2026; US$ Bn)
• Manufacturing & Processing
• Automotive
• Electronics & Electrical
• Energy & Power
• Construction & Mining
• Military & Defense
• Others (Furniture, Fabrication, etc.)

Geography Segment (2016–2026; US$ Bn)
• North America (U.S. and Rest of North America)
• Europe (U.K., Germany, France, and Rest of Europe)
• Asia Pacific (Japan, China, India, and Rest of Asia Pacific)
• Rest of World (Middle East & Africa (MEA), Latin America)
Competitive Landscape
The research study covers some of the leading hydraulic press including Asai Corporation, Amino Corporation, Beckwood Press, Betenbender Manufacturing, Inc., DORST Technologies GmbH & Co. KG, DAKE Corporation, Enerpac, Fujian Haiyuan, Automatic Equipments Co., Ltd., Greenerd Press Machine Company, Inc., Gasbarre Products, Inc., Komatsu Ltd., Neff Press, P.J. Hare Ltd., Schuler Aktiengesellschaft, and WORLD PRECISE MACHINERY CO., LTD. Hydraulic press is one of the most demanded metal forming machines and hence the market for the same is quite fragmented with a number of international as well as local players. These players are continuously introducing advanced hydraulic press with greater accuracy and versatility in order to maintain their market position and upkeep their profits. However, new entrants and local players are strong competition to these companies by directly axing their profit share.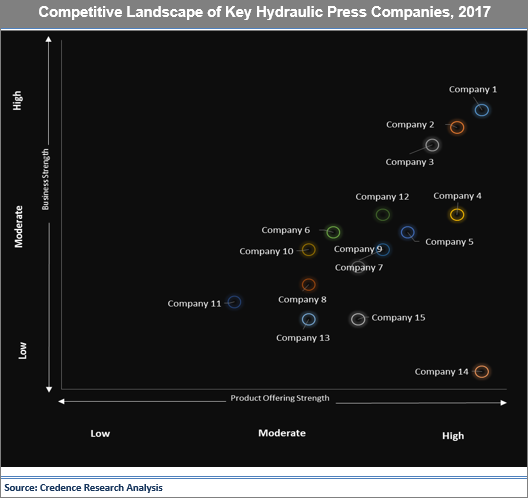 Key questions answered in this report
How development in hydraulic systems aided hydraulic press market to flourish?
Which are the most evident end-use industries and how their growth is supplementing hydraulic press market to grow?
What are different types of hydraulic press machines based on their construction & application and what are their standing in terms of market value?
How vital is the growth of manufacturing and automotive industries is and what is its effect on the sales of hydraulic press?
How industrially emerging region such as Asia Pacific and Latin America emerge as the game-changer in coming years?