"Increasing demand for digital printing and technological advancements are fueling the Inkjet Printers Market growth"
Globally, the inkjet printers market is expected to grow with a CAGR of more than 7.2% during the forecast period from 2019 to 2027, starting from US$ 45.18 Bn in 2018. The process of inkjet printing is growing at a rapid pace across the printing and packaging industry. This inkjet printing technique is commonly used on home as well as office desktop printers. Initially this technique was used for coding and marking applications however, with time its applications increased and are now being adopted as alternative for tradition printing processes. Globally, the demand for digital printing is having a significant impact on various industries as the business models of these industries is changing in many ways. Thus, numerous print providers are now using inkjet printing in innovative ways.
Furthermore, adoption of inkjet printers is growing within the photographers and magazine manufacturers. The multifunctional features and unique capability of inkjet printers of providing proper color combinations has enhanced its utilization in these creative fields, and ultimately has fuelled the market size of inkjet printers in the global marketplace. Moreover, with technological advancements, integration of latest tools and technologies has made the inkjet printers more innovative and user-friendly. These and many such factors are driving the growth of the inkjet printers market across the globe. However, high cost of the printer and the cartridges compared to other traditional machinery and accessories is likely to restrain the growth of this market during the forecast period.
Market Synopsis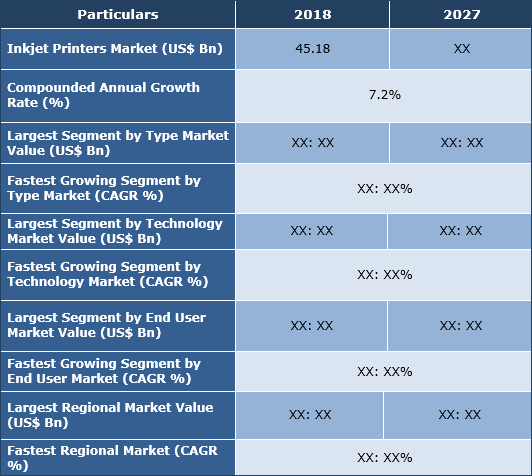 Get a sample copy for more information
"Multifunctional inkjet printers segment is expected dominate the Inkjet Printers Market"
Based on type, the multifunctional printers segment is expected to hold the largest market share in the global inkjet printers market. Various advantages of multifunctional inkjet printers over other printers is the primary factor that increases its adoption across various industries. These printers can conduct varieties of activities such as print, scan, copy, fax etc. that highlights its versatility. Furthermore, these devices can be connected to various USB, Bluetooth or wireless tools to make the control and process easy. Based on increasing demand for these printers, numerous companies are developing and launching new and innovative multifunctional inkjet printers. These new products give variety of alternative for the user to adopt and thus, fuels the growth of this market.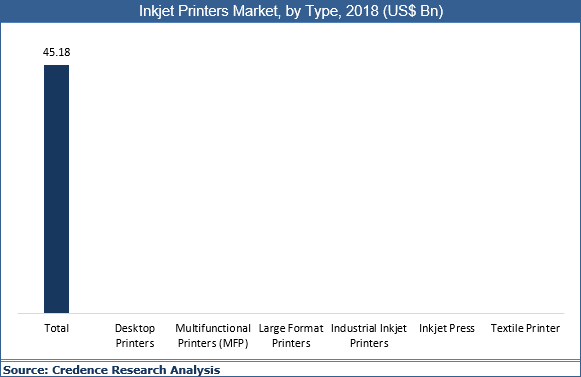 Get a sample copy for more information
"North America to dominate the Inkjet Printers Market"
North America dominates the inkjet printers market by holding largest market share of more than 30% of the total revenue generated worldwide. The North American inkjet printers market was led by the U.S., as large number of player operating in the global inkjet printers market are based in the U.S. Also, penetration of advanced technologies is high in North American region, which ultimately fuels the adoption of inkjet printers.
Asia-Pacific is expected to grow at a highest CAGR during the forecast period. Asia-Pacific offers significant opportunities to the manufacturers of inkjet printers. The manufacturing cost and the labor cost is low in this region, which makes it an ideal location to set up production plants for bulk production. Moreover, increasing penetration of advanced technology, and growing industrialization is driving the demand for innovative tools such as inkjet printers in this region.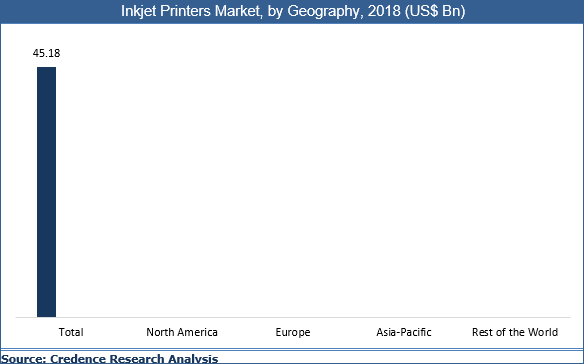 Get a sample copy for more information
Some of the prominent players operating in the inkjet printers market include Canon Inc., HP Inc., Brother Industries, Ltd., Xerox Corporation, Seiko Epson Corporation, Hitachi Industrial Equipment Systems Co., Ltd, Domino Printing Sciences plc, Lexmark International Inc., Videojet Technologies, Inc., and Inkjet, Inc., among others.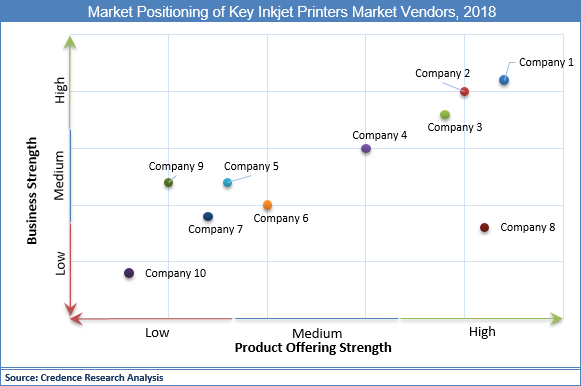 Historical & Forecast Period
This research report presents the analysis of each segment from 2017 to 2027 considering 2018 as the base year for the research. Compounded Annual Growth Rate (CAGR) for each respective segments calculated for the forecast period from 2019 to 2027.
Report Scope by Segments
The inkjet printers market report provides market size and estimates based on market dynamics and key trends observed in the industry. The report provides a holistic view of global Inkjet Printers Market based on type, technology, end-user and geography. Key segments covered in the report are as follows:
ATTRIBUTE
DETAILS
Research Period
2017-2027
Base Year
2018
Forecast Period
2019-2027
Historical Year
2017
Unit
USD Billion
Segmentation

Type Segment (2017–2027; US$ Bn)
• Desktop Printers
• Multifunctional Printers (MFP)
• Large Format Printers
• Industrial Inkjet Printers
• Inkjet Press
• Textile Printer

Technology Segment (2017–2027; US$ Bn)
• Continuous Inkjet
• Drop-on-demand (DOD)
o Thermal DOD
o Piezoelectric DOD

End User Segment (2017–2027; US$ Bn)
• Consumer
• Institutional
• Industrial
o Packaging
o Publishing
o Photography
o Textile
o Advertisement

Geography Segment (2017–2027; US$ Bn)
• North America (U.S., Rest of North America)
• Europe (U.K., Germany, France, Rest of Europe)
• Asia Pacific (China, Japan, India, Rest of Asia Pacific)
• Rest of the World (Middle East & Africa, Latin America)
Key questions answered in this report
What was the market size of inkjet printers in 2018 and forecast up to 2027?
Which is the largest regional market for multifunctional printer segment?
What are the major trends followed in inkjet printers market across different regions?
Who are the key inkjet printers companies leading the market?
What are the key strategies adopted by the leading inkjet printers companies in market?
Unique data points of this report
Statistics on inkjet printers penetration and spending worldwide
Recent trends across different regions in terms of adoption of inkjet printers for various applications in various industries
Notable developments going on in inkjet printers industry
Attractive investment proposition for segments as well as geography
Comparative scenario for all the segments for years 2018 (actual) and 2027 (forecast)