A decal paper is substrate that has printed on it a pattern or image that can be moved to another surface upon contact, usually with the aid of heat or water. There are various types of decal papers available in the market, such as laser decal paper, inkjet decal paper, tattoo decal paper, candle decal paper, wood decal paper, soap decal paper, etc. Decal paper has very long history and it is used in various applications such as ceramics, glass, woodenwares, metals, crafts, toys, fishing rods & tackles, bicycles, and motorbikes etc.
In past few years, decal paper industry has been continuously expanded owing to development in various downstream application field. In terms of application, ceramic and glass products contributed for largest market share in 2016 and other applications is mainly concentrated in the clothes, textile, household items, daily necessities, building materials and other fields
Considering the economic overview of the market, Asia Pacific is expected to account for a major revenue share of the global decal paper market. In 2016, Asia Pacific accounted for more than 45% market revenue share in global decal paper market. This is attributed to strong growth for decal paper in India and China. Market size and forecast of each application is presented for the period 2015 to 2025 along with respective CAGR % for the forecast period 2017-2025.
Geographically, the global decal paper market is studied for the following regional markets:
North America
Europe

Germany
France
U.K.
Italy
Rest of Europe

Asia Pacific

China
India
Japan
Rest of Asia Pacific

Latin America

Brazil
Mexico
Rest of Latin America

Middle East and Africa

GCC
Rest of Middle East and Africa
The market size and forecast for the period 2015-2025 along with the CAGRs for the period 2017-2025 for the mentioned segments are also presented in this study.
Qualitative information sets such as market dynamics (drivers, challenges, and opportunities) and market inclination insights are provided in this market assessment report. Tools such as competition assessment and attractive investment proposition are also included in this study for assessment of the market competition. The report concludes with company profiles section that highlights key information about the major market players operating in the global decal paper market.
Tullis Russell Coaters Ltd., Bel Inc., Image Transfers Inc., Hemmi Papilio Supplies LLC., Stechcol Ceramic Crafts Development (Shenzhen) Co., Ltd., Chengdu Jitian Decal Print Co., Ltd., Lazertran Ltd., Glitters (India) Ltd., One Step Papers, LLC. etc. are few key manufacturers in global decal paper market.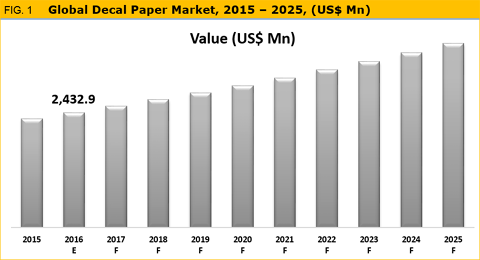 Purpose of the Report
The purpose of this strategic research study titled "Decal Paper Market – Growth, Opportunities, Share & Competitive Analysis, 2017 – 2025" is to offer industry investors, company executives, and industry participants with in-depth insights to enable them make informed strategic decisions related to the opportunities in the global decal paper market.
1.1.2 Target Audience
Industry Investors
Decal Paper Manufacturers
End User Industries
Traders, Distributors, and Suppliers
Government and Research Organizations
Associations and Industry Bodies
1.1.3 USP and Key Offerings
The report titled "Decal Paper Market – Growth, Opportunities, Share & Competitive Analysis, 2017 – 2025" offers strategic insights into the overall decal paper market along with the market size and estimates for the duration 2015 to 2025. The said research study covers in-depth analysis of multiple market segments based product type and different geographical markets.
In order to help strategic decision makers, the report also includes competitive profiling of the leading players in decal paper market. Other in-depth analysis provided in the report includes:
Current and future market trends to justify the forthcoming attractive markets within the decal paper market
Market drivers, market impediments, and their impact on the market growth
In-depth competitive environment analysis
Historical market size data (2015 & 2016)
Overall, the research study provides a holistic view of the global decal paper market, offering market size and estimates for the period from 2015 to 2025, keeping in mind the above-mentioned factors.