Industry Outlook
Interventional radiology involves performing surgical and diagnostic procedures with image guidance. Interventional radiology procedures are generally classified into two types, namely, percutaneous procedures and endovascular procedures. Advent of minimally invasive procedures, their favorable outcomes, and corresponding growth in demand for such procedures are driving the growth of Interventional Radiology Products Market. Minimally invasive procedures are observed to be more effective in treating conditions as against traditional procedures and inure low cost, have less hospital stay, improved comfort and lower risk of infection. The need for readmission from minimally invasive procedures is also less. Image guided minimally invasive surgeries are being increasingly adopted in treating conditions that were previously mandated only for conventional open surgeries. Trauma is one such area where interventional radiology is experiencing phenomenal adoption.
The field of interventional radiology has swiftly advanced to become a subspecialty. Market players in this industry have involved in merger and acquisitions strategies, enabling companies to expand their international presence along with business area. In addition, exchange of technologies and R&D processes is also prominent among the market players. Therefore, M&A activities, partnerships and collaborations are the key strategies expected to continue through the forecast period.
Market Synopsis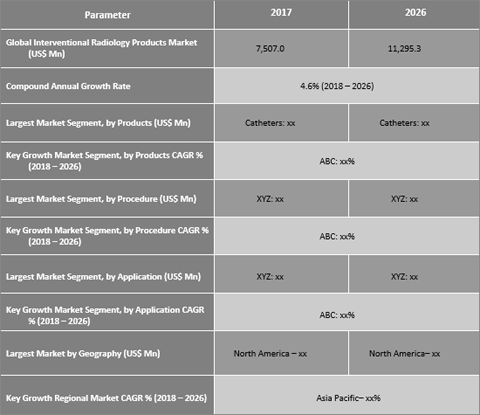 Get a sample copy for more information
"Catheters and Guidewires to Occupy the Largest Revenue Share"
The standard devices used in guided interventions cannot be used in interventional radiology due to their ferromagnetic components and conducting materials, resulting in risk of radiofrequency induced heating. Many of the catheters, and balloons available in the market are not yet CE or FDA market for MRI guidance. The interventional radiology specialty is still restricted from the lack of appropriate radiology compatible instruments. Nylon, polyester, aramid and other fibers are viewed as viable solutions for the construction of fiber-braided catheters with improved properties. The magnetic resonance electrophysiology catheter developed from nylon braided tubing; is demonstrated to have better mechanical properties than the conventional catheters. Such fiber-reinforced catheters therefore possess the potential to be used as a superior solution in radiological interventions. Several catheter developments for MR are being reported in the market. Companies are increasingly developing interest in developing interventional radiology catheters for procedures such as cardiac electrophysiology, renal and cardiac ablation catheters deflectable catheters and tracking catheters.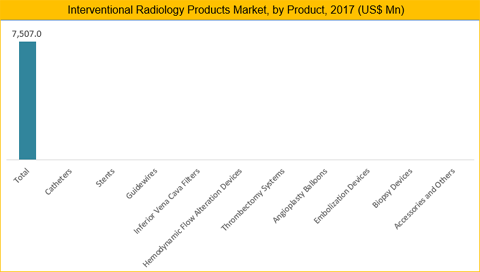 Get a sample copy for more information
"Angioplasty and Angiography Spearhead the Global Market, Attributed to High Procedure Rate"
Angiography is commonly used for diagnostic examination of blood vessels. It is among the most common procedures where radiology is the standard guidance mode. In several cases, therapeutic intervention performed with stent insertion and angioplasty or embolization procedures to reduce or stop blood flow through a vessel. Diagnosis of arterial disease is often performed through CT angiography or MR angiography. Catheter angiography remains the gold standard for arterial condition diagnosis and allows treatment of the detected issue during the same time. Growing incidence of cardiovascular diseases and stroke is the key factor contributing to the dominance of this segment. Sedentary lifestyle, growing consumption of processed foods with sugar, salt and fats, changing dietary habits and rapidly increasing senescent population are the key drivers of the above fact.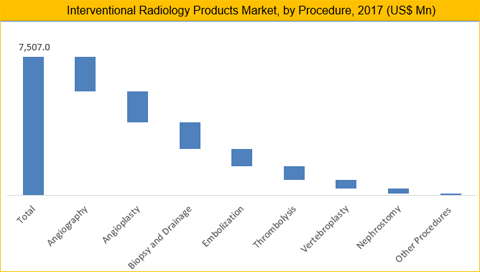 Get a sample copy for more information
"Neurology Segment Set to Progress at Rapid Growth Rate"
Swift progress of medical imaging technology and the ability to leverage the knowledge in interventional procedures has placed interventional neuroradiology at a prominent position to incorporate minimally invasive procedures into clinical management and advanced patient care. Significant opportunities lie in this segment to change the management of variety of neurological diseases through the use of minimally invasive guided procedures. Growing clinical presence of interventional radiology has several advantages in the procedure driven clinical environment.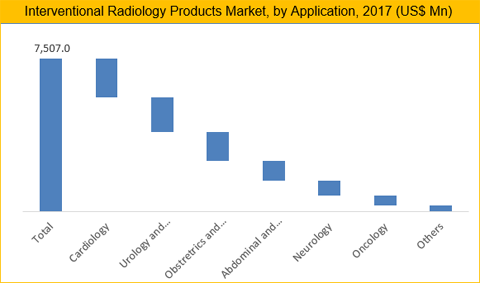 "Asia Pacific Set to Become a Lucrative Market for Interventional Radiology"
At present, North America is the largest revenue generating regional market for interventional radiology products. Higher reimbursements, greater awareness along with higher patient population with chronic diseases are the key factors supporting the dominance of North America. Asia Pacific, however, is estimated to progress at a faster growth rate during the forecast period. Neural and tumor interventions along with cardiac applications are the most common procedures with interventionists in Asia Pacific. In China, cerebral angiography is the most common IR procedure performed in China, followed by percutaneous transluminal angioplasty, percutaneous transhepatic cholangiography, cerebral aneurysm interventions and transcatherer arterial chemoembolization. Rapid evolution of healthcare infrastructure, burgeoning medical tourism, and improving skills of medical personnel are the key factors supporting the swift CAGR of Asia Pacific market.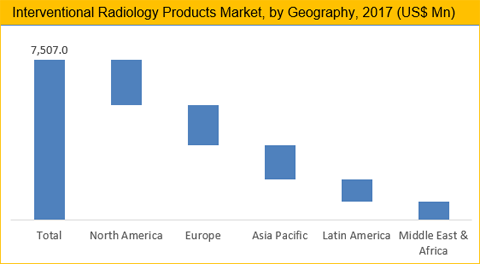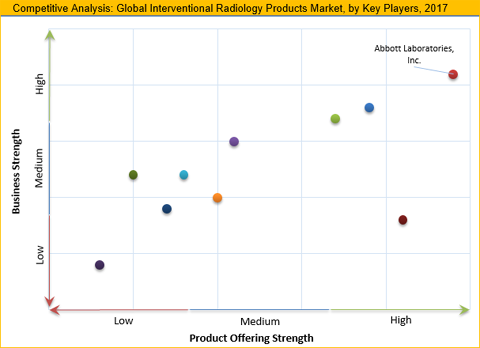 Historical & Forecast Period
This research report presents the analysis of each considered segment for the period from 2016 to 2026, having 2017 as the base year for estimations. Compounded annual growth rates (CAGRs) for each segment are calculated for the forecast period from 2018 to 2026.
Report Scope by Segments
The interventional radiology products market report provides quantitative assessment of the industry terms of current and forecasted market size, while also presenting the market dynamics. This market is segmented based on products, procedures, applications, and geography.
ATTRIBUTE
DETAILS
Research Period
2016-2026
Base Year
2017
Forecast Period
2018-2026
Historical Year
2016
Unit
USD Million
Segmentation

By Products (2016–2026; US$ Mn)
• Catheters
• Stents
• Guidewires
• Inferior Vena Cava Filters
• Hemodynamic Flow Alteration Devices
• Thrombectomy Systems
• Angioplasty Balloons
• Embolization Devices
• Biopsy Devices
• Accessories and Others
• Contrast Media
• Inflation Devices
• Others

By Procedure (2016–2026; US$ Mn)
• Angiography
• Angioplasty
• Biopsy and Drainage
• Embolization
• Thrombolysis
• Vertebroplasty
• Nephrostomy
• Other Procedures

By Application (2016–2026; US$ Mn)
• Cardiology
• Urology and Nephrology
• Obstretrics and Gynecology
• Abdominal and Gastrointestinal
• Neurology
• Oncology
• Others

Geography Segment (2016–2026; US$ Mn)
• North America (United States and Canada)
• Europe (U.K., Germany, Rest of Europe)
• Asia Pacific (China, Japan, Rest of Asia Pacific)
• Latin America (Brazil, Mexico, Rest of Latin America)
• Middle East and Africa (GCC, Rest of MEA)
The prevailing dynamics in the global interventional radiology products market are studied based on the drivers, challenges, opportunities, attractive investment proposition and market dynamics. The market dynamics studied in the report give insights on the positive aspects and pain points prevalent in the market. Major players in this industry are also scrutinized in terms of business description, financial information, product portfolio and key developments. The prominent market players profiled in this report include GE Healthcare, Siemens AG, Koninklijke Philips N.V., Carestream Health, Hologic, Inc., Shimadzu Corporation, Hitachi Medical Systems, Cardinal Health, Inc., Fujifilm Holdings Corporation, Medtronic plc., Teleflex Incorporated, Toshiba Medical Systems Corporation and C. R. Bard.
Key questions answered in this report
What is the current and forecasted market size of the global interventional radiology products market?
In which direction will the global interventional radiology products market progress in the light of current and anticipated market dynamics?
What are the key drivers and challenges currently prevalent in the global market?
How are new opportunities emerging in the global interventional radiology products market?
What are the major strategies implemented by the market players to enhance or retain their market position?
Which product is currently occupying the most prominent market position in terms or growth rate and market size?
Which are the key procedures where the sales of interventional radiology products are the highest?
Which procedure areas are anticipated to be the most prominent takers of interventional radiology products?
Will the dominance of North America be challenged by the rapidly growing Asia Pacific market?