Obesity is a complex medical condition which leads to critical health complications such as diabetes, heart diseases high blood pressure and more. Prevalence of obesity along with comorbid diseases associated with overweighing and obesity should drive the global market. According to the World Health Organization (WHO), the global obese population has tripled since 1975. In the report of the WHO (2016), 1.9 Bn adults, 18 years and older were overweight, from these 650 Mn were obese. Around the globe, around 2.8 Mn die each year due to obesity and an approximate 35.8 Mn (2.3%) of global DALYs are due to obesity or excessive weight. Due to heavy costs associated with obesity, there is a great impact on the healthcare system around the globe. Advancement in technology and better treatment availability for obesity, and rapid growth in the prevalence of obese population will enhance the adoption of intragastric balloons as a perfect treatment; which will lead the growth of intragastric balloons market in the coming time.
This scope of study titled 'Intragastric Balloons Market – Growth, Future Prospects, and Competitive Analysis, 2017 – 2025' provides manufacturers, business executives, and shareholders with a comprehensive study helping them in designing the roadmap associated with the anticipation in the global intragastric balloons market; and to help them in taking collaborative decision. This report investigates and gives the latest trends prevailing in the global intragastric balloons market, and the forecast and market size.
The research study consists of types of balloons types and geographical distribution. The intragastric balloons types are categorized into single balloons, double balloons, and triple balloons. Detailed research in terms of forecast and market size is done for particular category for the period 2015-2025, alongside specific CAGRs for the period 2017-2025 are also available in the report.
This research report also includes geographical sections accompanied by foremost countries, which are alluded as follows:
Europe

Germany
France
United Kingdom
Italy
Spain
Rest of Europe

North America
Asia Pacific

Japan
China
India
Rest of Asia Pacific

Middle East and Africa

GCC
Rest of Middle East & Africa

Latin America

Brazil
Mexico
Rest of Latin America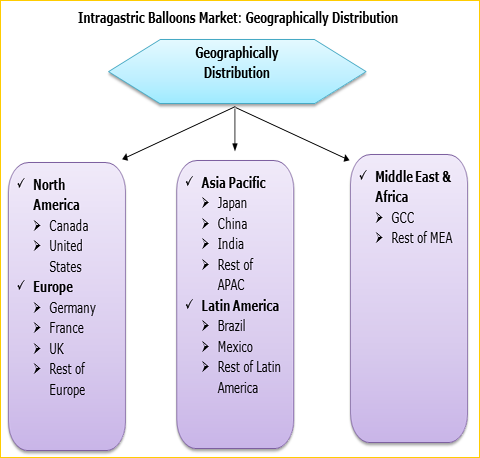 The report covers a detailed description of the above-stated market segments for the period of 2015-2025 along with the specific market assessment for the individual countries in their region-wise segments.
A detailed analysis of market dynamics has been mentioned in the report to get proper understanding of the market and the associated trends. Various tools are used in the report to demonstrate the analysis by the main players. The study also consists of company profiling of the organizations which have a stronghold in the global market for intragastric balloons. Some of the main players in the global intragastric balloons market are listed: Apollo Endosurgery, Allurion Technologies, Lexal Srl, Districlass Medical SA, Life Partners Europe, Fengh Medical, Medsil, Obalon Therapeutics, Phagia Technologies, PlenSat, ReShape Medical, Silimed, Spatz FGIA Inc, and Tulip Medical.