"Medical imaging equipment market to exhibit dynamic growth globally"
The global medical imaging equipment market is increasing competently, projected to grow at a CAGR of 4.9%. Worldwide, increasing diagnostic procedures along with has significantly increased the demand. Inventive product launches in the cardiology, neurology and orthopedics industry, high pool of patients with abundant lifestyle conditions are key factors driving the overall growth of medical imaging equipment market globally. Medical imaging equipment utilizes energy waves to produce 2-D and 3-D images of human organs. However, the new technological assessment in the field of medical imaging equipment market are trending towards manufacturing of cost-effective, minimally invasive, portable and precise equipment.
Market Synopsis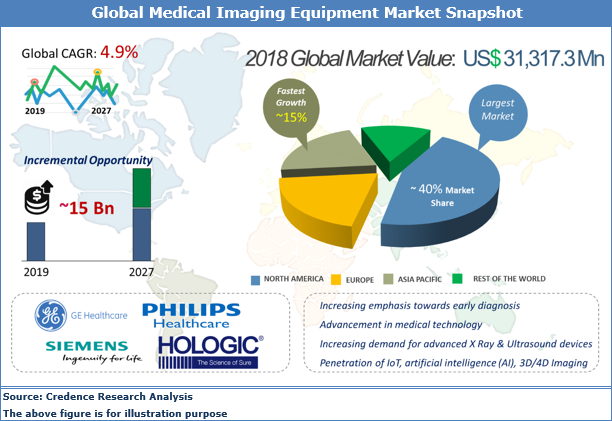 Get a sample copy for more information
"X-ray devices expected to register higher growth by the end of 2027"
X-ray devices market was the largest market in base year 2018 due to high adoption rate, market penetration and one of the most matured markets in medical imaging. Stationary/fixed and portable are the major types of X-ray systems; portable X-ray devices are of two types, viz. mobile and handheld, and have high adoption rates due to their usability in ICUs and emergency departments. Patient transfer from the designated unit to the radiology unit involves high risk to the patient's health along with additional logistic expenses. However, to overcome this problem, the preferences of medical practitioners are rapidly shifting toward application of portable X-ray equipment.
Get a sample copy for more information
"CT & Nuclear Imaging Technology segment expected to register higher growth by the end of 2027"
The CT scanners and nuclear imaging equipment technology expected to show the highest growth among all market segments during the forecast period. The most important factor driving these technologies is their capability to diagnose large number of diseases effectively in less time. Overall in the coming years various technologically advanced products such as handheld X-ray machines and upright MRI scanners are expected to assist the growth of medical imaging equipment market. Thus, utilization of these advanced medical imaging technologies in various medical institutes, such as hospitals and diagnostic labs, is expected to increase over period of time because these technologies are expected to reduce the installation cost and also provide convenience of use. According to market experts, in the near future advanced medical equipment will be minimally invasive and easy to use. The manufacturers specifically involved in medical diagnostics systems are expected to mainly develop and produce inexpensive, energy-saving, and ergonomic medical equipment that requires minimal maintenance and possesses low potential risk.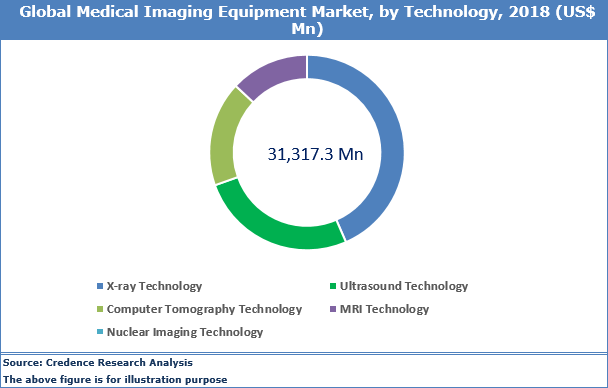 Get a sample copy for more information
"Increasing ageing population, adoption of high-end equipment, and the presence of top manufacturers holds the U.S. in dominant position"
In 2018, the U.S. is the leading market due to an increase in adoption of imaging devices with growing awareness about early diagnosis with enhanced outcomes. Increasing demand for high-end ultrasound, nuclear imaging, X-ray and MRI devices with multiple applications in the hospitals and specialty clinics will drive the market growth on a global scale. The growth of portable devices with demand for the ever-expanding range of medical imaging equipment in the Asia, and Middle East will further spur the demand. Moreover, rising medical tourism in the developing nations for cheaper treatment options will drive market growth.
"Increased research and development with strong product portfolio in the developed regions"
The medical imaging technologies will play vital role in the technological development of medical diagnostics and therapeutics. The significant growth observed in developing countries is expected to the increase the demand for medical imaging equipment in the near future. The major factors assisting the growth of medical imaging equipment market are the portability of equipment, the digitization of readings or measurement values, development of hybrid imaging systems, and the rising adaptation of non-ionizing imaging modalities such as optical and ultrasound systems.
North America is the largest medical imaging equipment market because according to experts several market players have introduced state-of-the-art hand-held portable devices for medical imaging, which has benefitted this market to a large extent. Overall faster adoption of technological innovations compared to other regions boost the market of innovative products in this region.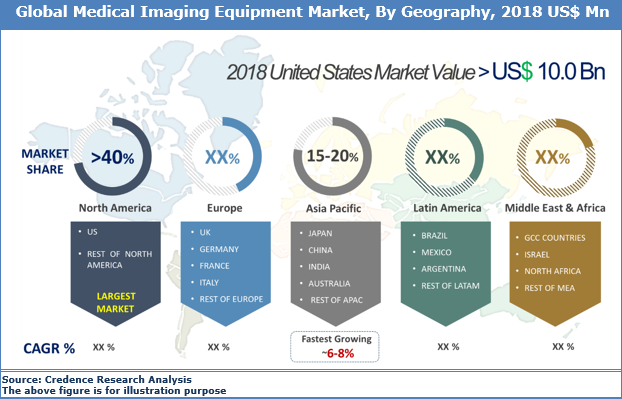 Key Developments:
In January 2020, Hitachi Healthcare announced plans to create and develop a brand new R&D center in Twinsburg, Ohio. Presently, sells and supports medical imaging devices, including CT, MRI, and ultrasound. Groups such as BioEnterprise, JobsOhio, and Team NEO have injected more than US$ 50 Mn capital expenditures in Northeast Ohio. Earlier, Hitachi declared its plans to sell its healthcare division to Fujifilm for $1.6 billion.
In November 2018, Siemens Healthcare declared the launch of Magnetom Lumina 3T MRI scanners and Magnetom Altea 1.5T at the Radiology Society of North America meeting.
In February 2018, GE Healthcare launched LOGIQ E10 ultrasound system, it is an artificial intelligence based radiology ultrasound system.
Top Manufacturers:
GE Healthcare
Philips Healthcare
Siemens Healthcare
Hologic, Inc.
Shimadzu Corporation
Samsung Medison Co. Ltd.
Hitachi Medical Corporation
Genesis Medical Imaging, Inc.
Carestream Health, Inc.
Fujifilm Holdings Corporation
Fonar Corporation
Toshiba America Medical Systems, Inc.
Historical & Forecast Period
This study report represents analysis for each segment from 2017 to 2027 considering 2018 to be the base year. Compounded Annual Growth Rate (CAGR) for each of the respective segments estimated for the forecast period from 2019 to 2027.
Market Segmentation
ATTRIBUTE
DETAILS
Research Period
2017-2027
Base Year
2018
Forecast Period
2019-2027
Historical Year
2017
Unit
USD Million
Segmentation

Product Type (2017–2027; US$ Mn)
• X-ray Devices
o Stationary X-Ray Devices
o Portable X-Ray Devices
• Ultrasound Systems
o Cart/Trolley Based Ultrasound Systems
o Compact/Portable Ultrasound Systems
• Computer Tomography (CT) Scanners
o Stationary CT Scanners
o Portable CT Scanners
• Magnetic Resonance Imaging (MRI) Equipment
o Closed MRI Equipment
o Open MRI Equipment
• Nuclear Imaging Equipment
o Single Photon Emission Computed Tomography (SPECT) Scanners
o Positron Emission Tomography (PET) Scanners

Technology (2017–2027; US$ Mn)
• X-ray Technology
o Analog X-ray Technology
o Digital Radiography (DR)
o Computed Radiography (CR)
• Ultrasound Technology
o 2-D Ultrasound Imaging Technology
o 3-D & 4-D Ultrasound Imaging Technology
o Doppler Ultrasound Technology
o HIFU
o Lithotripsy
• Computer Tomography (CT) Technology
o Low-Slice CT Scanners (
o Medium-Slice CT Scanners (64 Slices)
o High-Slice Scanners (>64 Slices)
• Magnetic Resonance Imaging (MRI) Technology
o High-Field MRI
o Mid-Field MRI
o Low-Field MRI
• Nuclear Imaging Technology
o Single Photon Emission Computed Tomography (SPECT)
o Positron Emission Tomography (PET)

Application (2017–2027; US$ Mn)
• Cardiology
• Neurology
• Orthopedics
• Gynecology
• Oncology
• Urology
• Others

End User (2017–2027; US$ Mn)
• Hospitals
• Specialty Clinics
• Diagnostic Imaging Centers
• Ambulatory Surgical Centers
• Others


Geography (2017–2027; US$ Mn)
• North America (U.S., Canada)
• Europe (U.K., Germany, France, Italy)
• Rest of Europe (Asia Pacific, Japan, China, India, Rest of Asia Pacific)
• Latin America (Brazil, Mexico, Rest of Latin America)
• Middle East & Africa (GCC, Rest of Middle East & Africa)
The current report also comprehends qualitative and qualitative market valuation factors such as key market drivers, market trends, restraints and opportunities that gives a better market understanding of the overall Medical Imaging Equipment market. Additionally, the global report also comprises graphical representation of competitive landscape based on their market initiatives and strategies, product portfolio and business strengths.
Key questions answered in this report
What are the current market trends and dynamics in the medical imaging equipment market and valuable opportunities for emerging players?
Top trends in the medical imaging industry?
Impact of IoT, AI and other digital platforms along with mobile device penetration?
Which segment accounts for the fastest CAGR during the forecast period? Why?
Which product type segment holds a larger market share and why?
Are low and middle-income economies investing in the medical imaging equipment market?
What is the market trend and dynamics in emerging markets such as Asia Pacific, Latin America and Middle East & Africa?