Industry Outlook 'Mushroom Market'
Mushroom Market is expected to reach US$ 77.72 Bn by 2026 with 7.9 % CAGR during the forecast period from 2018 to 2026. In 2017, Europe led the mushroom market. Asia Pacific is estimated to be the fastest-growing region between 2018 and 2026.
Mushrooms may be defined as the spore bearing fleshy fruiting body of fungus that is basically produced on soil above ground or on its various food source. Owing to its various multifunctional benefits, mushrooms mostly finds application in the food industry. These are gaining importance owing to its high nutritional value. Mushrooms are also widely accepted in all regions as it contains low fat and cholesterol and are rich source of proteins. In addition, mushrooms are also low in gluten content and sodium. Mushroom are considered as vegetables that are inclusive of several nutrients such as vitamins, selenium, and potassium. They contain a less amount of sodium and gluten and possess little or no amount of cholesterol and fat.
Mushrooms have gained rapid importance in quick service restaurants as a key delicacy, which is a major factor responsible for the growth of the market at present. Further, rising demand for meat substitutes is another key factor that is currently shaping the mushroom market. Mushrooms are a rich source of protein thereby making them a preferred substitute for meat products. The demand for meat substitutes has surged significantly over the past few years due to increasing health complications among consumers in the developed countries such as U.S., Germany, and U.K. among others. Consumers residing in these countries fall in the high-income group category and are more susceptible to critical health issues such as diabetes, and cancer among others, which is majorly backed by unhealthy lifestyles. These issues had a severe impact on the consumers due to which they are looking to shift their focus towards the consumption of meat substitutes. Further, developing economies such as India and China are promising markets for meat substitutes as incidences of diabetes and cancer have increased rapidly over the past few years, the prevalence of which is linked to unhealthy feeding habits and maintenance of an unhealthy lifestyle. Manufacturers are targeting these countries for expansion opportunities in order to grab a higher consumer base. These factors are majorly responsible for the growth in demand for mushrooms in these countries. Further, the growing foodservice industry backed by aggressive marketing and promotional strategies adopted by the major players operating in this industry has grabbed consumer attention towards the consumption of meat substitutes. These factors have led to an increased demand for mushrooms among consumers as they are considered a suitable replacement for meat and meat products due to high protein content in them. In addition, rising consumption of processed food, especially in the developing regions is a vital factor fueling market growth of mushrooms at present.
Aggressive research and development activities adopted by the key players followed by continuous improvement technologies aim to improve the shelf life of mushrooms which in turn is driving the global mushroom market during the forecast period. However, short shelf life of mushrooms is a key factor resulting in market slowdown. In addition, cultivation of mushrooms requires a high amount of investment, which is another key factor restraining the growth of the market at present. Rising awareness regarding mushrooms and the benefits that they offer in curing obesity serves as an opportunity factor in the growth of this market during the forecast period from 2018 to 2016.
Market Value Synopsis (US$ Bn)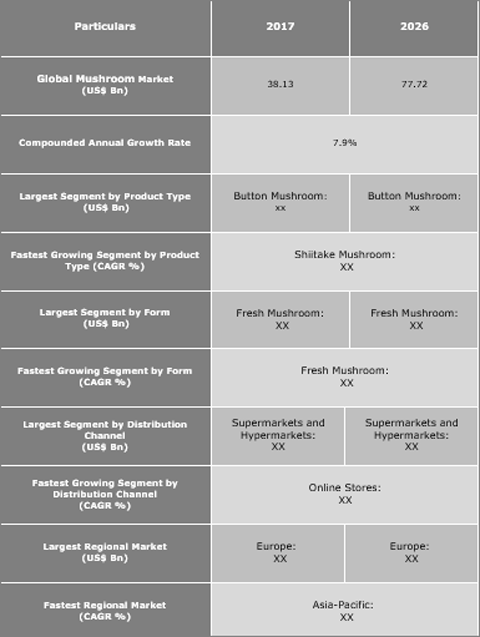 Button Mushroom Propelling the Growth of Mushroom Market
Currently, button mushroom held the largest market share by value during the forecast period. It mainly finds application in casseroles, soups, and salads. These are one of the most widely cultivated mushrooms globally and are mainly sold in fresh and canned form. The market for button mushrooms is expected to grow at a significant rate owing to its high nutritional benefits as it is rich in vitamin B and potassium and are also cholesterol and sodium free. In June 2017, the state government of India started giving emphasis on spawn and button mushroom cultivation in Odisha where cash crops are yet in the process of getting popularity. Trend shows that manufacturers are focusing on merger and acquisition strategy to expand their button mushroom product portfolio and cater to the growing demand of it during the forecast period. For example, in March 2018, Highline Mushrooms, based in Ontario, the U.S, acquired Prairie Mushrooms that offers various mushrooms that includes oyster mushrooms and button mushrooms among others. This acquisition will facilitate the company to strengthen its mushroom product portfolio in Canada.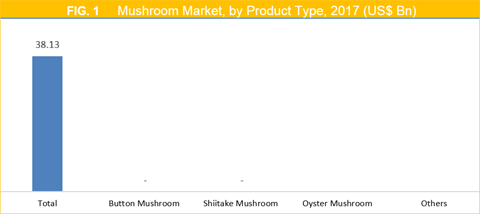 Fresh Mushroom identified as the dominant Form Segment in 2017
Fresh mushroom segment dominated the global market owing to its increasing applications in food services, retail outlets and food processing industry. Easy availability of mushroom growing kits across several distribution channels for fresh mushrooms is one of the key factors for its high growth. Growing demand of specialty mushrooms is another factor driving the global fresh mushroom market. In addition, increasing demand and consumption of fresh mushrooms in western European countries such as Netherlands, U.K and Belgium is also propelling the growth of this market during the forecast period. Fresh mushrooms are widely accepted by consumers across the globe and are widely available across several channels as well. Companies are continuously focusing on launching fresh mushrooms with an objective to expand their mushroom product portfolio. For example, in July 2015, Hokto Kinoko Corporation, based in Japan, launched Maitake mushroom which is a specialty mushroom. These are basically grown in Japan and exported to Singapore. These mushrooms are rich in vitamins, proteins and minerals and also helps to boost the immune system. All these factors are expected to drive the global market for fresh mushroom during the forecast period. Giorgio Fresh Co., based in the U.S, is one of the key player operating in the fresh mushroom segment. Trend shows that there has been increase in revenue of this company owing to the fact that consumers are blending these mushrooms in many popular dishes owing to their shifting focus towards healthy lifestyle.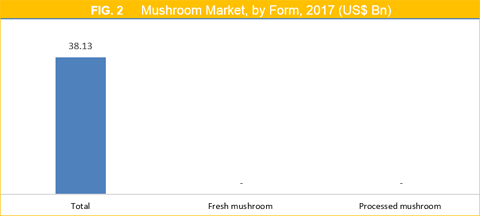 Supermarkets and Hypermarkets are the most preferred Distribution Channel in the Global Mushroom Market
By distribution channel, hypermarkets and supermarkets held the largest share in the global mushrooms market whereas online stores are expected to grow at a fastest rate during the forecast period. Interesting and innovative placement of mushroom products aims to enhance shopping experience thereby attracting large foot falls leading to higher revenue. Growing awareness among consumers regarding the high nutritional value of mushrooms has spiked the sales of mushrooms across various hypermarkets and supermarkets. In addition, point of sale displays followed by efficient advertising boost the consumers to view the product thereby generating impulse buying. Trends show that with the rising number of supermarkets in developing countries, mushroom manufactures as part of their business strategy are focusing on selling products through hypermarkets and supermarkets to contact the masses which in turn is expected to propel the growth of this segment during the forecast period.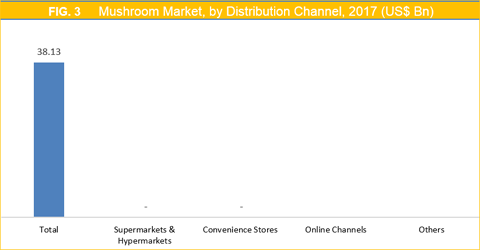 Europe is the Largest Region in the Global Mushroom Market
Europe held the largest market share in the global mushrooms market closely followed by North America. Increasing awareness regarding the nutritional benefits of mushrooms followed by shifting preference of consumers towards healthy lifestyle are the key factors responsible for the growth of this market during the forecast period. Increasing demand for organic and high protein content food is expected to bolster the mushroom market demand in North America. North America is a key market for mushrooms and is expected to display significant growth during the forecast period. U.S. is one of the key markets for mushrooms in North America. High prevalence of diabetes and cancer in the country has led the consumers to opt for meat alternative products, which in turn is fueling market growth for mushrooms in the country. Asia-Pacific is projected to witness fastest growth owing to the rising demand of processed food followed by increasing preference of mushrooms in quick service restaurants.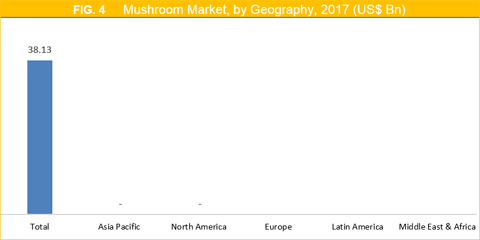 Business Expansion Followed by Mergers and Acquisitions are the Key Strategies Adopted by the manufacturers
Key notable players operating in the global Mushroom market includes
Costa Pty Ltd.
Monterey Mushrooms Inc.
Bonduelle Fresh Europe
Drinkwater's Mushrooms Limited
The Mushroom Company
Monaghan Mushrooms Ireland
Okechamp S.A.
Lutece Holdings B.V.
In July 2018, Bonduelle Group acquired the Del Monte's processed fruit & vegetable business in Canada. This acquisition gave Bonduelle Group the right to use the Del Monte brand on various segments of processed fruits & vegetables and other products that were valued at approximately US$ 33 Bn. This acquisition will allow Bondulle Group to gain access to the canned fruits & vegetable market in Canada and has also helped the company to expand its product portfolio as well.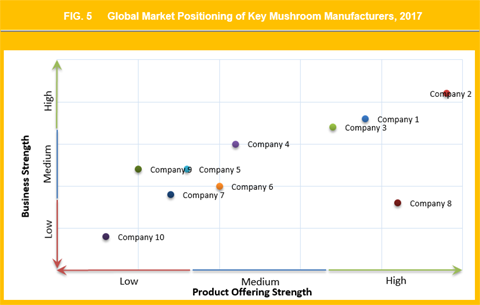 Historical & Forecast Period
Historical Year - 2016
Base Year - 2017
Forecast Period - 2018-2026
This research considers 2017 as the base year and presents analysis of segments from 2016 to 2026. In addition, forecast period from 2018 to 2026 is considered for Compounded Annual Growth Rate (CAGR) calculation for each respective segment.
Report Scope by Segments
Mushroom market report represents understanding about the current market dynamics and strategies. It also focuses on quantitative and qualitative analysis of the overall market. The report covers the global mushroom market by categorizing the market in terms of product type, form, distribution channel and geography. Publishing this broad research report aims to aid the mushroom market stakeholders and professionals in assisting strategic initiatives and decisions in the mushroom market.
Product Type Segment (2016–2026; US$ Bn)
Button Mushroom
Shiitake Mushroom
Oyster Mushroom
Others (milky mushroom, paddy mushroom, reishi mushroom, and winter mushrooms)
Form Segment (2016–2026; US$ Bn)
Fresh
Processed

Canned
Dried
Frozen
Others (powder mushroom, pickled mushroom and mushroom sauces)
Distribution Channel Segment (2016–2026; US$ Bn)
Supermarkets & Hypermarkets
Convenience Stores
Online Channels
Others (Retail outlets, specialty stores, etc)
Geography Segment (2016–2026; US$ Bn)
Europe


United Kingdom
Germany
France
Rest of Europe
Asia Pacific (APAC)


Japan
China
India
Rest of APAC
Latin America (LATAM)


Brazil
Mexico
Rest of LATAM
Middle East and Africa (MEA)

Key questions answered in this report
Who are the distributors, traders and dealers of mushroom market?
What are expected largest product type, form and distribution channel segments in the market during the forecast period from 2018 to 2026?
What are the fastest-growing segments in the market for the forecast period?
What are the current market trends in the mushroom market and valuable opportunities for the players?
How the regulatory framework affects the global as well as the regional markets?
Which are the key players operating in the global market and what are the strategies adopted by them?
What are sales, revenue, business strategy and product portfolio of top manufacturers of mushroom market?
What is the market size and trend in emerging and developed markets?