"Ever-Rising Telecommunication Traffic Worldwide to Bolster the Demand for Optical Satellite Communication"
Optical satellite communication market projected to hit US$ 1,021.3 Mn by 2026, surging with a promising CAGR of 12.73% throughout the forecast period from 2018 to 2026. Chiefly commanded by North America, optical satellite communication market primarily driven by rapid growth in telecommunication sector. Proliferation of Internet as well as telecommunication traffic worldwide is driving the market growth worldwide. The global Internet traffic witnessed a CAGR of over 25% during the period from 2013 to 2016. With rising Internet users along with telecommunication traffic across the world, several private players have started investing in optical satellite communication market in search of feasible ways to cater the rising demand for real-time communication.
Market Synopsis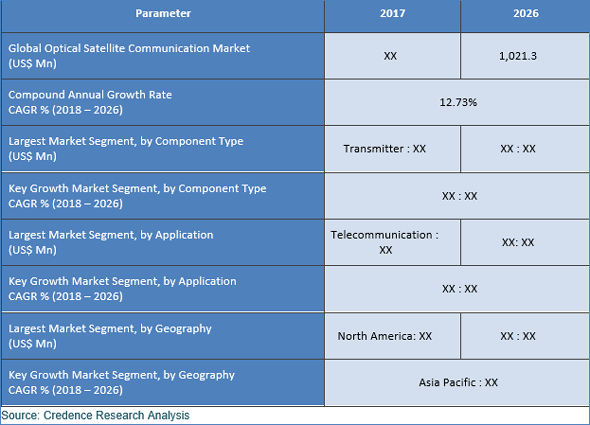 Get a sample copy for more information
"Transmitter Segment Anticipated Continuing Leading the Market"
In 2017, Transmitter segment dominated the overall optical satellite communication market accounting for more than 1/4th of the global market value. Presently majority modules in IoT driven world equipped with location services. Further, proliferation of connected vehicles demonstrating promising growth of navigation services. Rapid penetration of navigation function in smart digital equipment and connected vehicles among other location based functioning systems, subsequently driving the growth of transmitter segment. Credence Research, Inc. accounted that by 2030, over 250 Mn units of vehicles in China will be Internet-connected vehicles. Similarly, use of satellite transmitters for surveillance & security application by defense authorities worldwide is further stimulating the demand for the segment. Transmitter plays inevitable part in satellite telemetry application credited to improved accuracy in location tracking. This advancement has revolutionized the study of raptor migration & life histories, and even expected to follow the trend across the forecast period.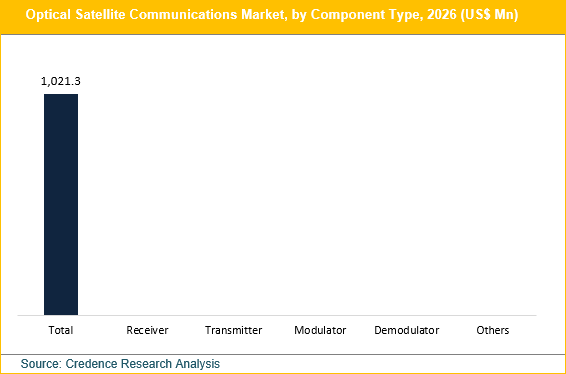 Get a sample copy for more information
"North America Leads the Market; Asia Pacific to Emerge as the Fastest Growing Regional Market"
Currently, North America dominates the optical satellite communication market with over 1/3rd of the total market value worldwide. The U.S. with strong awareness for benefits of using optical satellite communication across the nation chiefly supports the market growth here. Military satellite constellation assists the U.S. defense sector from orbit to track the defense activities globally. Similarly, with major focus on development of security system, the U.S. military are equipping commercial satellite receivers with trucks, aircraft and other defense systems in case of their own protected communication capabilities are malfunctioned. Further, Asia Pacific estimated to be the fastest growing market for optical satellite communication across the following years. India, China and Japan are among the lucrative markets having promising penetration of optical satellite communication. These countries hold huge potential for market majorly credited to increasing digital satellite broadcasting, Internet service, satellite R&D studies and satellite launching among several others.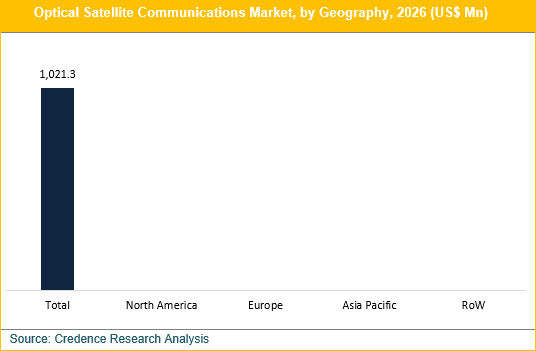 Get a sample copy for more information
"Leading Players Focusing on Alliances & Acquisitions for Market Expansion"
The overall optical satellite communications market was highly consolidated until late 2012. However, post 2012 nature of market became fragmented credited to growing access to optical satellite technology by private players. One of the key strategies adopted by the global players is alliance with small-scale network service providers. This helps the companies to swell their communication network reach, subsequently catering to more number of subscribers. Key instances include In January 2018, ATLAS Space Operations, Inc. and Xenesis, Inc. announced the alliance to develop advanced optical satellite communication network designed for high data flow from the space. Similarly, In July 2018, Maxer Technologies Ltd. announced the acquisition of Neptec Design Group. This acquisition expected to help the Maxer Technologies Ltd. to deliver robotic systems and expanded set of solutions, strengthening the brand to capture growth in North America as well as global space exploration markets and accelerate advancement into expanding space segments. Further, Ball Aerospace & Technologies Corporation announced the alliance with Honeywell Corporation to design & produce high reliability and high performance optical communication data links. This alliance expected to enable Ball Aerospace & Technologies Corporation to deliver high capacity, affordable and high bandwidth connectivity to consumers across the globe. Some of the key players profiled in the report include ATLAS Space Operations, Inc., Maxar Technologies Ltd., Analytical Space Inc., HisdeSat Servicios Estrategicos S.A., Ball Aerospace & Technologies Corporation, BridgeSat Inc., Mitsubishi Electric Corporation, Laser Light Communications Inc., SITAEL S.p.A. and Mynaric AG among others.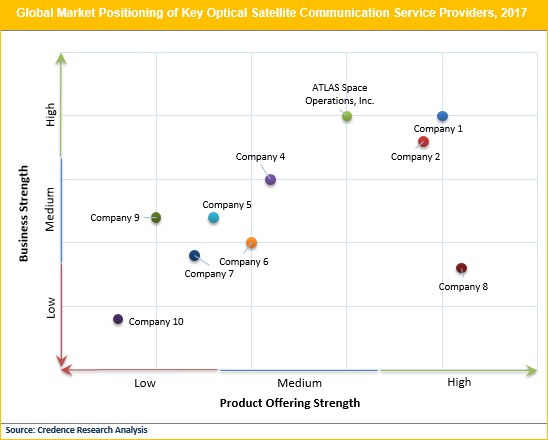 Historical & Forecast Period
This research report presents the analysis of each segment from 2016 to 2026 considering 2017 as the base year for the research. Compounded Annual Growth Rate (CAGR) for each respective segments calculated for the forecast period from 2018 to 2026.
Report Scope by Segments
Optical satellite communications market report provides market size and estimates based on market dynamics and key trends observed in the industry. The report provides a holistic view of global optical satellite communications market based on component, application and geography. Key segments covered in the report are as follows:
ATTRIBUTE
DETAILS
Research Period
2017-2027
Base Year
2018
Forecast Period
2019-2027
Historical Year
2017
Unit
USD Million
Segmentation

Component Segment (2016–2026; US$ Mn)
• Receiver
• Transmitter
• Modulator
• Demodulator
• Others

Application Segment (2016–2026; US$ Mn)
• Surveillance & Security
• Research & Space Exploration
• Tracking & Monitoring
• Telecommunication
• Earth Observation
• Last Mile Access
• Others

Geography Segment (2016–2026; US$ Mn)
• North America (U.S., Rest of North America)
• Europe (U.K., France, Germany, Rest of Europe)
• Asia Pacific (Japan, China, India, Rest of APAC)
• Rest of the World (Latin America, Middle East and Africa)
Key questions answered in this report
What was the market size of optical satellite communications in 2017 and forecast up to 2026?
Which is the largest regional market for optical satellite communications?
What are the key market trends observed in the optical satellite communications market?
Which is the most promising component type and application in optical satellite communications market?
Who are the key players leading the market?
What are the key strategies adopted by the leading players in market?
What are the key telecommunication development trends across different geographies and sub-geographies?