Key Market Insights
"Rising Adoption of Light Technology across Various Sectors predicted to uplift the demand of Optoelectronics Devices Globally"
The global optoelectronics market was stood at US$ 4.57 Bn in the year 2018 and expected to reach US$ 11.84 Bn by the year 2027, expanding at a CAGR of 11.2% during the forecast from 2019 to 2027.
Significant disruptions in electronic devices over the recent past along with rising trend of renewable energy sources has triggered the growth of optoelectronics market. Optoelectronics are the electronics devices that uses optical interaction to generate electronic response in presence of some optically active semiconductors. Its significant advantages over the traditional semiconductor devices has surged its adoption in various sectors such as automotive, medical, research, and many others. Some of its attractive features are low power consumption, high bandwidth for communication, and high sensitivity for temperature.
In addition, stringent regulations for electricity consumption along with increasing contamination of harmful gases in the atmosphere during electricity generation has triggered the application of light energy. Europe government including other regional governments has thrived their development pace of photonic industry. For instance, European government has designed their strategic roadmap for the adoption of light technology in various end-use sectors till 2027. They have projected the light technology market growth at 8.4% in the region upto the year 2022.
Market Synopsis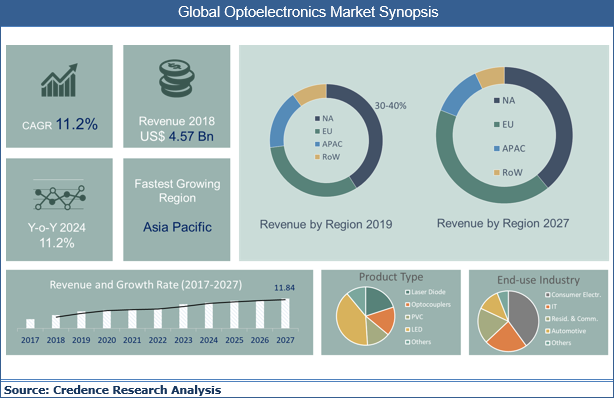 Get a sample copy for more information
Product Type Analysis
"Laser Diode expected to witness a Flourishing Growth during the Forecast Period"
In 2018, LED held the largest revenue share in the global optoelectronics market. Its significant application in ICs, computers, microelectronics, display electronics, and in many other sectors is the prime factor contributing to its significant growth. However, laser diodes expected to witness frenetic growth during the forecast period owing to increasing deployment of lasers in industrial sector. In addition, laser diodes are the widely used optoelectronic component used for laser generation across various verticals. Furthermore, increasing investment in LiDAR technology anticipated to uplift the laser diode market growth in the coming years. For instance, in August 2019, Valeo, a France based car parts manufacturing company announced to invest US$ 555.37 in LiDAR sensors.
Get a sample copy for more information
End-use Industry Analysis
"Automotive Industry foresees Lucrative Growth over the Analysis Period"
Despite of sluggish growth in automotive sale new technology integration and innovations in automotive industry has gained remarkable momentum over the past few years. Introduction of autonomous cars and driver assistance systems has made the industry vulnerable to the increased application of sensors. Furthermore, rising concern for safety and security has surged the deployment of optoelectronic devices in the automotive sector. In addition, players are also expanding their reach in the automotive optoelectronics market seeing the exponential demand from customers. In December 2019, Tesla Inc. opened a new research & development facility in Taiwan. The new research center mainly focuses on the development of mini LED displays for automotive, automotive lighting, and large size displays.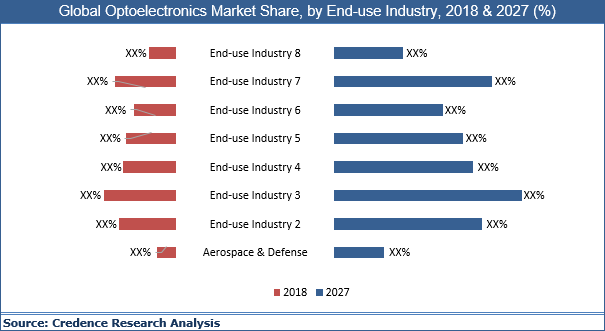 Get a sample copy for more information
Regional Analysis
"The North America acquired Prominent Revenue Share in the Global Optoelectronics Market in 2018"
Increasing investment on smart infrastructure and automation technology has projected North America as the global leader in the optoelectronics market in 2018. North America lead the global smart building investment with around 36% share across the world. The region also witness an escalating growth in smart energy, smart city, and other smart solutions. Several smart city projects are running in North American cities including Detroit, Austin, San Diego, Portland, and many more.
Asia Pacific anticipated to register the fastest growth in optoelectronics market during the forecast period. The exponential growth of the region is mainly due to large consumer electronics and automotive market. In addition, the growth of optoelectronic devices are also foreseen in other sectors such as running smart city projects, new technologies such as Internet of Things (IoT), big data, augmented & virtual reality, and in smart industrial appliances.
Key Players & Competitive Landscape:
"Alluring Opportunity for Innovation has surged the Competition among the Optoelectronics Market Players"
The global optoelectronics market is a matured market but still ushers innovations and paradigm shift in the coming years. Several unexplored areas in optoelectronics provides alluring opportunity for the research & development. Therefore, the market players are grapple in a close fight to strengthen their footprint in the global optoelectronics market.
List of Companies Covered:
Toshiba Corp.
Sony Corp.
Samsung Electronics
Osram Licht AG
ROHM Co., Ltd.
Sharp Corp.
BetaLED
Avago Technologies
Panasonic
Philips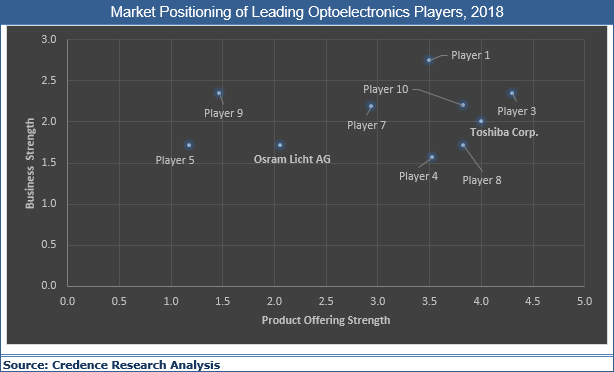 Key Industry Development:
On September 04, 2018, San'an Optoelectronics, a china-based optoelectronics manufacturing company announced to start its first production line of micro-LED wafer in the year 2019. The company has developed 20-micron micro-LED and planning to develop 10 micron LED flip-chips and 4-micron LEDs. These micro LEDs were designed to be used in automotive taillights, wearables, and large-area displays.
On April 25, 2017, Cree Inc. signed a joint venture agreement with San'an Optoelectronics Co., Ltd. to deliver high-performance LED in an attractive arrangement for the expanding markets in North America, Europe, Japan, China, Latin America, and rest of the world.
Historical & Forecast Period
This research study provides qualitative as well as quantitative insights for each segment and sub-segment from 2017 to 2027, considering 2018 as the base year for the research. CAGR (Compounded Annual Growth Rate) for each segment and sub-segment calculated for the forecast period from 2019 to 2027.
Report Scope by Segments
The research study titled optoelectronics market offers market size and forecasts based on market dynamics and predominant trends shaping the industry. The report provides all round view of the global optoelectronics market based on product type, end-use industry, and geography. Key segments covered in the report are as follows:
ATTRIBUTE
DETAILS
Research Period
2017-2027
Base Year
2018
Forecast Period
2019-2027
Historical Year
2017
Unit
USD Billion
Segmentation

Product Type Segment (2017–2027; US$ Bn)
• Laser Diode
• Optocouplers/ Optical Fibers
• Photovoltaic Cells
• Photodetectors
o Photodiodes
o Phototransistor
• Image Sensors
• LED
• Others (electro-optic modulators, etc.)

End-use Industry Segment (2017–2027; US$ Bn)
• Aerospace & Defense
• Consumer Electronics
• Information Technology
• Residential & Commercial
• Automotive
• Healthcare
• Industrial
• Others

Geography Segment (2017–2027; US$ Bn)
• North America (U.S., Rest of North America)
• Europe (U.K., Germany, France, Rest of Europe)
• Asia Pacific (China, Japan, India, Rest of Asia Pacific)
• Rest of the World (Middle East & Africa, Latin America)
Key questions answered in this report
What was the global market size of optoelectronics in 2017 & 2018?
What is estimated forecast and market projections up to 2027?
Which is largest regional market for optoelectronics?
Which optoelectronics product is largely preferred on global scale?
Which is the most lucrative end-use industry of optoelectronics?
Which are the predominant trends shaping the global optoelectronics market?
Which is the most promising, attractive, and less-explored region in the global optoelectronics market?
Who are the leading players in the global optoelectronics market?
What are the premiere strategies adopted by the leading players in the global optoelectronics market?