"Advancements in Screen Technologies Aiding the Smartphone Display Market Growth"
The smartphone display market was valued at $50.29 billion in 2017 and is expected to grow at a CAGR of 7.5% during the forecast period from 2017 to 2026. It's no secret that smartphone design has come a long way since the first cell phone was launched decades ago. In 2001, Samsung released the SPH-1300, which marked the beginning of a new era in smartphones and a new chapter in mobile technology. Since then, displays have evolved and technological advances have led to flexible screens that allow for sleek designs and improved battery life. One factor contributing to this growth is increasing sales of smartphones worldwide; for instance, worldwide smartphone sales in 2017 grew 2.7% over 2016 figures. In 2017, there were 1,536.5 million units sold versus 1,496 million units sold in 2016.
Furthermore, technological advances in screen technology have been another major factor contributing to the growth of the smartphone display market. Today smartphones with 4K screen resolution are available in the market and are usually found on flagship models. Moreover, full-screen smartphones have gained immense popularity in recent years, further contributing to the growth of the smartphone display market.
Covid 19 Impact Analysis:
COVID19 has been a significant event for the global smartphone display industry. The crisis has resulted in a drop in smartphone demand, leading to a drop in overall demand for mobile devices. This decrease in demand has led to a decrease in the production of display panels.
The impact of COVID19 on the smartphone display market has been felt across all regions and countries. For example, smartphone sales have recorded a significant drop in the US since January 2018. In Europe, the smartphone market decreased roughly 30% over the same period (January 2018 to June 2019).
While some regions have seen declines due to COVID19-related issues, others have seen an increase due to the fact that consumers are choosing more expensive models with more durable displays (such as OLED displays).
Market Synopsis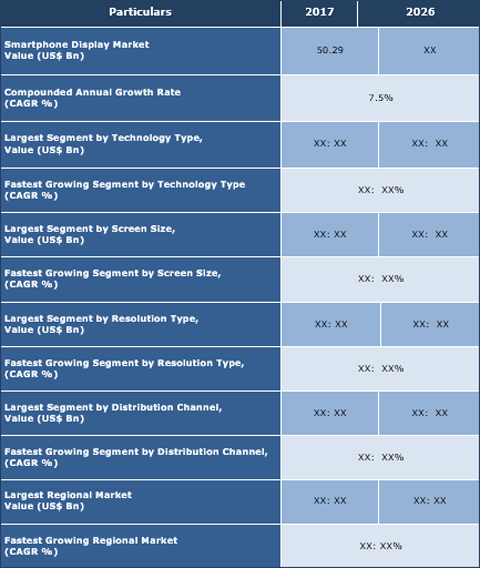 Get a sample copy for more information
"An Increasing Number of Smartphones to Adopt AMOLED Screens in the Coming Years"
In 2017, the LCD segment led the overall smartphone display market worldwide in terms of value. The cost to manufacture and procure an LCD screen is comparatively cheaper to that of AMOLED. This factor makes LCDs to be commonly found on most of budget smartphones. However, with constant advancements taking place in LED display technology, the market share of the same is expected to increase in the coming years. The fact that AMOLED screens perform better in terms of battery consumption is expected to play a crucial role in its increasing adoption in future smartphones. However, the Micro-LED displays segment is expected to witness significant growth in the coming years due to its lighter weight and thinner form factor compared to LCDs and LEDs, as well as its superior brightness levels over all other display types—which make it ideal for use outdoors during bright sunlight conditions.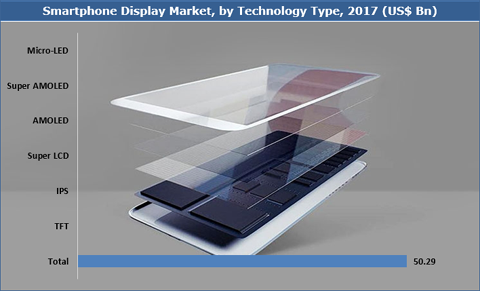 Get a sample copy for more information
"R&D Activities to Remain on the Center Stage for the Players Operating in the Smartphone Display Market"
Research and development activities are one of the most common strategies adopted by smartphone display manufacturers. These activities are directed towards improving existing products and developing new ones. For instance, Samsung recently announced a bendable and unbreakable screen for smartphones. The new display uses plastic instead of glass, therefore not prone to shattering or cracking. Moreover, the display survived the break test when dropped from a height of 4-6 feet. Another recent development witnessed in the smartphone display area is the breakthrough smartphone makers achieved in embedding fingerprint scanners on screens. Vivo and Xiaomi were among the first companies to be launched with this new technology. Similarly, Taiwanese electronics company AUO developed a 5-inch AMOLED display which can bend 1.5 million times without breaking."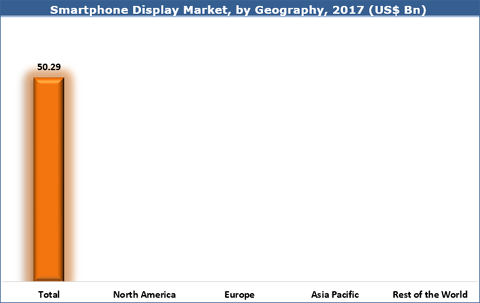 Get a sample copy for more information
"Asia Pacific to Remain the Hub for Smartphone Display Manufacturing"
The Asia Pacific was the largest regional market for smartphone displays worldwide in 2017, and the region is expected to maintain its dominance throughout the forecast period. One of the most prominent factors aiding this growth is a large number of smartphone display manufacturers headquartered in the region, including Samsung, LG Display, Japan Display, Sharp and BOE. In order to address growing demand from smartphone makers, manufacturers have been building new plants. For instance, Chinese manufacturers such as China Star Optoelectronics Technology and BOE have built plants for OLED panels in order to catch up with South Korea's Samsung Electronics. Moreover, the facts that the Chinese government has been instrumental in providing funds and plants manufacturing LCD and OLED panels are both eligible for billions of dollars of subsidies are the other significant factors complimenting the smartphone display market growth in the Asia Pacific.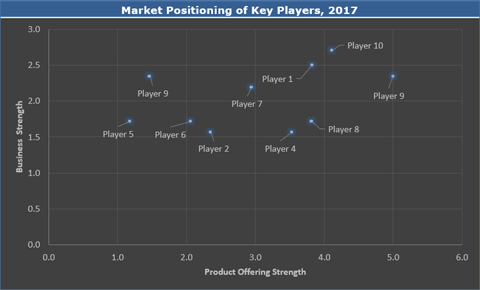 Historical & Forecast Period
This research report presents the analysis of each segment from 2016 to 2026, considering 2017 as the base year for the research. In addition, compounded Annual Growth Rate (CAGR) for each respective segment are calculated for the forecast period from 2018 to 2026.
Report Scope by Segments
The report offers an in-depth look at the global Smartphone Display market. It includes information about technology type, screen size, resolution type, distribution channel and geography.
Key players profiled in the report include Samsung, LG Display, Japan Display, Sharp, China Star Optoelectronics Technology, Visionox and AU Optronics among others
Key questions answered in this report
What was the global smartphone display market size in 2017 and forecast for 2026?
What are the current trends in the smartphone display market?
What are the various valuable opportunities for the players in the market?
Which is the largest regional market for smartphone display?
Which region expected to be the fastest growing and why?
What are the future prospects for the smartphone display market?
What are the major drivers and restraints influencing the market growth?
What are the new innovations by the leading players?
What are the key strategies adopted by the leading players in market?