Industry Outlook
The pancreatic fistula treatment market stood at US$ 1,708.6 Mn in 2017 and projected to exhibit compound annual growth rate (CAGR) of 5.7% during the forecast period from 2018 to 2026. The International Study Group for Pancreatic Fistulas (ISGPF), defines post-operative pancreatic fistula as 'external fistula with a drain output of any measurable volume after post-operative day three with an amylase level greater than three times the upper limit of the normal serum value'. Based on the clinical impact of the fistula on the patient's hospital stay duration and treatment outcome, pancreatic fistula is categorized into grade A, B and C. Acute and chronic pancreatitis are the major causative factors for pancreatic fistula (55%) followed by iatrogenic factors such as surgery, percutaneous drainage of pseudocysts, and biopsy (35%), and in rare cases trauma (10%). Administration of total parenteral nutrition and somatostatin analogs are the common measures used for treating pancreatic fistulas, followed by surgical intervention through ERCP and stenting; indicating unavailability of exclusive treatment option (either drug or device) specifically addressing pancreatic fistula. In the future, as the purview of minimally invasive procedures further proliferates the market may witness the emergence of new avenues.
Market Synopsis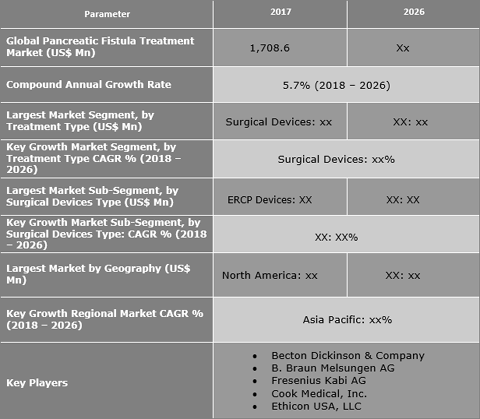 Higher Adoption of Surgical Techniques for Pancreatic Fistula Treatment to Drive Market Growth
In 2017, surgical devices segment dominated the market owing to comparatively higher adoption of medical devices to diagnose and treat pancreatic fistula. In addition, extensive use of sphincterotome, biliary & pancreatic stents, guidewires, balloons, and cannulae while performing ERCP to manage pancreatic fistula is supporting the dominance of the ERCP devices segment. Total parenteral nutrition segment dominated the drugs segment attributed to augmented demand for parenteral nutrition products including single dose amino acid solution, carbohydrates, parenteral lipid emulsion, trace elements, vitamins, and minerals as it suppresses production of pancreatic enzymes by restricting the oral intake of food and maintains the nutrition of the patient. Increasing launches of generic drugs & pipeline of octreotide drugs in clinical trials are expected to support the market growth of drugs segment in the near future.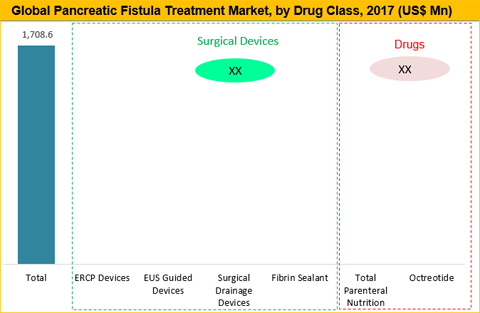 Increasing Healthcare Infrastructure in Asia Pacific to Drive the Growth during the forecast period
In 2017, North America accounted for the largest share in global pancreatic fistula treatment market, due to key driving factors such as rising prevalence of pancreatic cancer and pancreatic neuroendocrine tumors. With the growing incidences of pancreatic fistula, more number of research studies are being carried out in the region to enhance the usage of endotherapy to minimize the complication of pancreatic fistulae. High funding for R&D from the U.S. Federal Government coupled with presence of major medical device companies in the region would assist North America maintain its pole position during the forecast period. Asia Pacific emerged as the fastest growing region in the global pancreatic fistula treatment market owing to growing geriatric population susceptible to pancreatic cancer, adenocarcinoma, pancreatic neuroendocrine tumors and other gastrointestinal and lifestyle diseases. Growing healthcare infrastructure for efficient and preventive pancreatic surgeries will increase the demand for endoscopic retrograde cholangiopancreatography (ERCP) devices for the management of pre and post-operative complications related to pancreatic surgeries.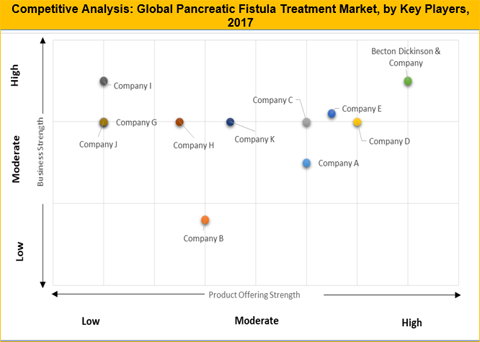 Historical & Forecast Period
2016 – Historical Year
2017 – Base Year
2018-2026 – Forecast Period
This research report presents the analysis of each segment from 2016 to 2026 considering 2017 as the base year for the research. Compounded annual growth rate (CAGR) for each respective segments calculated for the forecast period from 2018 to 2026.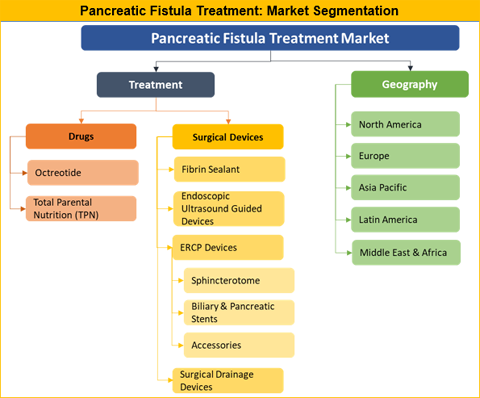 Report Scope by Segments
Pancreatic Fistula Treatment market report furnishes quantitative analysis along with its latest market trends. The market is segmented based on treatment type and geography.
By Treatment Type (2016–2026; US$ Mn)
Drugs

Octreotide
Total Parental Nutrition (TPN)

Surgical Devices

Fibrin Sealant
Endoscopic Ultrasound (EUS) Guided Devices
Endoscopic Retrograde Cholangiopancreatography (ERCP) Devices

Sphinterotome
Biliary & Pancreatic Stents
Accessories (Guidewires, Balloons & Cannulae)

Surgical Drainage Devices
Geography Segment (2016–2026; US$ Mn)
North America

Europe


U.K.
Germany
Rest of Europe

Asia Pacific (APAC)

Latin America (LATAM)


Brazil
Mexico
Rest of Latin America

Middle East and Africa (MEA)


GCC
Rest of Middle East and Africa
Market is studied in order to understand the current and future market trends in the pancreatic fistula treatment market. The market is estimated by providing the compounded annual growth rate (CAGR) and data forecast from 2018 to 2026. Product portfolio provided in the report gives information of the drugs and the surgical devices used in the treatment of pancreatic fistula. Strategic acquisition, merger and collaboration among the key players for developing innovative devices mentioned in the business strategy section. The key players currently engaged in the pancreatic fistula treatment market are Cook Medical, Inc., CONMED Corporation, Fresenius Kabi AG, B. Braun Melsungen Ag, Becton Dickinson & Company, Medtronic plc, Novartis AG and Others.
Key questions answered in this report
How the global pancreatic fistula treatment market will perform during the forecast period from 2018 to 2026?
What are the latest trends in the pancreatic fistula treatment market and valuable opportunities for key players?
Who are the leading players in the global pancreatic fistula treatment market?
Which is the leading/and fastest region in the global pancreatic fistula treatment market?
Currently, what are the treatment guidelines for the pancreatic fistula treatment?
What are drivers and restrains governing the global pancreatic fistula treatment market?