Platelet incubators market accounted for a market value of US$ 340.4 Mn in 2017 and projected to grow at a CAGR of 5.2% during the forecast period from 2018 to 2026. Platelet incubators known as the microprocessor-integrated systems created to avail high stability of temperature for platelet concentrates storage. The facility of forced air circulation helps to retain constant temperature throughout the unit; this prevents spoilage of platelet concentrates. The overall application of platelet incubators expected to increase throughout the forecast period due to increasing prevalence of dengue in tropical countries, rising prevalence of hematological diseases that require transfusion of platelets, and rising awareness related to platelet concentrate storage and applications.
Market Synopsis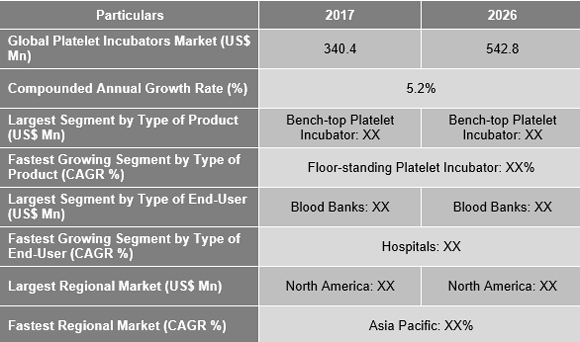 "Floor-standing platelet incubator expected to grow significantly throughout the forecast period due to its increasing demand in hospitals & blood banks"
Floor-standing platelet incubators possess more storage space compared to bench-top platelet incubator due to which in facilities such as blood banks and hospitals with number of platelet samples prefer floor-standing platelet incubators. The novel features developed in floor-standing platelet incubators are auto-stop feature which stops the moment door is opened, bacteria-resistant powder coated interior & exterior of incubator, tempered glass doors with key lock, and placement of all controls in one convenient location. Thus, technological development in floor-standing platelet incubators expected to assist the market growth throughout the forecast period. Floor-standing platelet incubators have huge demand in South America, Asia & Africa as the number of patient taking treatment for dengue or other blood-borne diseases are more. Hence, to suffice such huge requirement demand for floor—standing platelet incubators is high.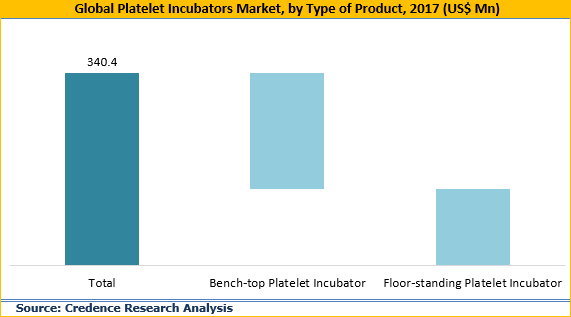 "Blood banks will maintain its dominance in end-user segment of the platelet incubators market"
Blood banks require large floor-standing platelet incubators as the large number of people donate blood which is stored in blood bank by separating various integral components of blood one of the most common and important being platelets. As large number of platelet samples are stored in blood banks, requirement of number of incubators is also high due to which blood banks dominate the end-user segment in global platelet incubators market.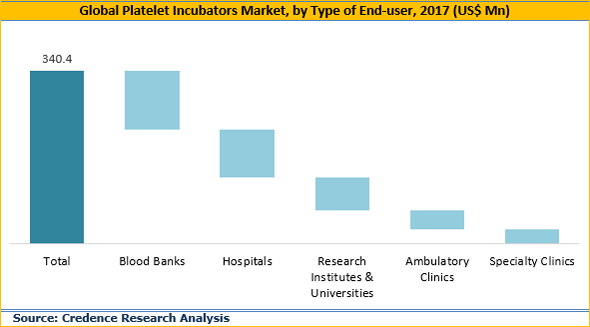 "North America dominated the overall global market especially due to significant development in the healthcare infrastructure and high awareness related to storage of blood components"
In 2017, North America dominated the market and expected to maintain its dominance throughout the forecast period due to key market drivers such as high awareness related to storage of blood components, developed healthcare infrastructure & facilities, and increasing cases of platelet transfusion treatment in chronic conditions. According to RAND Corporation, in 2013 approximately 14.2 million units of blood were collected in the United States from approximately 15.2 million individuals presenting to donate, 13.2 million units of which transfused. However, according to CDC rate of blood transfusion somehow decreased by 2016 and recently it has exhibited a gradual growth.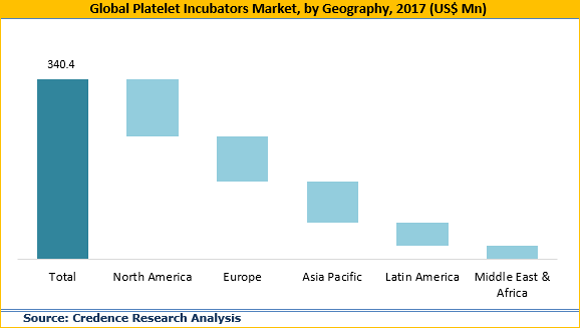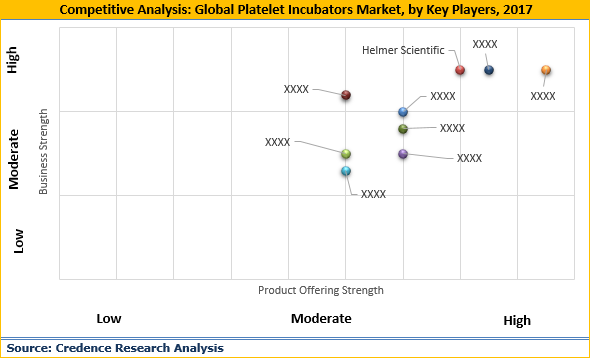 Historical & Forecast Period
The platelet incubators market analyzed considering current market trends for base year 2017 and based on future trends CAGRs calculated for the forecast period from 2018 to 2026.
Report Scope by Segments
This report covers qualitative and quantitative information related to the platelet incubators market coupled with most important market dynamics including market opportunities, drivers, & restraints that has its own positive and negative effects. An exhaustive information related to market drivers, challenges & opportunities based on country-level and regional segmentation. This report includes in-depth data related to the global platelet incubators market covering segments such as product type, end-user, and geography. The report also covers competitive analysis of the key manufacturers present in platelet incubators market including detailed information related to the competitive landscape of the market and the current strategies & products entering the market.
ATTRIBUTE
DETAILS
Research Period
2016-2026
Base Year
2017
Forecast Period
2018-2026
Historical Year
2016
Unit
USD Million
Segmentation

Type of Products Segment (2016–2026; US$ Mn)
• Bench-top Platelet Incubator
• Floor-standing Platelet Incubator

Type of End-User Segment (2016–2026; US$ Mn)
• Blood Banks
• Hospitals
• Research Institutes & Universities
• Ambulatory Clinics
• Specialty Clinics

Geography Segment (2016–2026; US$ Mn)
• North America (United States and Canada)
• Europe (U.K., Germany, Rest of Europe)
• Asia Pacific (China, Japan, Rest of Asia Pacific)
• Latin America (Brazil, Mexico, Rest of Latin America)
• Middle East and Africa (GCC, Rest of MEA)
The key market players involved in the platelet incubators industry studied based on financial data, product portfolio, current press releases, and key market strategies. This report also covers attractive investment proposition analyzed based on exclusive geographical PESTEL analysis. Major companies included in the report are Helmer Scientific, Terumo Corporation, Boekel Scientific, Sarstedt AG, EMSAŞ Elektrik Malzemeleri San. ve Tic. A.ş., Lmb Technologie GmbH, Biolab Scientific, and BIOBASE among others.
Key questions answered in this report
Which is the most preferred platelet incubator type by the end-users & Why?
What are the current market strategies followed by the major market players & competitive landscape of the platelet incubators market?
Which are the current and future major geographical markets (regions and countries) in platelet incubators market?
Which is the largest and fastest growing platelet incubators segment globally?
What are the drivers, restraints, & opportunities in the platelet incubators market?